Urban Meyer Turned Down His First Head-Coaching Gig Until 2 Legendary Coaches Forced Him to Take It: 'Take the Damn Job'
Urban Meyer is a rookie NFL head coach, but is already considered one of the greatest college football coaches of all-time, thanks to his significant success with the Florida Gators and Ohio State Buckeyes. He not only led them both to national championships, but Meyer's student-athletes regularly developed into excellent NFL players under his tutelage. 
However, despite achieving so much as a head coach, Meyer actually turned down his first head-coaching gig. That was until two legendary coaches essentially forced him into it.
Urban Meyer's first head-coaching job was at Bowling Green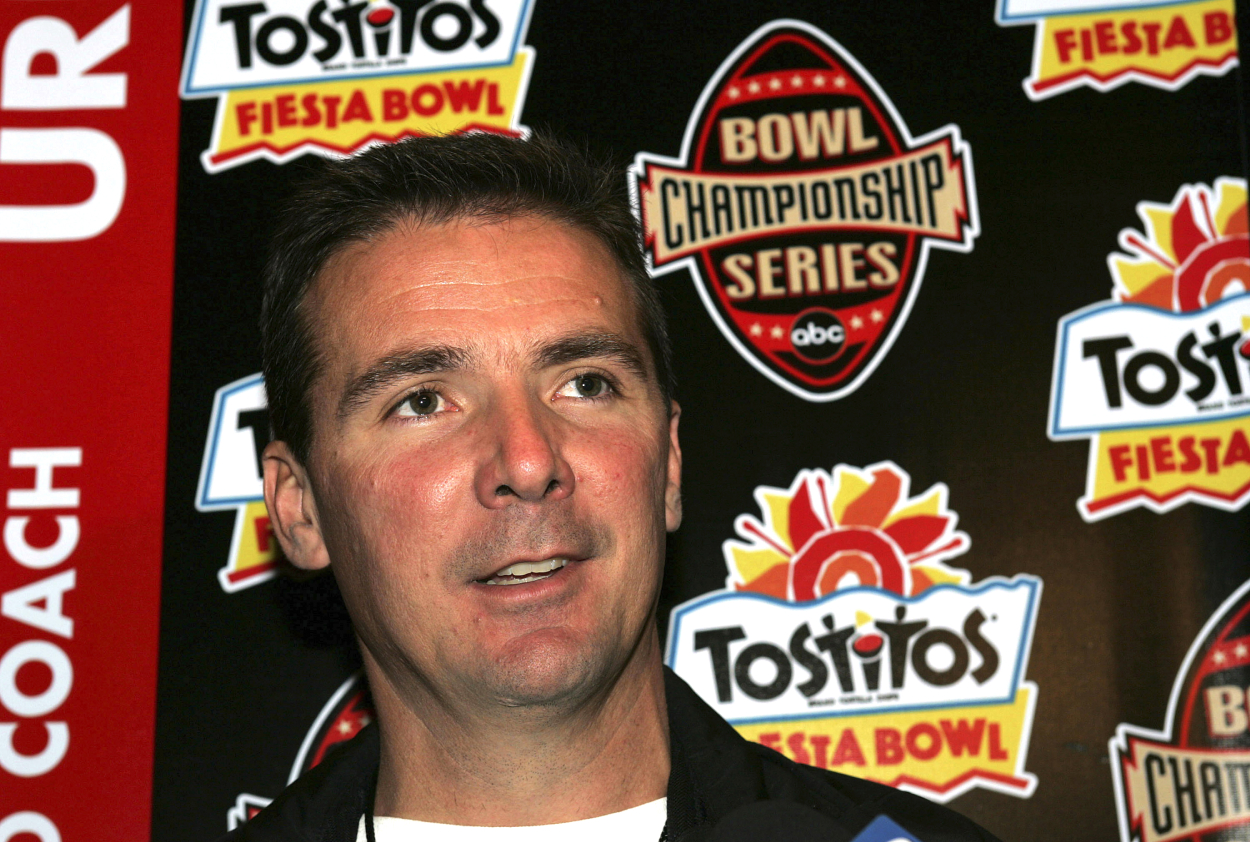 Before becoming a head coach, Meyer got his first experience in college football by playing defensive back with the Cincinnati Bearcats. He ultimately graduated from the University of Cincinnati before going to Ohio State as a grad assistant, per ESPN.
In 1988, Meyer became an assistant coach at Illinois State before taking a job as a wide receivers coach at Colorado State in 1990. He then later coached under Notre Dame legend Lou Holtz starting in 1996 before eventually becoming a head coach for the first time at Bowling Green in Ohio in 2001.
Bowling Green was horrible before Meyer got there. They went 2-9 in 2000 and had not had a winning record since 1994. Meyer, though, led them to an 8-3 record in his first year there before going 9-3 in 2002.
His success at BG eventually helped him become the head coach at Utah in 2003.
Lou Holtz and Earle Bruce forced him to take the Bowling Green job
Meyer learned from some football legends before becoming a head coach. 
While at Ohio State and Colorado State, Meyer coached under Earle Bruce, a College Football Hall of Famer. Bruce was a head coach at Iowa State, Ohio State, and Colorado State, and had assistants like Nick Saban, Pete Carroll, and Jim Tressel.
At Notre Dame, Meyer worked under Holtz, who won a national title at Notre Dame in 1988.
Together, Bruce and Holtz made Meyer take the Bowling Green job.
"They [say], 'Well, Bowling Green's called us, and they're going to talk to you about the job,'" Meyer recently said to Cris Collinsworth and Pro Football Focus. "I'm thinking, 'my wife wants to go somewhere warm, or out west back where we used to be,' … Bowling Green's not that place. And [they were 2-9], I said, 'I'm not sure.' And they said 'Well, you're gonna interview,' and they kind of yelled at me, and so I did."
Meyer said after he interviewed, Bowling Green offered him the job, but he turned it down. That was until he called Bruce and Holtz.
"I call Earle Bruce … and he MFs me as hard, I mean screams at me in the phone, and I hang up the phone, and (Urban's wife) Shelley's listening," Meyer added. "I was like, 'Wow,' and she goes 'My gosh.' And then I call Lou Holtz, and I said, 'Coach, I'm not going to take the job.' He said, 'Why not?' and I say, 'I don't think Bowling Green's a good job.' He said, 'Of course not, if it was a good job, they wouldn't be calling you. So, take the damn job.'"
As you know, Meyer ultimately took the gig, and the decision put him on a path to becoming a legendary coach.
Urban Meyer is in the NFL after winning titles at Florida and Ohio State
After Bowling Green, Meyer had a ton of success in two seasons at Utah. His team went 10-2 in 2003 before going 12-0 and winning the Fiesta Bowl in 2004. In 2005, though, Meyer became the head coach of the Florida Gators, where he ultimately became one of the best coaches in college football. Meyer led the Gators to two national championships in six seasons and went 65-15 overall.
After taking a year off in 2011, Meyer became the head coach at Ohio State in 2012 and led the Buckeyes to a national championship in 2014. He ultimately went 83-9 there before retiring after the 2018 season.
Meyer spent two years in retirement before moving to the NFL in 2021. He is now with the Jacksonville Jaguars and has a chance to turn that franchise around after drafting Trevor Lawrence with the No. 1 overall pick.
Urban Meyer is a three-time national champion with Ohio State and Florida and is now an NFL head coach with the Jaguars. Who knows where his career path would have taken him, though, had he not been forced to take the Bowling Green job.
Stats courtesy of Sports Reference