Urban Meyer Unsurprisingly Blames His Failed Jaguars Stint on Coaches and Players Acting 'Fragile'
When news broke that Urban Meyer was officially being relieved of his Jacksonville Jaguars head coaching duties, most NFL fans were unsure what would happen next. Meyer reportedly disappeared from the Jaguars practice facility without a trace, leaving some to believe he would vanish from the NFL landscape altogether.
However, such a reality did not occur. It only took a few days for Meyer to thrust himself back into the media's crosshairs with lousy apologies and quickly thrown together excuses as to why he failed to last one measly season in the NFL.
Urban Meyer turned to excuses during an exit interview with NFL Network
The Jaguars' reasoning behind firing Meyer was pretty cut and dry. He was a horrible head coach who got caught up in multiple off-field and on-field controversies. Between skipping team flights to hang out at college bars to physically kicking players during practice, Meyer was creating an unbelievably toxic work environment in Jacksonville.
Add in the fact the Jaguars were 2-11 through Meyer's first 13 games, and recent No. 1 overall pick Trevor Lawrence was getting worse, and the decision to ax Meyer was an easy one.
However, the since-fired Jags coach doesn't feel the same. In an interview with NFL Network's Ian Rapoport, Meyer blamed many of his shortcomings on the people around him acting "fragile."
"I think college has changed quite a bit, too," Meyer said. "Just society has changed. You think how hard you pushed…I believe there is greatness in everybody and it's the coach's job to find that greatness however you do that. Positive encouragement. Pushing them to be greater, making them work harder, identifying flaws, and trying to fix [them].
"I think everything is so fragile right now. And that includes coaching staffs. When I got into coaching, coaches weren't making this kind of money, and they didn't have agents. Everything is so fragile where it used to be team, team, team. I remember talking about it in a staff meeting three days ago. I got into this profession because I had the greatest high school coach, and it was all about team. All about the huddle."
Urban Meyer's message is unsurprising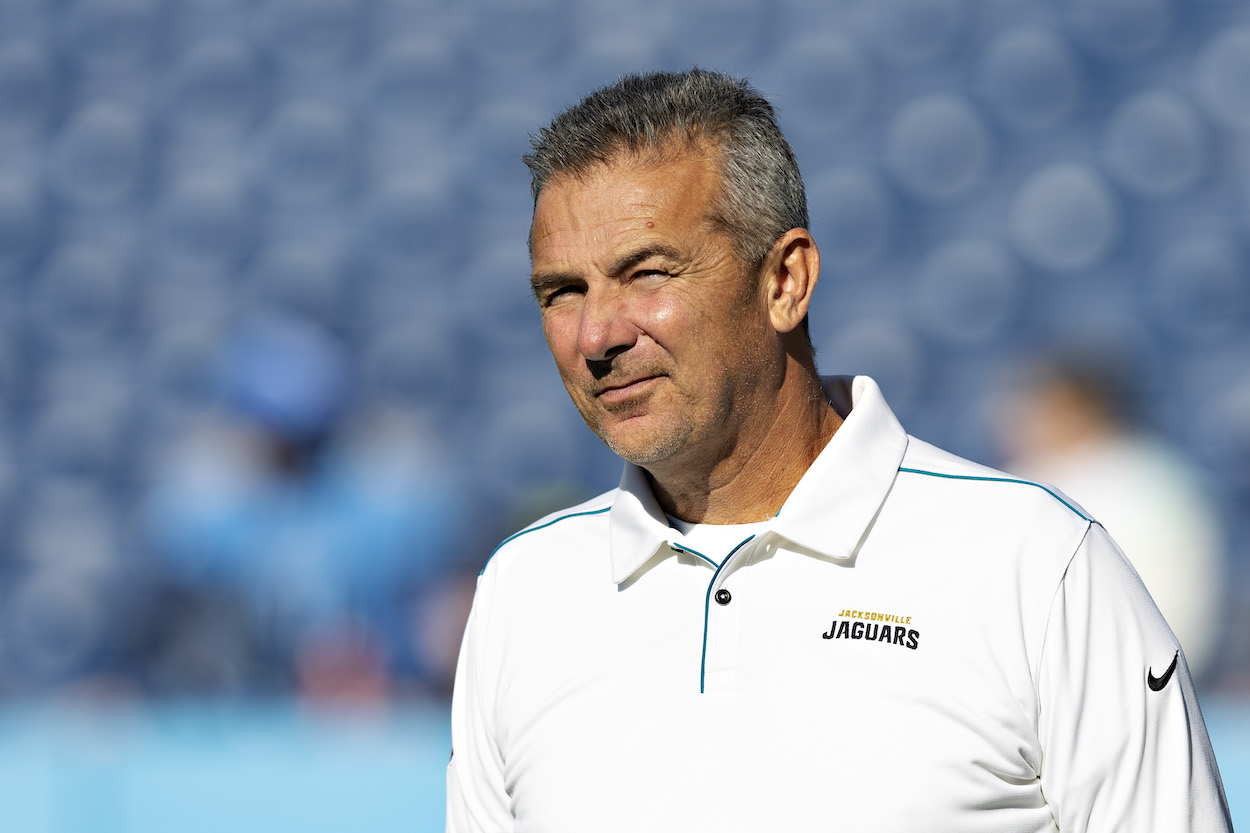 Meyer's stay in the NFL was brief. However, the league learned quite a bit about the former college coach. He's an incredibly power-hungry individual who lacks compassion — someone who doesn't handle losing well in the slightest.
In college, Meyer won wherever he went. Due to the nature of college football recruiting, Meyer consistently worked with some of the top college football players in the world year over year. This isn't to take away from his collegiate achievements. However, it was unquestionably an easier job than coaching the lowly Jaguars.
In Jacksonville, Meyer lost early and often — and he lost hard. This led to him blaming players and assistant coaches around him. These individuals not exactly taking to this coaching style is presumably what led to Meyer deeming them "fragile."
Either way, it's the message of someone who still can't come to terms with the fact that he failed. It's always someone else's fault for Urban.
The Jaguars are instantly a hot landing spot for HC candidates
Things look messy in Jacksonville now. However, they should be able to attract some intriguing names this offseason.
They have a ton of cap space, a patient owner, and an elite quarterback prospect begging to be coached into something special. It's, in all honestly, a dream landing spot.
It speaks volumes that Meyer wasn't able to figure things out.
Like Sportscasting on Facebook. Follow us on Twitter @sportscasting19.