Urban Meyer Wants to Go Fast Like Ricky Bobby
Jacksonville Jaguars head coach Urban Meyer wants more "shake and bake" from quarterbacks Trevor Lawrence and Gardner Minshew. Something like that, at least.
Meyer is in his first season with the Jaguars and as an NFL head coach. He has yet to decide whether Lawrence, the No. 1 overall pick in the 2021 NFL Draft, or Minshew will begin the season under center. Regardless, Meyer wants to see his offense kick things into gear and shift speeds with ease.
Trevor Lawrence and Garnder Minshew are battling for the starting quarterback job
The general assumption was that Trevor Lawrence would be Jacksonville's starter when the regular season rolled around. But Meyer isn't making any guarantees.
The former Florida and Ohio State head coach said this past week it is an "open competition" between Lawrence and Gardner Minshew, who entered camp as the incumbent starting quarterback. Meyer and his coaching staff thoroughly vetted Lawrence and likely understand he is the franchise's future, but there is still a tremendous amount of admiration for Minshew.
"He's earned my respect. I love that guy," Meyer said of Minshew, via Around The NFL. "He's a warrior, competitor. He's a fighter. I told him that. I just got great respect for Minshew. He brings it every day, every day."
Both Lawrence and Minshew had the chance to make a statement during the team's first preseason game against the Cleveland Browns on Saturday. Neither was overly spectacular.
Lawrence was the more efficient man. He completed six of his nine pass attempts for 71 yards, though he did not find the end zone. Minshew completed just half of his eight attempts for 47 yards and an interception.
It's just one preseason game. Still, Meyer said he wants to look for explosive plays and move the ball.
Urban Meyer feels the need for speed
The Jaguars had just 85 yards of total offense at halftime of Saturday's game. That did not sit well with Meyer, even if it was just a preseason game.
"I don't like slow offenses. . . . I don't wanna be one of those slow, wallowing offenses," Meyer said, via Mike Florio of Pro Football Talk. "And we'll get that fixed. . . . We've just got to get it and go, go, go."
Meyer did not pin pace of play issues on any of his quarterbacks, though he did say he felt Lawrence was holding the ball too long on at least one occasion.
"I kind of felt he did [hold the ball too long] on one of them," Meyer said, via Florio. "I do believe he held the ball a little bit, and we've gotta find out why."
Time will tell how Meyer and his coaching staff attempt to fix the tempo. Perhaps he will look to instill a no-huddle look. It will also be interesting to see whether these comments hint at more of an insistence to throw the ball this season.
The Jaguars are in a new era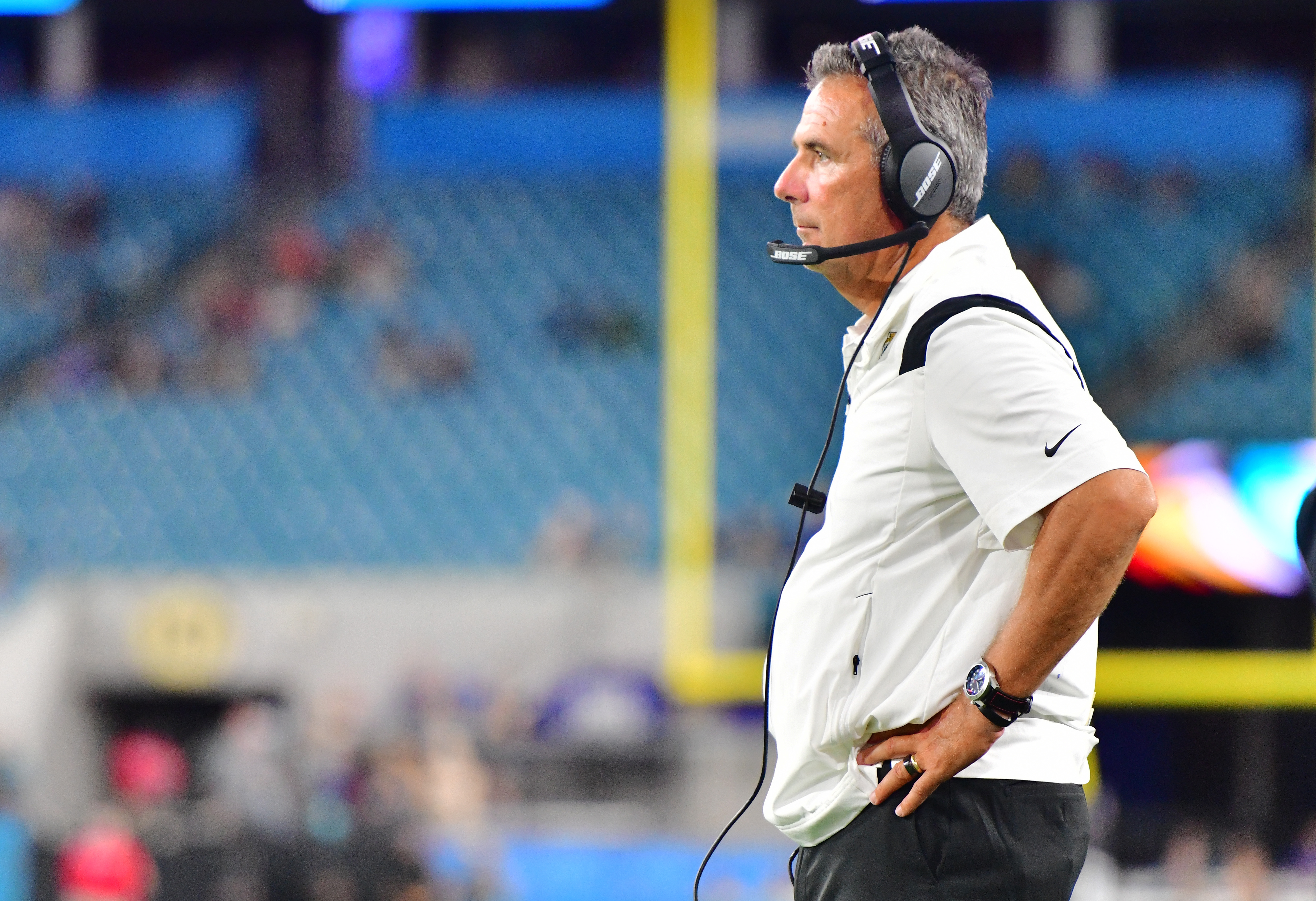 Trevor Lawrence still figures to be the likely starter come Week 1. Even if Gardner Minshew gets the nod, it's clear the Jaguars are in a new era with Meyer at the helm.
Jacksonville has made the playoffs just one time since 2008. The team's new head coach is desperate to lead the Jaguars to greater success, and it's possible speeding things up is the key to greater offensive success.
Urban Meyer had ample success leading dynamic programs both at Florida and then at Ohio State. Can he do the same with the Jaguars? There is a lot of work to be done.
Stats courtesy of NFL.com.