Urban Meyer's Big Plan to Save the Jaguars' Season Involves a Shockingly Impossible Rushing Goal
It's a broken record at this point, but Urban Meyer is not off to a good start as head coach of the Jacksonville Jaguars.
Between an 0-5 start, constant off-field controversies, and an overall inability to develop No. 1 overall pick Trevor Lawrence, the clock is ticking on Meyer's shelf life. He was largely the favorite to be the first head coach to lose his job this season before Jon Gruden's awful email scandal.
With pressure starting to mount on Meyer, he appears to be turning toward unconventional ideas in an attempt to produce better on-field results for the Jaguars.
Urban Meyer's new offensive philosophy is near-impossible
Coming off an ugly 37-19 Week 5 loss at the hands of the Tennessee Titans, Meyer did his best to find some positive takeaways.
Meyer highlighted the team's balance, stating that he wants "250/250" from the offense moving forward. This refers to the idea of having 250 passing yards and 250 rushing yards in a single game, something that seldom happens in the NFL.
For what it's worth, the Jaguars got relatively close to accomplishing this feat during their recent loss to the Titans. Lawrence finished the game with 273 passing yards while the team combined to generate 198 yards of ground offense. The Jaguars still got blown out at the end of the day, so it's unclear why Meyer views this as some grand accomplishment. However, this is the direction the controversial head coach wants to take his struggling offense.
This is a ridiculous goal to set
Before even addressing why a "250/250" offense won't work in today's era of football, it's important to highlight that this is a feat that rarely happens. According to sportswriter/podcaster Bill Barnell, it's only occurred 33 times in 52 years of NFL football.
Why Meyer is tossing such a ridiculous expectation on his sputtering 0-5 team, the world may never know.
In addition to the sheer unlikelihood that any NFL team achieves "250/250" games consistently, it's even more important to acknowledge that the last thing the Jaguars need right now is random, arbitrary goals. Meyer and the Jaguars need to figure out how to win actual football games first.
The Jaguars need to find an identity sooner than later, especially when it comes to Lawrence's development.
To say the least, Meyer locking the team into a specific style of offense that no other team runs is foolish.
Urban Meyer is still coaching like he's in college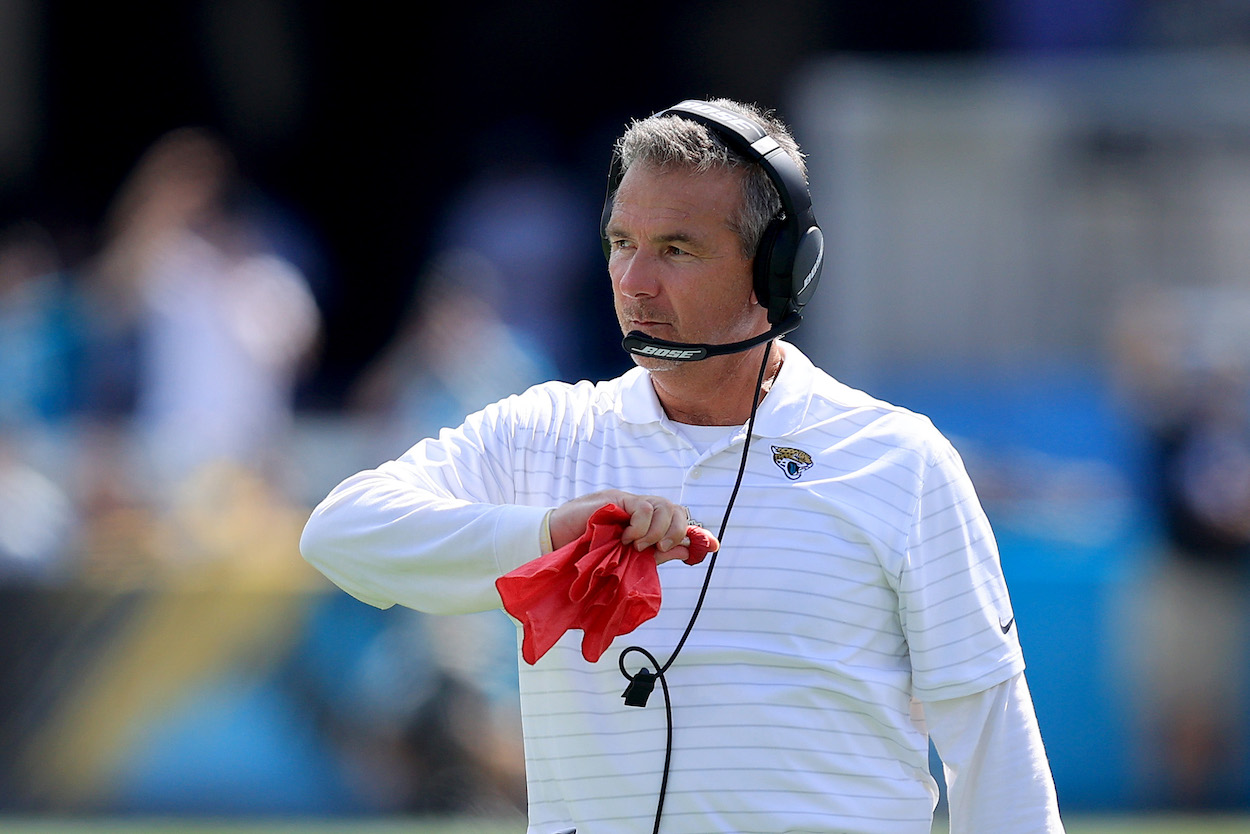 The biggest concern with Meyer making the leap from college to the NFL is that he would continue to operate as a college coach.
Thus far, those concerns are valid. Not only is Meyer proving too immature to coach a locker room full of grown men, but his physical coaching strategies and schemes aren't up to date. A 250-plus yard rushing goal is something coaches at Alabama or Ohio State use. It's not something that NFL coaches implement regularly. Each Sunday requires a new game plan and a new strategy to be effective.
Maybe Meyer was exaggerating, or maybe his words were taken out of context just a tad. However, his track record in the NFL is bad enough that it's worth criticizing him over these silly "250/250" standards he just slapped on his struggling offense.
All stats courtesy of Pro Football Reference.
RELATED: Urban Meyer's Latest Coaching Blunder Involves Brutally Stripping a Jaguars Team Favorite of His Leadership Role