Urban Meyer's Embarrassing NFL Career Won't Stop Him From Landing Another College Football Job
Urban Meyer is no longer an NFL head coach. He was fired by the Jacksonville Jaguars four games before the end of his very first season.
There's no way to consider Meyer's NFL tenure anything but embarrassing. Still, the reality is that if Meyer wants to slink back to the college football ranks, nothing he did in Jacksonville will come back to haunt him.
Urban Meyer can still get a college coaching gig based on his name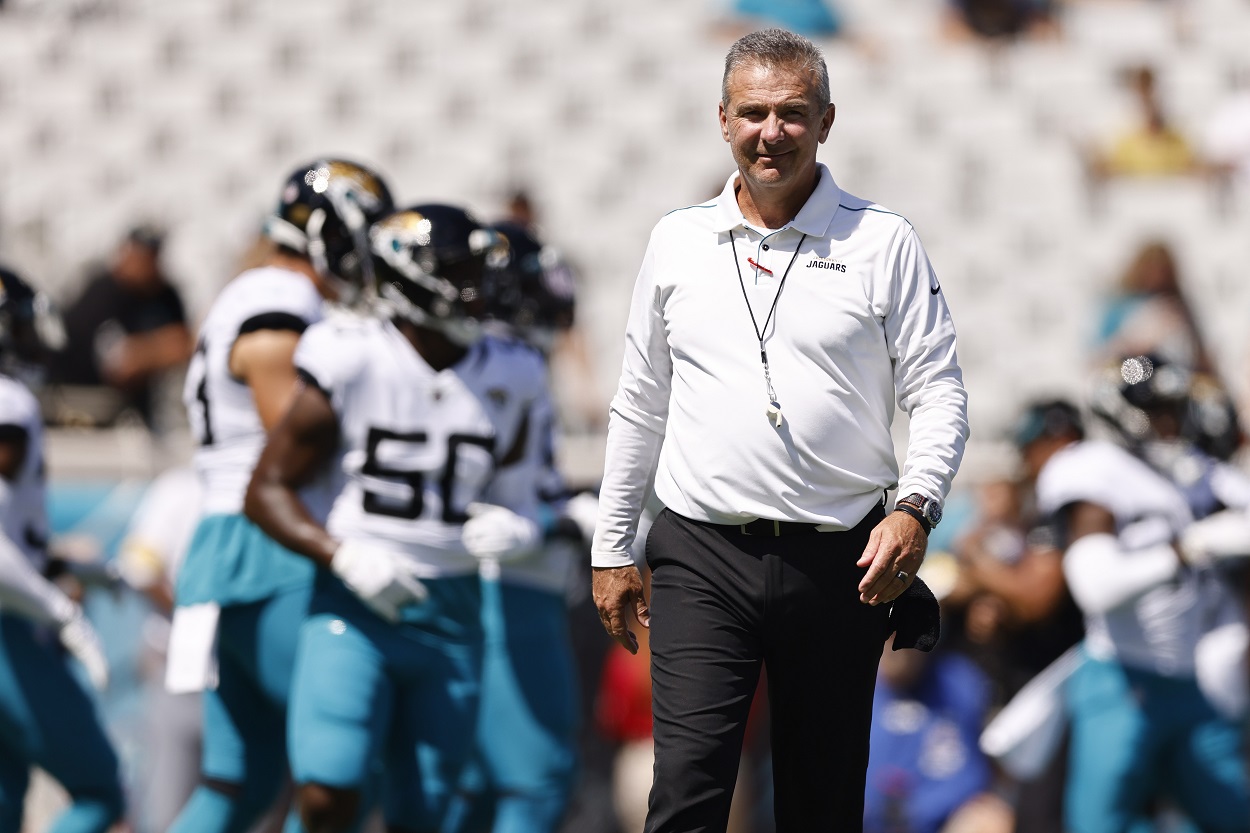 Meyer had two great advantages at the college football level that didn't carry over to being a head coach in the NFL. He's a famous name, which is a huge draw on the recruiting trail, and he has three national championships under his belt.
Nobody in the NFL cared about his college career. The only thing the Jaguars ultimately cared about was whether or not he could coach highly-paid professionals at the highest level of football. Who cares if he won three championships in college football? He couldn't even win three games with the Jaguars.
His two championships at Florida, and one at Ohio State, were old news, but that wouldn't be the case back in the college ranks.
As a famous college coach, your main job is to walk into a recruit's living room and impress that recruit and their family with your championship pedigree. In the NFL, the only thing that matters is whether or not you can out-scheme the team in front of you on a week-to-week basis. Back in college, Meyer wouldn't have to worry about that ever again. He could hire good coordinators and simply focus on looking like he's in charge, something he's actually good at.
He was proven to be over his head strategically as an NFL head coach, but he'd be right back in his wheelhouse in college. College coaches are more figureheads than anything. He'd get to be the CEO of the program, the town's de facto mayor. He wouldn't have to worry as much about game planning, and he certainly wouldn't have to worry about anybody thinking that they may be his equal.
Meyer is a salesman, albeit a slimy one. Unfortunately, he's the type that absolutely thrives at the college level.
The Meyer experiment was a disaster for the Jacksonville Jaguars
The Jaguars hired Meyer hoping that his success at the college level would translate to the pros. It was a big swing from owner Shad Khan, but it came with a ton of risks.
Perhaps nobody saw it going this poorly, though. There were plenty of people who thought Meyer would struggle to translate his coaching style from college to the NFL, but the fact that he essentially embarrassed the Jaguars multiple times and proved to be completely incompetent?
That was honestly a bit surprising.
Things were rocky from the start, but the wheels really fell off over the past few weeks. From quarterback Trevor Lawrence publicly disagreeing with Meyer to the head coach reportedly getting in a screaming match with wide receiver Marvin Jones and calling his assistant coaches losers.
It was one thing when Meyer decided not to fly back with his team after a tough loss to the Bengals in Week 4. It was something completely different, though, when the now-infamous video emerged. So that's what he was doing while his team licked its wounds.
After the Columbus bar "incident," Khan said that Meyer was going to have to regain the "trust and respect" of the Jaguars. Upon his firing, Khan was clear that Meyer did not do that.
"As I stated in October, regaining our trust and respect was essential. Regrettably, it did not happen," Khan wrote.
If that statement doesn't tell you everything you need to know about Meyer, nothing will.
Predicting Meyer's next move, going back to college football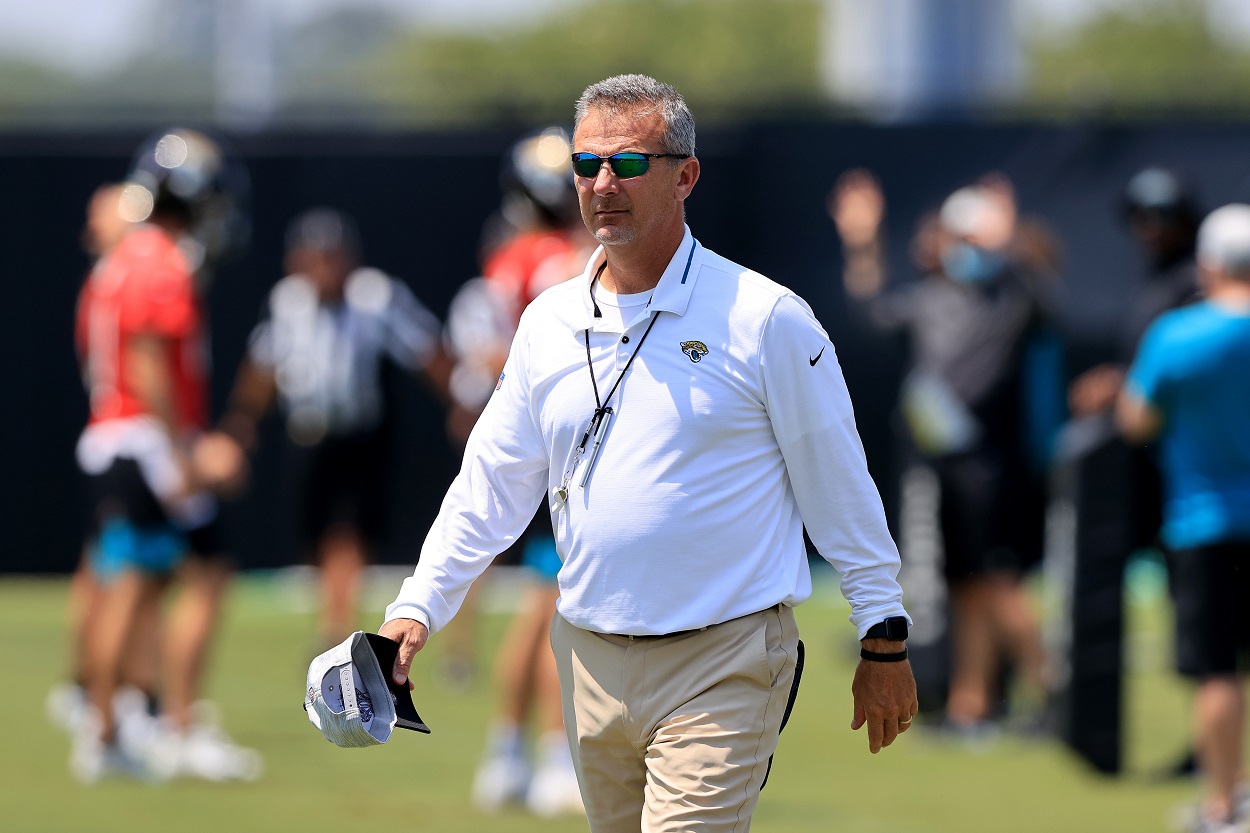 Some big-time college football program will eventually take a shot on Meyer, even though his last boss said he couldn't trust or respect him.
He'll most likely take the rest of this season off to "focus on his health and family." And sure, the first big round of college football coaching changes has come and gone, but would it surprise anyone to hear Meyer's name thrown around next season if a big-time position opens up?
Here's one sportswriter's guess: He'll end up back on television as a talking head covering the 2022 college football season, and when a school like Nebraska, Texas, or even Stanford decides its time to make a move, he'll be the first in line. That will be doubly true if Marcus Freeman is clearly over his head at Notre Dame, or if things go south for some reason with Jim Harbaugh at Michigan.
Meyer has hurt his reputation as a head coach, but when has that ever mattered in big-time college football?
The NFL won't want him back, but if he wants another shot at it, he will undoubtedly be a head coach again at the college level.
Stats courtesy of ESPN and Pro Football Reference.