Urban Meyer's Son Is Trying to Follow in His Dad's $30 Million Footsteps
Urban Meyer is one of the greatest college football coaches of all-time. From leading some of the most successful teams in college football history at Florida to dominating the Big Ten while at Ohio State, Meyer has proven that he knows how to win. Now his son is trying to follow in his footsteps.
Urban Meyer has had a lot of success as a head coach
RELATED: Former Ohio State Football Coach Jim Tressel Is Still Finding Success in the Buckeye State
During his days at Bowling Green State University nearly 20 years ago, Urban Meyer quickly proved that he had what it took to be a good head football coach. Meyer helped lead Bowling Green to an 8-3 record in 2001 and then a 9-3 record in 2002.
His success there then led to Meyer going to Utah, where he just continued to win. In 2003, Utah went 10-2 and ranked as high as No. 21 in the AP poll. They then had a fantastic year in 2004. Meyer helped lead Utah to an undefeated 12-0 record that season. The team ultimately ranked as high as No. 4 in the AP poll and won the Fiesta Bowl.
This then led to Meyer becoming head coach of the Florida Gators where he dominated the SEC for six years. After leading the Gators to a 9-3 record in 2005, Meyer helped lead Florida to a 13-1 record in 2006. They ultimately went on to win the national championship that season too. Then, after having a somewhat down year in 2007 (going 9-4), Meyer and the Florida Gators won another national championship in 2008. His QB that year was someone you have probably heard of too, Tim Tebow.
The Gators went 13-1 and won the Sugar Bowl in 2009, and won the Outback Bowl in 2010. Meyer, however, then took a year off from coaching in 2011, but then went to Ohio State and became the head coach of the Buckeyes in the 2012 season. Ohio State went 12-0 in his first season. Then in his third year at OSU, the team won the national championship.
Meyer then went on to spend seven seasons at Ohio State. The Buckeyes never lost more than two games in a season while he was there. Meyer retired after the 2018 season, but there will always be rumors about him eventually making a comeback. His career record is 187-32.
Meyer has a massive net worth
RELATED: Dwayne Haskins Went All out When Spending His First $1 Million From the Redskins
Because Urban Meyer has had a lot of success as a coach, and because of him doing well in his TV jobs at ESPN and FOX, Meyer has racked up a massive net worth.
Celebrity Net Worth estimates that Meyer's net worth is $30 million. That is, clearly, a pretty good amount of money.
Now, could his son be following in his $30 million footsteps?
The next great college football coach?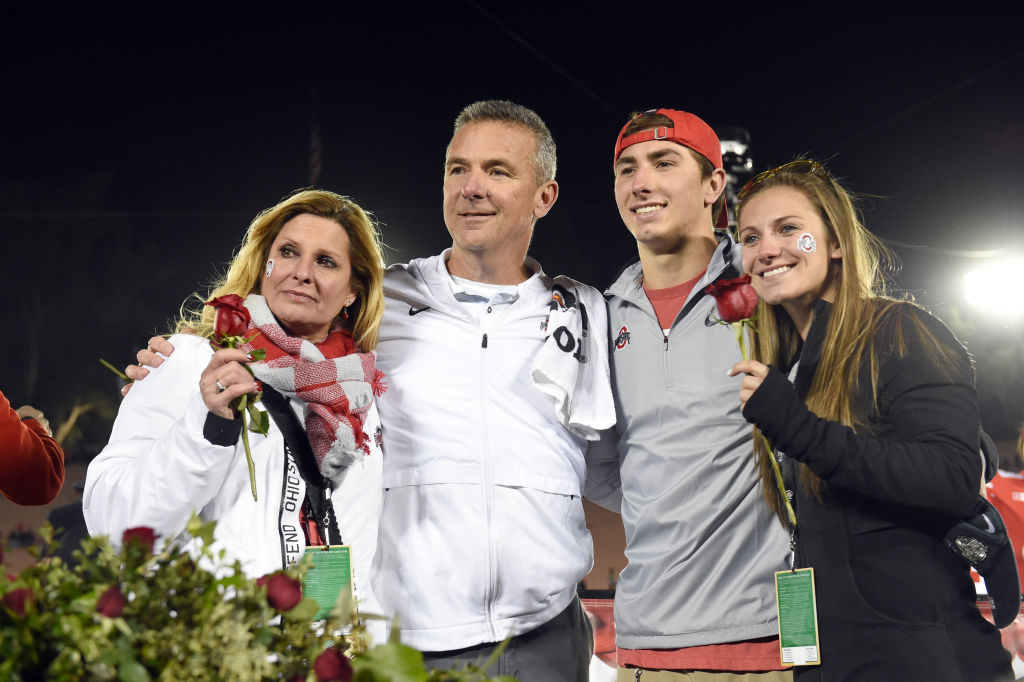 Earlier this week, Pete Thamel of Yahoo Sports reported that Urban Meyer's son Nate Meyer has joined the University of Cincinnati football program as a walk-on wide receiver. Nate was previously a scholarship baseball player at UC the past two seasons, according to Yahoo. However, he is switching sports to prepare himself to become a college football coach.
Urban actually also played football at Cincinnati. He said, according to Yahoo, that his son changed his major at UC from business to psychology, which is the same major Urban had while he was a student there.
He also said that Nate spent a few days with the Ohio State football team while he was on fall break in 2018. Nate then called his dad days later to tell him his dream of following in his footsteps, according to Yahoo.
"'Dad, I made a decision. I changed my major to psychology like you were and I want to be a football coach,'" Urban Meyer recalled, according to Yahoo. "I thought, 'Oh boy.'"

Urban Meyer
Cincinnati head coach Luke Fickell, who coached under Urban at Ohio State, said that Nate will probably play on special teams, according to Yahoo.
So, can Nate Meyer follow in his dad's $30 million footsteps? Time will tell if he can be as successful as his dad. He certainly has one of the greatest coaches of all-time in his corner, though, who can also teach him everything that he has learned throughout his career.
All stats courtesy of Sports-Reference