The Utah Jazz Are Swooning Over a Big-Time College Star Who Has Donovan Mitchell Jazzed Up: 'Some of the Stuff I've Seen, I Didn't Know That He Had in His Game'
The Utah Jazz are in the middle of a championship window, but so far they've fallen just short. Last year was arguably their best chance in years, winning 52 games in a 72-game season for their highest mark since 2010. But Utah was still eliminated in the second round by the Los Angeles Clippers in six games.
The Jazz are projected to be one of the best teams in the Western Conference once again. They are led by All-Stars Donovan Mitchell and Rudy Gobert, and also feature a talented collection of role players. And that doesn't even factor in the addition of a second-round rookie who may end up being one of the biggest steals of the 2021 NBA Draft.
The Utah Jazz found a steal in the second round
After trading down from pick number 30, the Jazz were left with the 40th pick as well as two future second-rounders. But they still managed to walk away with a first-round talent in Jared Butler.
A three-year starter at Baylor, Butler led the program in scoring in each of the last two seasons. The 21-year-old averaged 16.7 points this past season, shooting 47.1% from the field and 41.6% from three. In his final game, the 6-foot-3 Butler dropped a game-high 22 points to lead the Bears to an 86-70 victory over Gonzaga in the National Championship.
Butler slid down to 40 in large part due to medical reasons, specifically a heart condition he was diagnosed with in 2018. Fortunately, he was medically cleared to play at Baylor and got the green light this summer to play in the NBA.
With no heart condition, Butler likely would have been an easy first-round pick. CBS Sports had Butler as the 19th overall prospect, which places him as a mid-first rounder. NBADraft.net had the guard at 25th, still 15 spots ahead of his actual draft slot. Kevin O'Connor of The Ringer also had the 6-3 scorer at 25, describing him as a "microwave scoring guard who has improved as a playmaker during his three years in college."
"He's a special, special guy," Jazz general manager Justin Zanik said after the draft. "He's had a great career and he's been playing at the highest level for a long time. We've followed him closely. We obviously have people in the organization that have a lot of Baylor ties, and that gives us great comfort to have a really, really good feel about him as a player and as a person."
Butler is impressing Donovan Mitchell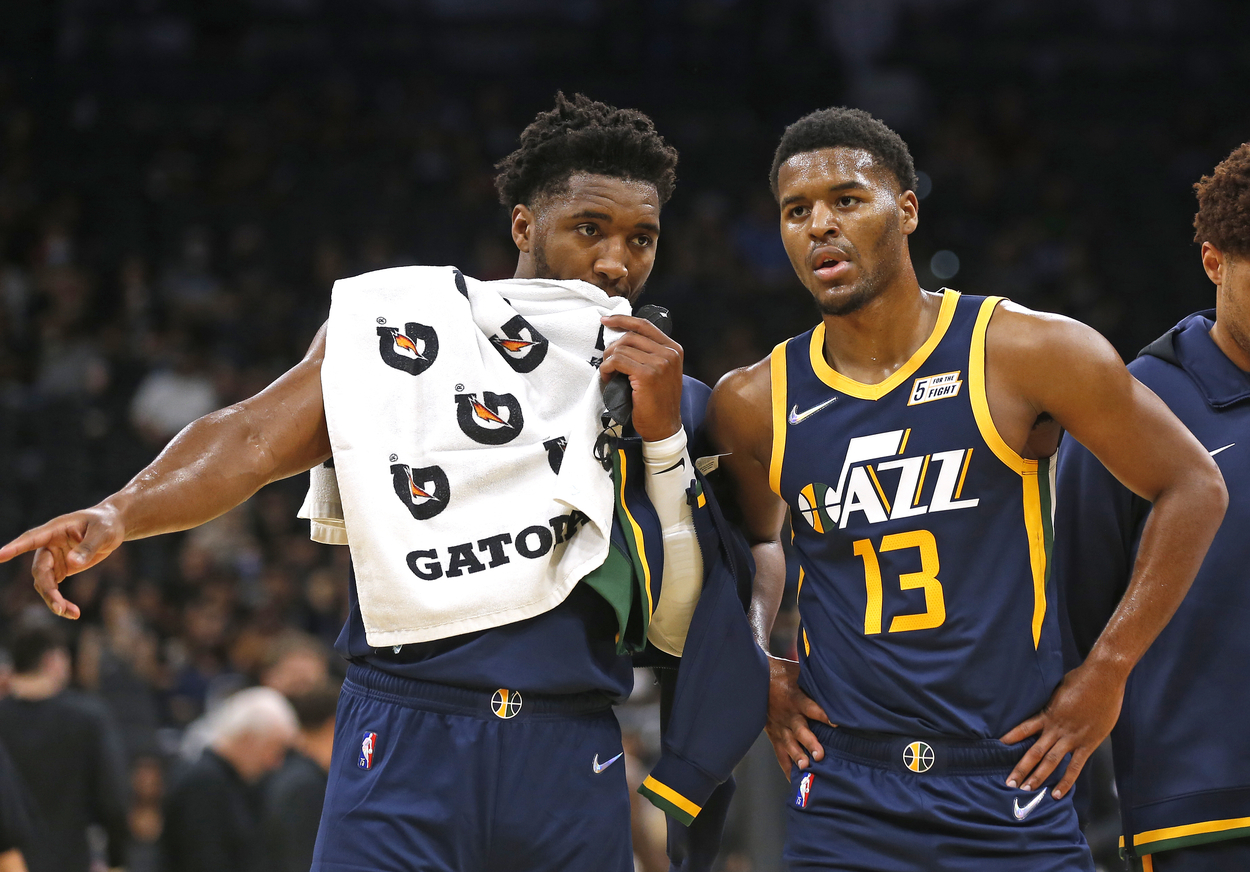 Typically, expectations are rightfully tempered for second-round picks. But so far, Butler looks the part of an NBA-caliber player.
Butler showcased his scoring ability in Utah's preseason opener, scoring 14 of his 16 total points in the second half. He was even better in his second game, scoring a team-high 22 points on 9-for-18 shooting in 30 minutes. Butler's scoring output came through a combination of step-backs, drives, and catch-and-shoot jumpers that showcased his ability to rack up points in multiple ways.
Mitchell, Utah's two-time All-Star and franchise centerpiece, is among those wildly impressed by Butler (h/t: The Athletic).
"Some of the stuff I've seen, I didn't know that he had in his game. He's very poised as an all-around basketball player. I think the biggest thing is his pace coming off the screen. The way he gets into the lane, the way he's capable of making reads and manipulating the big in the paint. We just want to help him be the best basketball player that he can be, and be the best basketball player that he can be for our team."

Donovan Mitchell
Mitchell can relate to Butler on a few levels. He's an undersized guard (6-foot-1) who was drafted later than he should have been (13th overall in 2017) and can score in multiple ways.
The Utah Jazz are deeper than ever
Barring injury, Butler's preseason won't be enough for him to supplant either Mitchell or Mike Conley as a starting guard. Nor will it be enough to replace Sixth Man of the Year Jordan Clarkson or Sixth Man finalist Joe Ingles. That alone showcases Utah's insane depth heading into the season.
All four of those players averaged 12 or more points last season. So did Gobert and small forward Bojan Bogdanovic. Those six, as well as veteran starter Royce O'Neal, helped Utah finish a league-best 52-20. With a top-five offense and defense, the Jazz should contend in a tough Western Conference once again.
But Butler now has the chance to be the x-factor that pushes Utah over the top. He won't just be an injury replacement if a starter goes down. Rather, the Baylor standout can come in to alleviate a player like Mitchell or Clarkson and keep the offense afloat.
If he keeps scoring at the rate he's doing in the postseason, Butler will earn minutes for the title-contending Jazz. Considering he's a second-round rookie, he's already defying expectations.
All statistics courtesy of Basketball Reference.
RELATED: Poisoned Pizza Plot Pooh-Poohed: Utah Jazz Analyst Offers New Theory for Iconic Michael Jordan 'Flu Game'