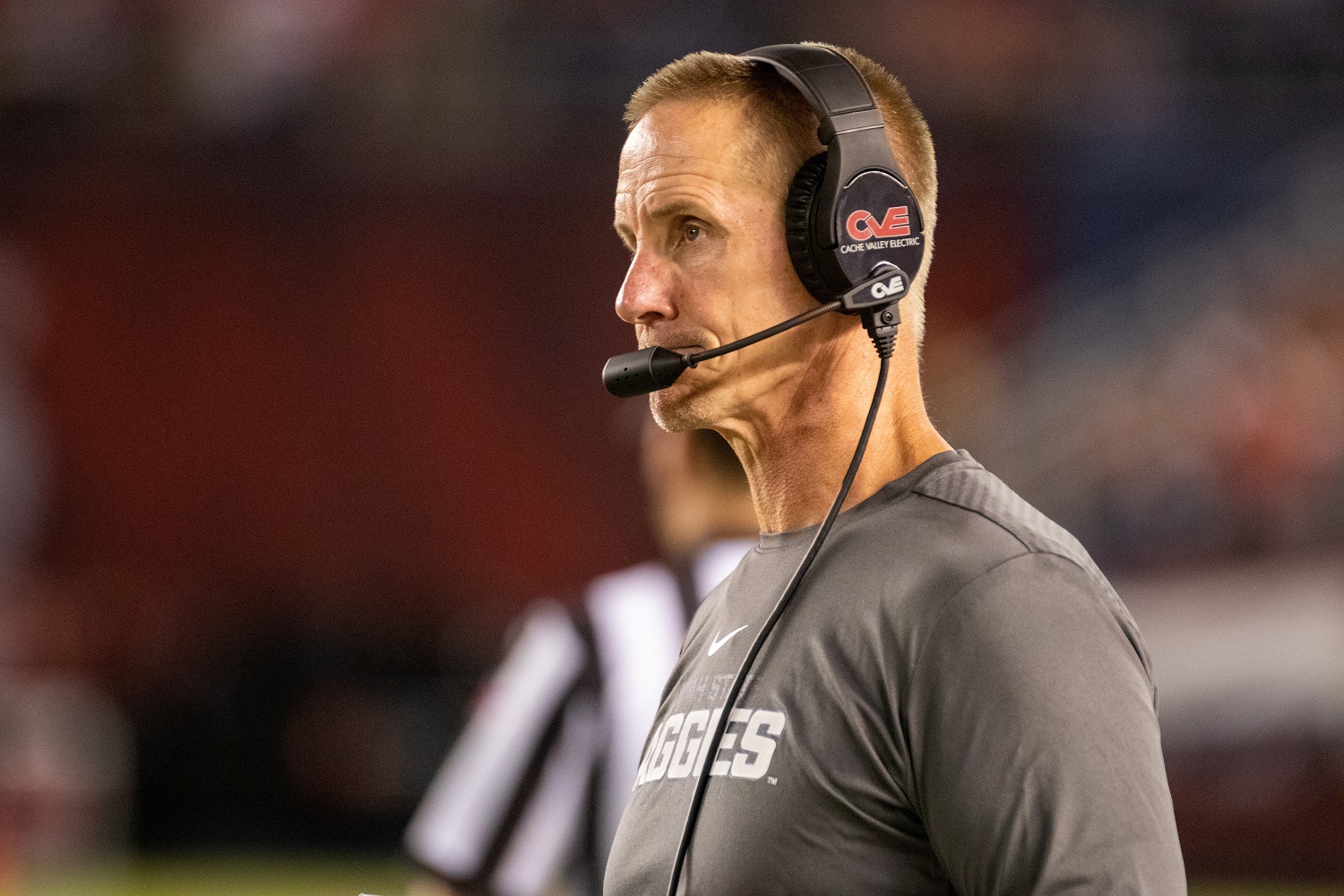 Utah State Football Coach Gary Andersen Got Fired and Gave Back His $2.7 Million Buyout
College football coach Gary Andersen turned down his buyout package after being fired by Utah State. That saved the school $2.7 million.
There are two questions that people ask when a Football Bowl Subdivision program fires its head coach: Who'll replace him, and how much money is the school on the hook for? The Texas Longhorns made the biggest recent news by moving on from Tom Herman. But Arizona, Auburn, and South Carolina were among other college football programs making changes. The ADs at all four probably wish they were dealing with Gary Andersen on the way out the door.
Firing college football coaches can be an expensive decision
College football coaches almost never leave their school at the end of their contracts. Typically, they have three or four years remaining on the deals. That's a result of recruiting concerns, since top high school prospects are wary of committing to a school at which the coach only has one or two years left on his deal.
Realistically, the length of the contract is no guarantee of a coach's staying power. Kevin Sumlin (Arizona), Gus Malzahn (Auburn), Will Muschamp (South Carolina), and Tom Herman (Texas) all had multiple years left on their deals when they were let go in recent months.
The amount of money remaining on their deals ranged from $7.3 million for Sumlin to a staggering $21.5 million for Malzhan. However, there is a ripple effect, too. When a head coach is fired, it's par for the course for nearly the entire staff of assistants plus members of the strength and conditioning staff to be swept out, too. Many coordinator-level assistants and some position coaches have multi-year contracts that must also be covered by the school.
Huddle Up estimates that FBS schools had to commit more than $125 million to buyout-related payments this past season. That's why Gary Andersen's departure from Utah State three games into the 2020 season is so interesting.
Gary Andersen turned down the money
Utah State was 11-2 two seasons ago and then 7-6 in 2019, which was Gary Andersen's return as head coach of the Aggies, where he previously ran the program from 2009-12. The 2020 season was chaotic as the Mountain West Conference reacted to the COVID-19 pandemic by delaying the start to late October.
When Utah State opened with losses to Boise State, San Diego State, and Nevada by a combined 114-29 margin, the Aggies made the decision to fire Andersen. Frank Maile finished out the season by losing two of the three remaining games.
It's debatable whether the decision to replace Andersen in mid-season made football sense since he was 26-24 in his first tour of duty there despite inheriting a program that had gone 23-69 in the previous eight years. Regardless, the decision was made, creating a bill to pay: Andersen had three years at an average of $900,000 remaining on his contract.
But a funny thing happened when Utah State tried to settle up with Andersen. He told them to keep the money. Andersen declined to speak on the subject, but the Deseret News cited two sources familiar with the situation. They said Andersen signed a separation agreement that relieved the Aggies of their financial obligation.
Gary Andersen had done the same thing before
The departure from Utah State was not the first time that Gary Andersen put principle before payout, according to the Deseret News.
While coaching the defensive line in 1993 at Idaho State, Andersen got caught in the middle of a squabble between defensive coach Kyle Whittingham and the head coach. When the head coach demanded Andersen's support, he opted to resign instead and take a job as a high school suspension monitor.
In 2017, Andersen was in his third season as the head coach at Oregon State when he handed in his resignation after a 1-5 start. Andersen had come to the conclusion that he didn't have the staff that was going to turn the program around. AD Scott Barnes concurred and agreed to a mutual separation that would have entitled the coach to all or most of $12.6 million remaining on his contract. Again, Andersen told the school to keep the money.
"How could I wake up every day and look at myself in the mirror knowing I took money from the kids in that program?" he told a colleague, according to the paper.
Like Sportscasting on Facebook. Follow us on Twitter @sportscasting19.