Valtteri Bottas Taking Crucial Mental Lessons He Learned from Lewis Hamilton to Alfa Romeo
Cruising toward a certain checkered flag during the 2018 Russian Grand Prix, Mercedes driver Valtteri Bottas was ordered by team brass to slow down and move over for Formula 1 teammate Lewis Hamilton. 
After, Mercedes team principal Toto Wolff referred to Bottas as Hamilton's "wingman." 
Now flying on his own with Alfa Romeo, Bottas can "be honest" with himself and his experiences as he departed Mercedes.
Valtteri Bottas wants to be more than Lewis Hamilton's 'wingman'
In his five seasons as Hamilton's teammate, Bottas played second-fiddle with near precision. He reached Q3 in all 101 grand prix events with Mercedes. He claimed 10 checkered flags and claimed 58 podium visits.
Winners of the constructors' championship for eight consecutive seasons, Bottas' consistency helped keep the organizational streak intact.
Plus, as Hamilton's "wingman," Bottas' teammate captured the drivers' title during his initial four seasons with the team. Bottas may have been biding his time, but he did so with competitive grace.
From the other side of the garage, Bottas watched how the seven-time champion Hamilton went about his business. How he prepared. How he excelled at the mental side of the sport.
To Bottas, that is the edge Hamilton possesses over his peers.
Hamilton's F1 mind games becoming clearer to Bottas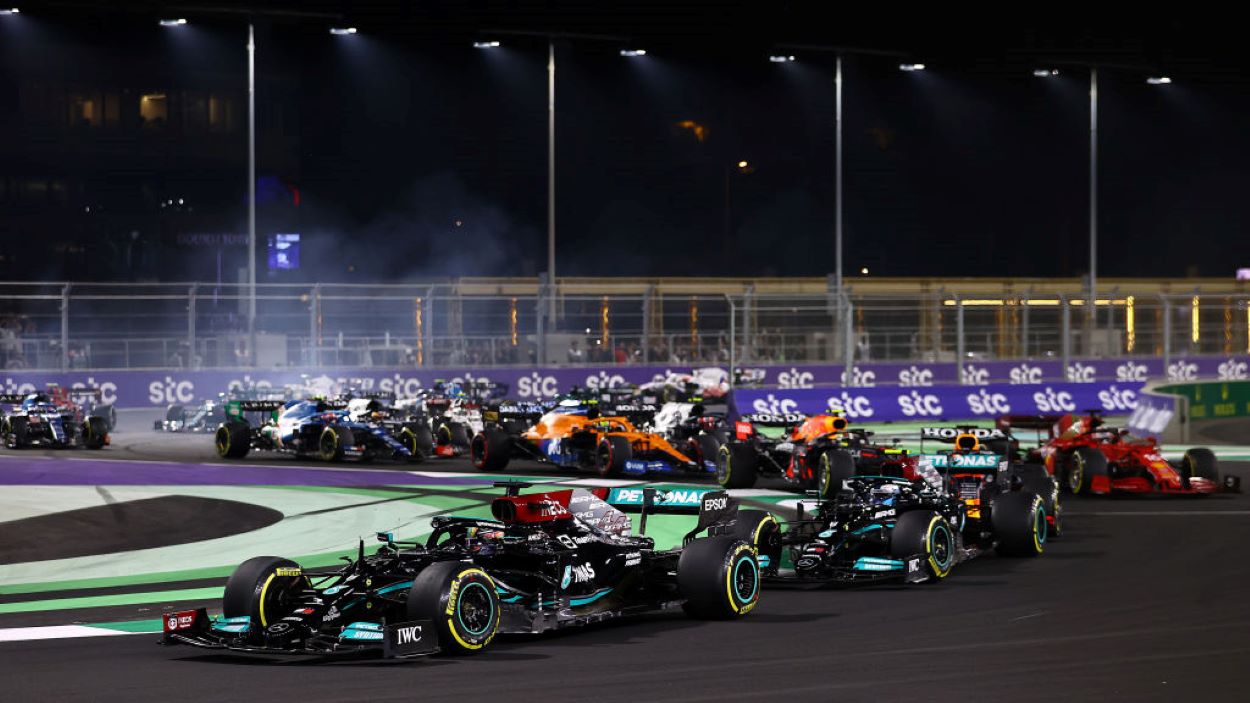 The mental games Hamilton played became more apparent to Bottas over the past few seasons, following winning rides and nightmare spins. He told GPFans of the cognitive improvements he made by watching Hamilton. 
"I've definitely learned a lot about myself," he said, reported by planetf1.com. "I've learned how this sport is so much more mental. If you really compare if it's a physical or mental sport, I feel like it's so much about the head. Definitely, I've learned just to accept mistakes and learn from the mistakes.  
"That learning part and being able to learn to be honest to myself, that's one big thing." 
There were times when Bottas found himself lost in one of Hamilton's mental mazes, and he didn't realize it. But Bottas learned from his hard lessons as a high-profile "wingman." 
"There was always a risk for me to try too hard," he said. "Not allowing myself enough time to get to the point where I wanted to be, so just allowing myself to accept that it's quite tricky to go up against Lewis, and I can't always beat him."
Bottas learned from Hamilton's 'consistency, his talent and the work he puts in' 
Bottas bolted Mercedes for a multi-year contract. Alfa Romeo team principal Fred Vasseur is confident his new driver will shine out of Hamilton's "shadow."
Bottas admits to being a different, more mature – and financially secure – driver after spending five years with Mercedes. He learned from Hamilton's "… consistency, his talent and the work he puts in."
While there were times when Hamilton seemed unbeatable, there certainly will more times like that as a competitor in 2022. That's when he'll need to remember the lessons he learned. And play his own mind games.
"I just learned what works for me, in terms of the mindset going to the races, and what to do between them," Bottas said. "I also know I can do it (beat Hamilton), just not maybe beating myself up too much when that doesn't happen. That's been quite a big thing."
Like Sportscasting on Facebook. Follow us on Twitter @sportscasting19.