Vanessa Bryant Reminds Lakers Fans of Staples Center's Real Moniker Ahead of Impending Name Change
An element of randomness made the news of the impending Staples Center name change all the more strange. For years, Staples played host to both of Los Angeles' NBA franchises — though that could change depending on the Clippers' future plans — and became a literal staple in LA. But as Vanessa Bryant reminded Lakers fans, one man is primarily responsible for the arena becoming a hallowed ground.
Bryant took to Instagram late Tuesday night with a simple message: Staples Center is and will always be "The House That Kobe Built."
Staples Center is being rebranded as Crypto.com Arena beginning on Dec. 25
It will undoubtedly be strange for Vanessa Bryant to think about her late husband's two jerseys hanging in Crypto.com Arena.
Shams Charania of The Athletic and others reported late Tuesday that Staples Center will undergo a rebranding with said name replacing the "Staples Center" moniker on Dec 25. The news reflects the increasing prominence of cryptocurrency in the world of sports.
Numerous NBA players are involved with cryptocurrency or non-fungible tokens (NFTs) in some capacity. Stephen Curry and others replaced their Twitter profile pictures with NFTs. Orlando Magic rookie Jalen Suggs declared for the 2021 NBA Draft with an NFT launch. The business is expanding.
According to ESPN, Crypto.com is paying a whopping $700 million over the next 20 years for the naming rights, which is believed to be the richest naming rights deal in history. The LA Sparks (WNBA) and LA Kings (hockey) are being folded into the partnership with the Lakers and Clippers.
Although it could prove difficult to adjust to the name change, Vanessa Bryant provided fans with a clear reminder that Staples Center always served as Kobe's platform.
Vanessa Bryant deems Staples Center the "House That Kobe Built"
Vanessa Bryant offered a simple solution to Lakers fans struggling to wrap their heads around the name change.
Bryant posted an image of Kobe's iconic No. 24 jersey plastered across the face of the Staples Center to her Instagram story. The caption read, "Forever known as "The House That Kobe Built." That seems like a more fitting name, even when it becomes Crypto.com Arena.
Staples Center opened in October 1999, replacing the LA Forum as the home of the Lakers. It played host to some incredible moments.
Kobe Bryant and the Lakers won the NBA title in their first season in Staples. They'd win each of the next two championships as part of a historic three-peat. Fans had to wait some time before witnessing another championship, but Bryant kept the hits coming.
Kobe treated the Staples Center crowd to the second-highest scoring performance in NBA history when he dropped 81 points against the Toronto Raptors in January 2006. His game-winner in Game 4 of a first-round series against the Phoenix Suns later that year is another unforgettable memory.
Bryant led the Lakers to back-to-back championships in 2009 and 2010, with the second of those coming against the archrival Boston Celtics on home ground in Game 7. Finally, he closed his career in style by scoring 60 points against the Utah Jazz in his final game in 2016.
The Black Mamba gave fans at Staples Center endless snapshots through the years as he established one of the greatest legacies in NBA history. As Vanessa Bryant said, "The House That Kobe Built" is a more proper name for the arena.
Kobe Bryant left a lasting impression not just on Lakers fans, but the entire world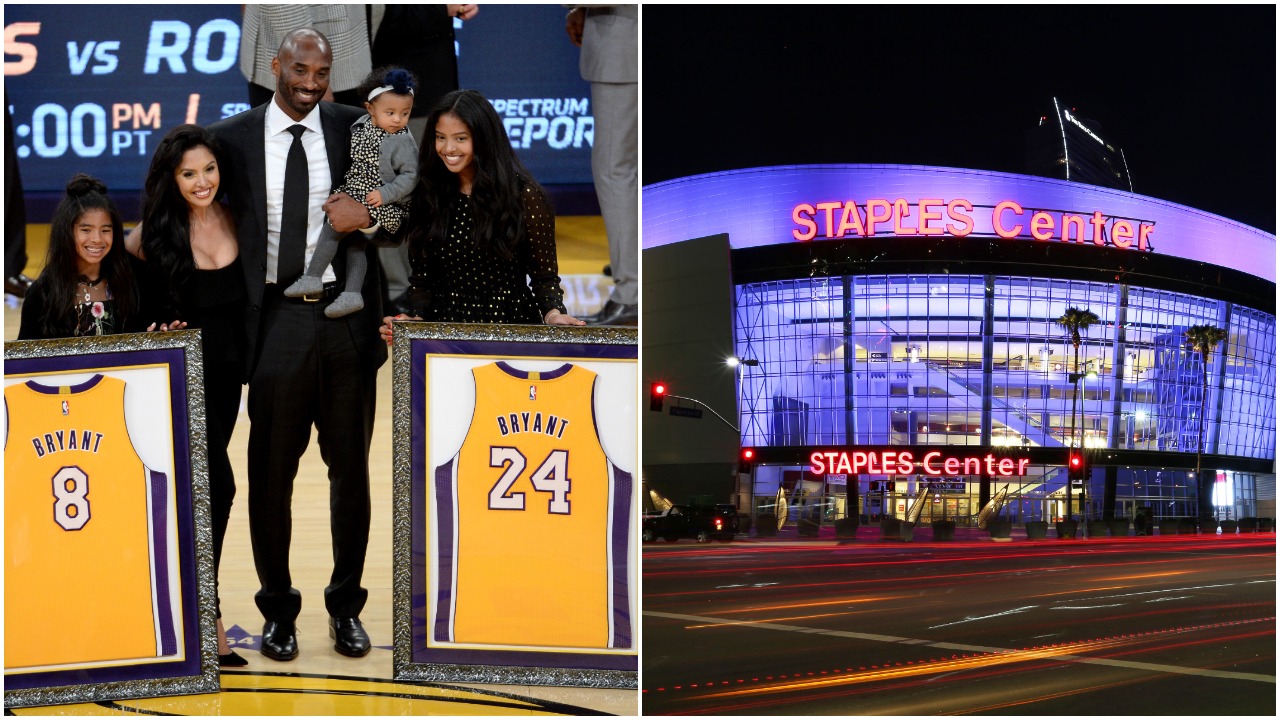 The death of Kobe Bryant, his daughter, Gianna, and seven others involved in a helicopter crash outside of Calabasas in January 2020 rocked the entire globe. However, beauty could be found amid the sadness.
Fans turned Staples Center into a literal memorial for Bryant, adorning the outside of the arena with Kobe memorabilia and pictures. Murals of Bean and Gigi cropped up all around the city. His larger-than-life persona engulfed the city.
However, Bryant's influence expanded well beyond LA.
While millions knew Kobe primarily as a basketball player, his role as a "Girl Dad" rose to the forefront and resonated with fathers everywhere as well as fellow hoopers like Zach Randolph. Vanessa Bryant reinforced that idea when she remembered her husband at his service, held at Staples Center on Feb. 24, 2020.
Staples Center is more than just Kobe's old basketball home. It's the foundation for his evolution as a player, man, and father in becoming one of the most identifiable figures in the history of sports. That's why Staples is "The House That Kobe Built."