Does Vegas Like Stephen Curry's Chances to Three-Repeat as the MVP?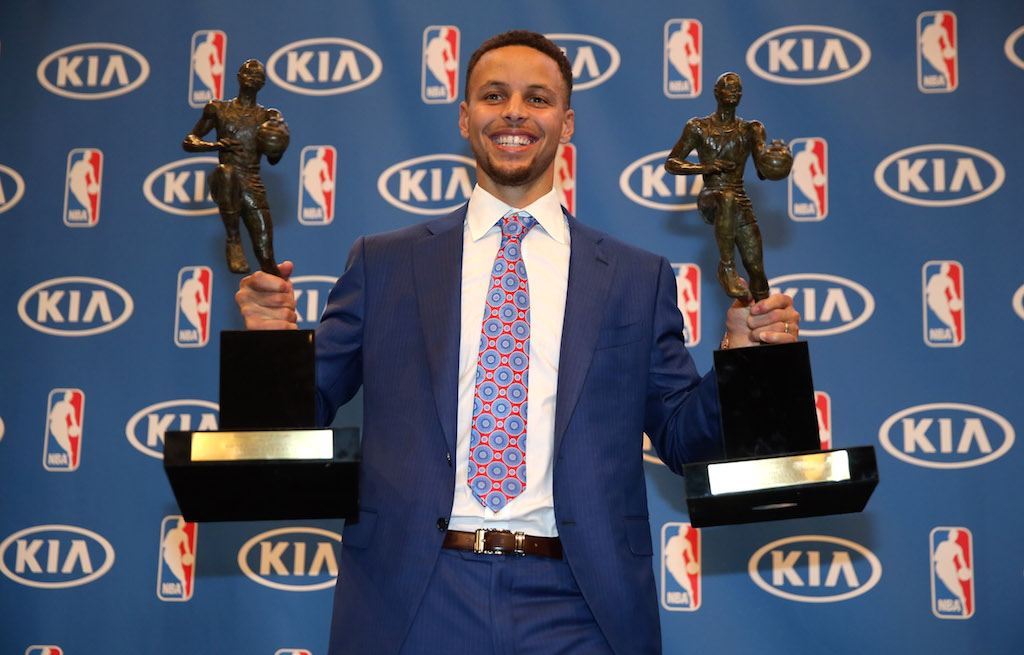 No matter how many all-time great players came up through the NBA ranks, we'd never seen anyone earn unanimous MVP honors. It's not that past individuals weren't deserving of the recognition, it's that it was going to take a special sort of showing for a player to be deemed worthy of garnering this particular distinction. Which is exactly what Golden State's Stephen Curry did in the 2015–16 season, finally resulting in the first-ever unanimous Most Valuable Player award recipient.
When accepting the MVP award back in May, Curry couldn't have been more humble:
"I never really set out to change the game. I never thought that would happen in my career. What I wanted to do was be myself. … I know it inspires the next generation. You can work every day to get better."
While Curry may not have expected to change the game in this fashion, if it's any consolation, neither did the teams who passed over him during the 2009 NBA Draft. In fact, six players were taken ahead of the man who's now won back-to-back MVP awards. But now that the dust has finally settled, and we start to prepare for the upcoming 2016–17 season, there's one question we find ourselves asking: Can Chef Curry make it three in a row? As it were, the oddsmakers in Vegas aren't so sure.
Curry may be the reigning two-time MVP, but the National Basketball Association is filled with some pretty spectacular players; each poised to take home some coveted hardware. See for yourselves why this season may be the one where the Golden State Warriors superstar is finally knocked off his post as the league's most valuable player.
4. Kevin Durant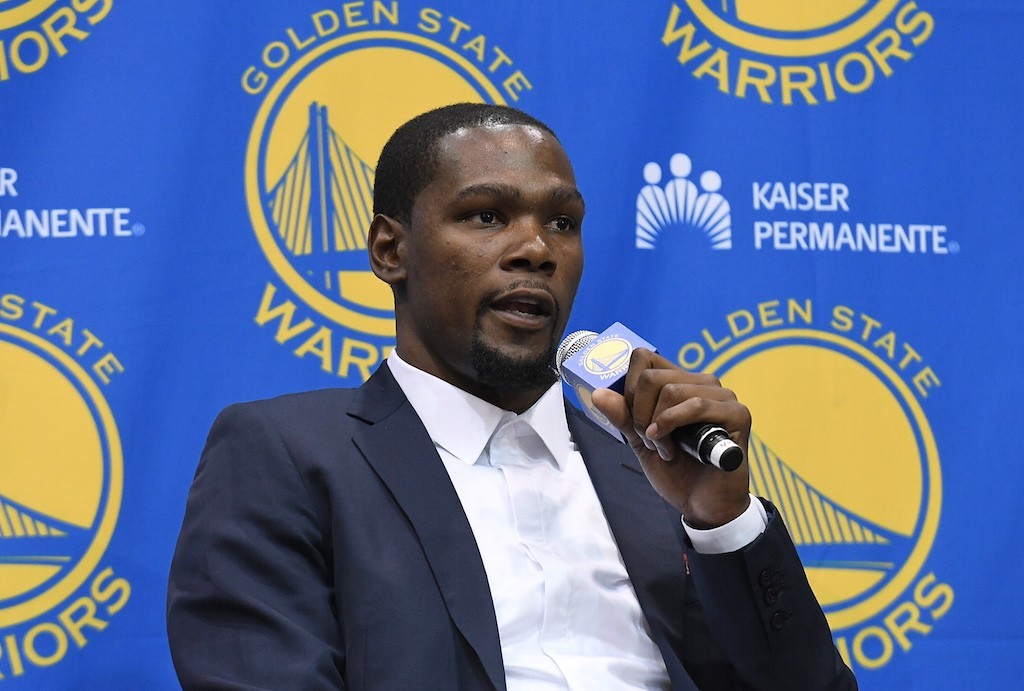 Odds: +1200
After spending the first nine years of his career with the same organization, Kevin Durant's decision to join the Golden State Warriors this offseason not only broken the hearts of fans across Oklahoma City, it also almost destroyed Twitter.
We guess that's to be expected when a seven-time All-Star with one MVP award (2013–14) and six All-NBA selections chooses to take his talents to the best (regular season) team in the National Basketball Association. The question is, can he actually win another MVP award as a member of this newly-formed "Super Team"? Well, the answer is more complicated than you might think.
Does KD have the skills to win the Most Valuable Player award? Absolutely. In 2015–16, Durant averaged 28.2 points, 8.2 rebounds, and five assists per game, shot over 50% from the field, and earned Second-Team All-NBA honors. However, no matter how great the Durantula is, it's going to be an adjustment playing on a team with so many alphas. There is only one ball, and that means that someone is going to have to sacrifice shots. Maybe Durant will get lucky, and he won't have to change his game up that much. That being said, don't expect his teammates to sacrifice their roles either.
3. LeBron James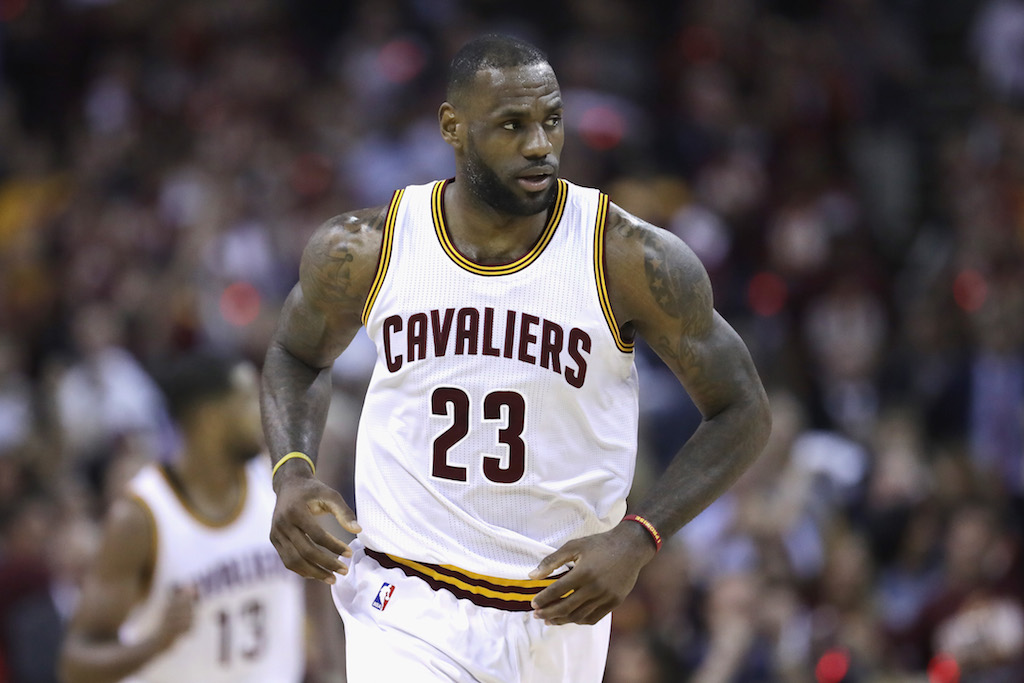 Odds: +500
LeBron James may have four MVP awards to his name, but he hasn't won the honor since the 2012–13 season. That being said, he did just lead the Cleveland Cavaliers to an improbable NBA title while putting together one of the greatest Finals performances in recent memory. On top of that, we'd be nuts to suggest he wasn't still a force to be reckoned with during the regular season.
In 2015–16, the King put up 25.3 points per game, pulled down 7.4 rebounds a night, and dished out 6.8 assists per contest. He was an All-Star, a First-Team All-NBA member, and still considered by many to be the best player on the planet. The league itself may have changed over the offseason, but James's mentality has not. He's striving to be the best player of all time — another MVP award would certainly help strengthen his case.
2. Stephen Curry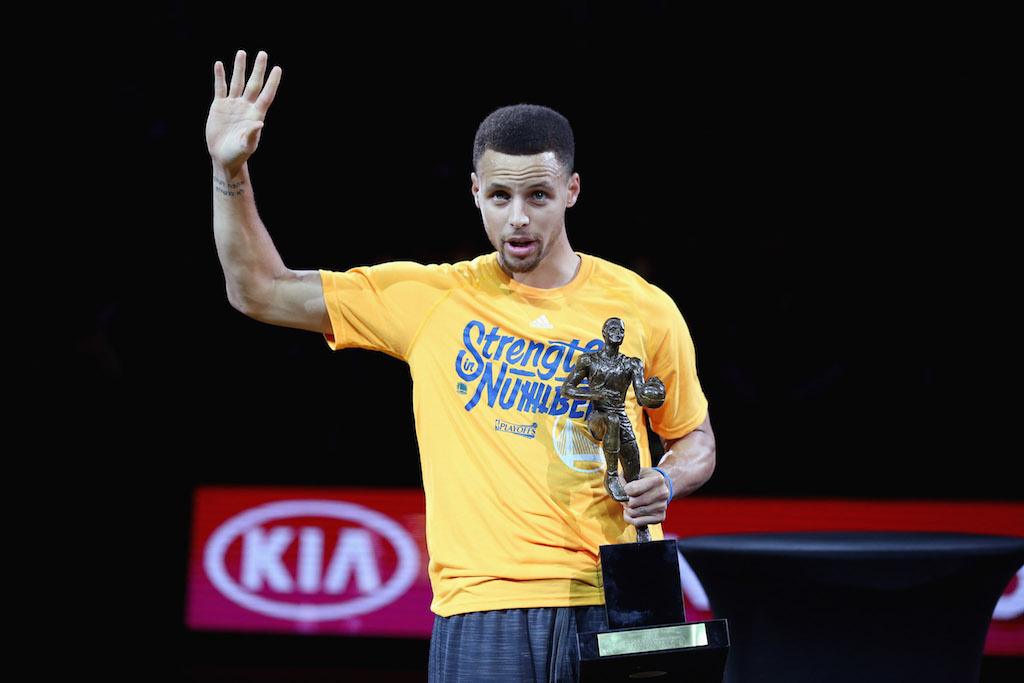 Odds: +400
Stephen Curry did more than simply lead the Golden State Warriors to the best regular-season record in NBA history, he put up eye-popping numbers in the process.
The Baby-Faced Assassin led the league in field goals (805), set the new standard for three-pointers made in a single season with 402, and won the scoring title with his 30.1 points per game.  He destroyed the opposition from deep, he made incredible circus shots at the rim, and he dazzled the world with his court awareness, slick passes, and butter-like handle (you know, because he's smooth).
The Dubs have spent the offseason turning themselves into an even bigger juggernaut. Unfortunately, having so many stars under the same roof may actually hinder Curry's chances of winning his third consecutive MVP award. Of course, if it helps him win another NBA title, we have a feeling he won't mind.
1. Russell Westbrook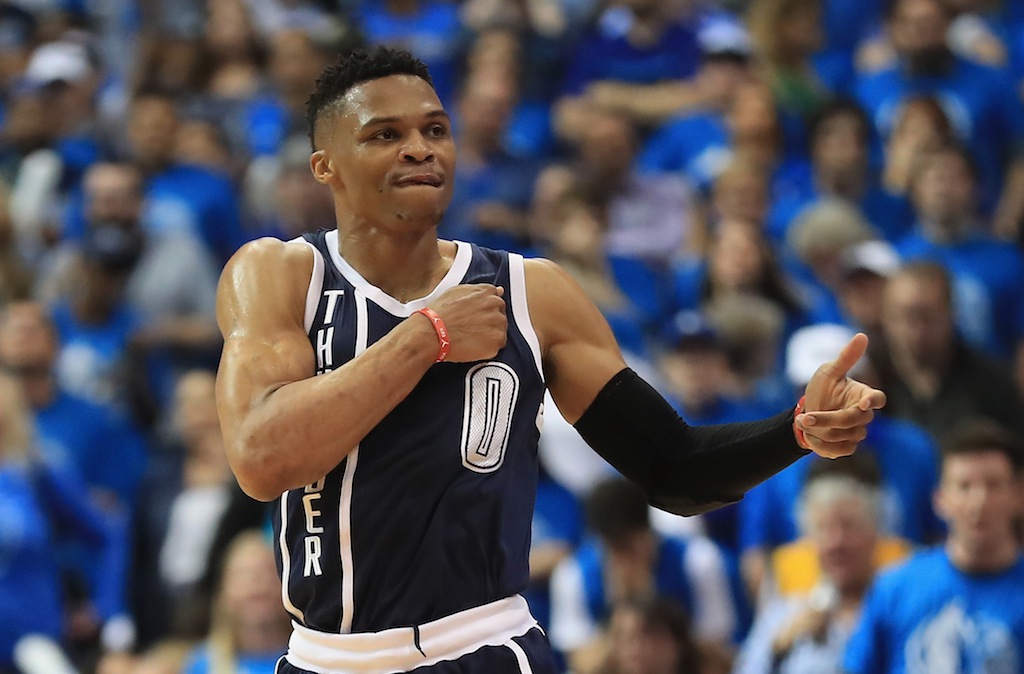 Odds: +200
It's difficult to imagine anyone being more affected by the tumultuous free-agency period than OKC's Russell Westbrook. He went from being part of arguably the top duo in the league to now being the undisputed No. 1 option on the Thunder's roster. While this change may affect the team's ability to compete in the ultra-competitive Western Conference, it should also help Westbrook put up some insane individual numbers — MVP-like numbers.
Think about this for a second: In the 2015–16 season, Westbrook unleashed havoc, shooting 45.4% from the field, earning First-Team All-NBA honors, and averaging 23.5 points, 7.8 rebounds, and a whopping 10.4 assists per game. And that was with Durant on the squad. Now that he's gone, the sky's the limit for what Russ can do statistically. The Thunder are officially Westbrook's team now. We can't think of a better way for him to begin the next chapter of his career than by earning his first Most Valuable Player award. The oddsmakers in Vegas seem to agree.
Odds courtesy of Bovada via OddsShark.
Statistics courtesy of Basketball Reference.