Las Vegas Oddsmakers Put Trevor Lawrence and Kyle Pitts as Their Favorites for NFL Offensive Rookie of the Year
With the 2021 NFL season about a month away, Las Vegas oddsmakers are already taking bets as to who will win this year's Offensive Rookie of the Year award, and the race features some strong candidates.
But the top two candidates are apparently Jacksonville Jaguars quarterback Trevor Lawrence and Atlanta Falcons tight end Kyle Pitts. 
The other rookies on this list could also have an impact on their teams' success if they get a chance to play, so let's examine the five favorites.
Trevor Lawrence, QB, Jacksonville Jaguars (3/1 odds; bet $100 to make $300)
It's not surprising that Vegas Insiders has Lawrence at the top of its list. Unlike some of the other rookies featured, Lawrence is expected to start for the Jags from Day 1, which may or may not hurt his chances of winning the award.
If reports out of Jaguars camp are true and Lawrence is struggling at the moment, it might be a long year for this rookie. Last year at Clemson, Lawrence threw for over 3,100 yards and 24 touchdowns, so that explains why he may be the top candidate in this race.
Kyle Pitts, TE, Atlanta Falcons (15/2 odds)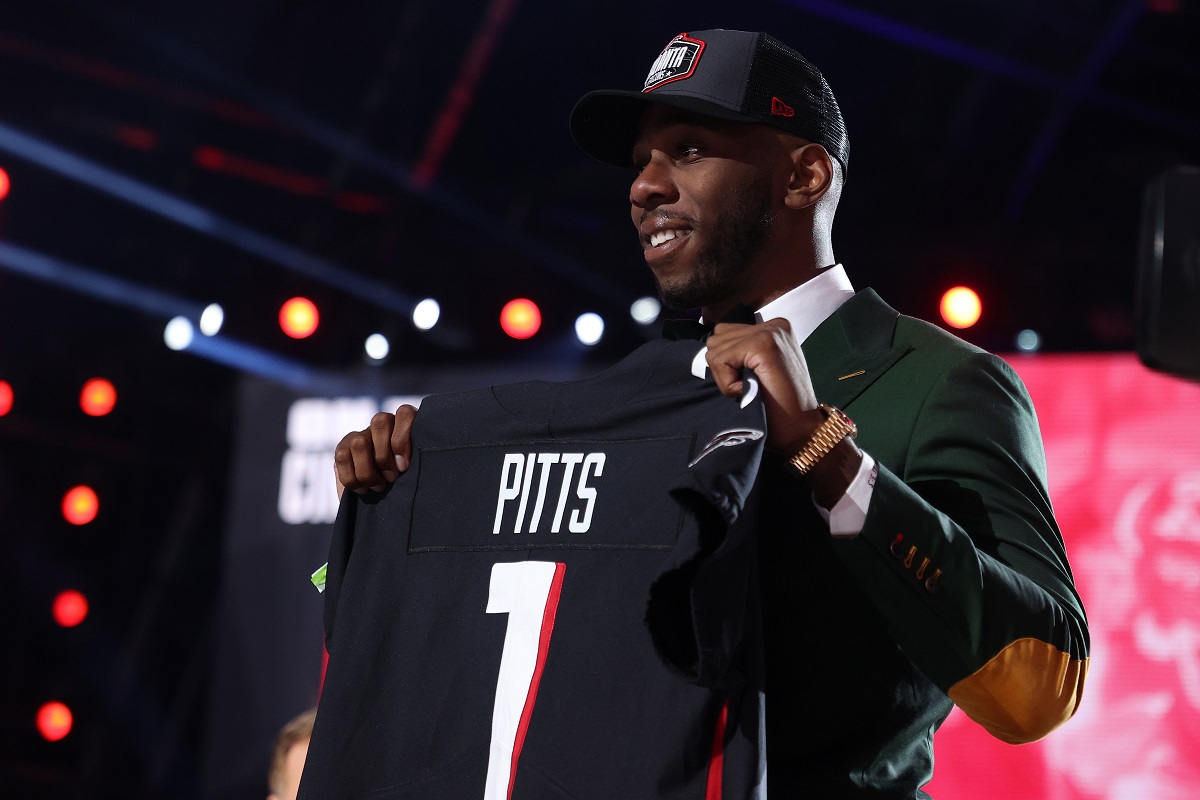 Pitts was a superstar at tight end for the Florida Gators. He had 770 yards receiving and caught 12 touchdown passes. He was one of the main reasons that Gators quarterback Kyle Trask was a Heisman Trophy candidate, and now he is on a team that has one of the top passers in the game: Matt Ryan.
Although the Atlanta Falcons struggled last season, Ryan still threw for 4,581 yards and 26 touchdowns. With wide receiver Calvin Ridley on the other side to take pressure off him, Pitts may have a huge year.
Trey Lance, QB, San Francisco 49ers (8/1 odds)
Despite opting out of spring season to prepare for the NFL, Lance was still one of the top draft selections in 2021, chosen third overall by the San Francisco 49ers.
He was high on their list for good reason. Lance threw for over 2,700 yards, 28 touchdown passes, and zero interceptions in 2019.
Reports out of 49ers camp indicate that Lance is making a hard push for the starting quarterback role, but so far, Niners head coach Kyle Shanahan seems to be sticking with Jimmy Garoppolo.
Najee Harris, RB, Pittsburgh Steelers (8/1 odds)
There was buzz surrounding the Hall of Fame Game between the Pittsburgh Steelers and Dallas Cowboys on Thursday, Aug. 5. Specifically, it was about former Alabama running back Najee Harris.
All you have to do is turn on Harris' highlight tape with the Crimson Tide last year to understand why Steelers fans are foaming at the mouth about all he could bring to this team.
Harris should have plenty of opportunities this season to prove why he may deserve Offensive Rookie of the Year honors.
Justin Fields, QB, Chicago Bears (17/2 odds)
Calling Justin Fields a dark horse in this race would underestimate his abilities. He is already wowing people at Chicago Bears training camp despite the fact that head coach Matt Nagy has said that Andy Dalton, at least for now, will be starting over him.
That may be the only reason Fields might not win Offensive Rookie of the Year. If he's given an opportunity to shine, it may be a wrap for the other candidates on this list.