Victor Oladipo Ready to Put the Heat Over the Top Ahead of Season Debut
The Miami Heat already sit atop the Eastern Conference and are coming off a statement win over the Philadelphia 76ers. As they prepare for the final month of the NBA regular season, they're also adding a former All-NBA talent to the rotation in Victor Oladipo.
Oladipo has missed the entirety of the 2021-22 season recovering from a May 2021 surgery on his right quadriceps tendon. However, the 29-year-old is rapidly nearing a return. What kind of guy will Miami be getting?
Injuries have largely zapped the two-time All-Star of his burst and effectiveness, but he's hoping to give the Heat quality minutes. His teammates sure sound thrilled about his potential to solidify the team's championship roster.
Victor Oladipo could return as soon as Monday
It's been a long and winding road for Oladipo. But he's just about ready to suit up for the Heat.
Miami upgraded Oladipo to questionable for Monday's showdown with the Houston Rockets, when the former Indiana Hoosiers star is expected to make his season debut. He will almost certainly face a minutes restriction in the coming weeks as the Heat try to ease him back into the fold.
Oladipo has hardly seen the floor in the last few seasons. He suffered a devastating tear of his right quad tendon in January 2019, missing a full calendar year. The Maryland native ultimately returned for the Indiana Pacers at the end of the 2019-20 season, but he looked like a shell of himself in the Orlando "bubble."
That trend continued the following season.
Oladipo produced mixed results for the Pacers at the start of the 2020-21 campaign before heading to the Rockets as part of the James Harden trade. He struggled in Houston, shooting just 40.7% from the field and 32% from beyond the arc in 20 games with the Rockets.
The Heat pounced on Oladipo's declining value at the 2021 trade deadline. Miami believes he has a lot to offer the 2021-22 squad as he hopes to get his career back on track.
The Heat sound jazzed about Oladipo's current form
Heat veteran Udonis Haslem has been around the league and knows enough about NBA personnel to understand when guys are right and when they aren't. He's confident that Victor Oladipo is right.
"I've seen enough to know he's definitely better than he was last year," Haslem said, per the Miami Herald.
Haslem isn't the only one who has noticed Oladipo's progression during the rehab process. Both Jimmy Butler and Caleb Martin explained that the 2017-18 steal champion looks "great," with Martin emphasizing how Oladipo's return positively impacts the roster.
"[Oladipo] will find his way," Martin said, per the Herald. "We will adjust to him. He can't do anything but make us a lot better. That's the scary thing about it."
The Heat seem jazzed about Oladipo's return, and Oladipo himself is excited to get back to work.
Oladipo explained that the first procedure on his injured right quad tendon didn't give him the best chance of returning to full strength. He believes the second surgery addressed prior issues.
"Essentially it wasn't the right version for me," Oladipo said, via the Herald. "It didn't give me my best opportunity to get my leg back to where it needs to be. Things are different now."
Miami could use Oladipo's talents as a scorer and secondary playmaker, particularly given Butler's shaky efficiency in recent contests. But he'll need time to get integrated, and the Heat will have to decide whether he's a better option than other guys in the rotation.
Where does he fit?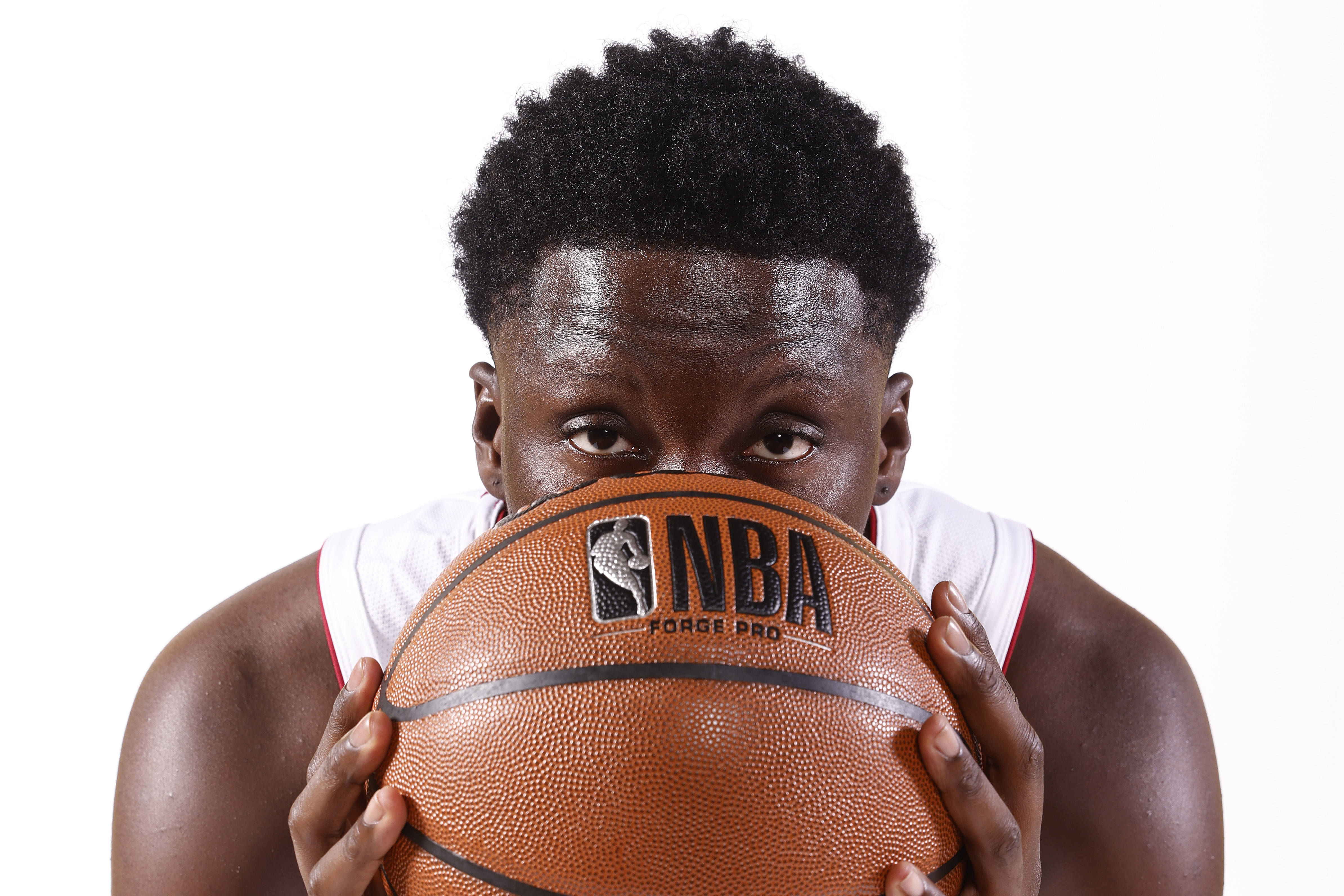 In an ideal world, Victor Oladipo returns and resembles the All-Star player of old.
That version is someone who generates offense off the dribble. Prior to his first quad tendon injury, Oladipo had begun to develop a tremendous pull-up game. According to NBA.com, he knocked down nearly 46% of his pull-up jumpers and made almost 43% of his step-back j's during the 2017-18 season.
But Oladipo is no longer that guy who can create space off the dribble and explode to the rim or rise up for jumpers. Or at least, he wasn't that guy last season.
Oladipo converted on just over 30% of his pull-up and step-back attempts last season, making less than 40% of his mid-range efforts and also shooting below 40% on all non-restricted area attempts in the paint. A lot of that has to do with decreased mobility impacting shot-making.
The Heat must face the reality that they get a middling version of Oladipo. In that case, they're better off giving Gabe Vincent and Max Strus more minutes.
Vincent and Strus epitomize the depth that has helped the Heat withstand a slew of injuries this season. Strus is a vital floor-spacer averaging 10.7 points on 40.4% shooting from deep. Meanwhile, Vincent is also averaging close to 10 points and 40% shooting from beyond the arc while supplying positive value on the defensive end.
It's never a bad thing to add another body, especially not for a Miami team that has played banged up all season long. That said, head coach Erik Spoelstra will have to be smart about his rotations. Guys like Vincent, Strus, and Caleb Martin might be more productive in their minutes than a returning Oladipo, even if they have lower ceilings.
Oladipo has the potential to make the Heat the favorite to come out of the Eastern Conference. His teammates seem to believe he can do just that. Still, Miami cannot afford to give him too long a leash as it pursues an NBA title.
Stats courtesy of Basketball Reference unless otherwise noted.
RELATED: Jimmy Butler Bashes the NBA For Being Soft, Perfectly Explaining Why He Is the Ultimate Leader for the Heat