Victor Oladipo Reveals When He Wants to Return for the Pacers
The Indiana Pacers have been one of this NBA season's most pleasant surprises, keeping themselves in the thick of the playoff race and playing competitive ball against even the top-tier teams. Even more impressively, they have succeeded despite the absence of arguably their best player, Victor Oladipo, who has been out all season with a ruptured quad tendon.
That injury has kept Oladipo off the court for nearly a year now. Yet sources close to the Pacers star recently reported that he was hoping to return to the lineup soon. Here we take a look at Oladipo's career to date, his injury, its effect on his Pacers team, and the timeline for Oladipo's return moving forward.
Victor Oladipo's professional career
Coming into the 2013 draft, Victor Oladipo was projected as a top-14 lottery pick with impressive physical tools. The Orlando Magic felt so confident about Oladipo, however, that they selected him with the No. 2 overall pick. Their enthusiasm soon paid off, with Oladipo becoming a key contributor during his rookie season. His play was so strong that he finished second in Rookie of the Year voting.

Oladipo continued to develop during his second season, posting 17.9 points and 4.1 assists per game. His numbers dropped off slightly in his third season, but that didn't stop the Magic from extending Oladipo's contract for another year. Yet, instead of keeping him, the Magic traded Oladipo to the Oklahoma City Thunder for Serge Ibaka in June 2016.

Oladipo's numbers remained consistent in Oklahoma City — no easy feat since he suddenly found himself playing with ball-dominant point guard Russell Westbrook. After the Thunder failed to make it out of the first round of the playoffs in 2017, the Thunder traded Oladipo (along with power forward Domantas Sabonis) to the Pacers for Paul George.

Oladipo entered his first season with the Pacers looking like a new man, after putting on some serious muscle in the offseason. He also elevated his play to a new level, posting a career-high 23.1 points and 2.4 steals per game. Oladipo's second season with the Pacers was cut short after 36 games when he ruptured his quad tendon in a game against the Toronto Raptors.

The Pacers' unexpected success in the 2019-20 season
With Victor Oladipo projected to miss a significant part of the 2019-20 season, many analysts around the league assumed that the Pacers would have a hard time making the playoffs. Yet through 35 games, they had a 22-13 record, with a plus-3.4 point differential. Most impressively, in December, the Pacers snapped the Los Angeles Lakers 14-game road winning streak with an emphatic victory.

A lot of that success has been due to the excellent play of Malcolm Brogdon, who the Pacers acquired from the Milwaukee Bucks in the offseason. Sabonis has also been having a monster season — so much so that many pundits see him as a legitimate dark-horse candidate to make the All-Star Game.

When will we see Victor Oladipo returns from injury?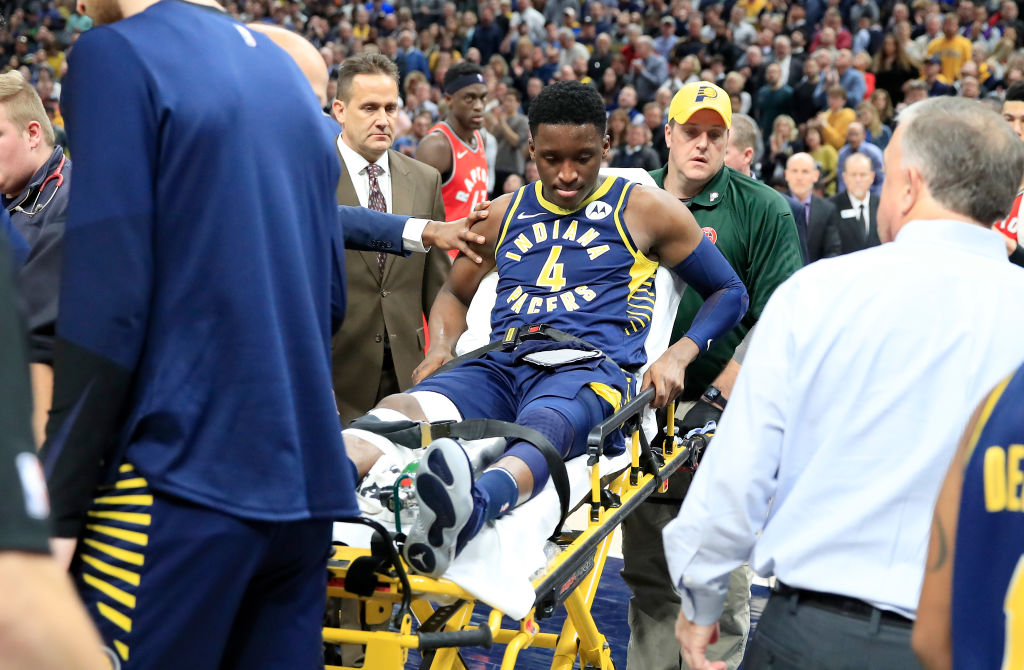 Five days after his quad rupture, Oladipo underwent successful surgery. He has been in the midst of a long and arduous rehabilitation process since then. By October 2019, Oladipo got to the point where he could return to the court for some half-court, five-on-five scrimmaging. Yet he still wasn't up to running up and down the court the way he wanted.

Since then, he has been slowly revving up his rehab process, scrimmaging more and more frequently. In November, he was assigned to the Pacers' G League team, the Fort Wayne Mad Ants, to get some much-needed practice. At that point, Oladipo's return seemed imminent.

It was.

Sources recently reported that Victor Oladipo hopes to make his return by early February at the latest. The best-case scenario may even see him back on the court sometime in late January, as ESPN reported. For the surging Pacers, Oladipo's scoring and defensive prowess should have a positive impact.