The Vikings Cleaning House Spells Major Trouble for Kirk Cousins and His Minnesota Future
Coming off a disappointing season that saw them on the outside looking in when it came to the final playoff picture (despite an expanded format), the Minnesota Vikings decided to clean house on the ever-dreaded Black Monday.
They fired longtime general manager Rick Spielman and longtime head coach Mike Zimmer — paving the way for a new era of Vikings football to commence.
While a lot will likely change for the Vikings moving forward, one overarching question looms over everything. What next for quarterback Kirk Cousins?
The Vikings have been incredibly average with Kirk Cousins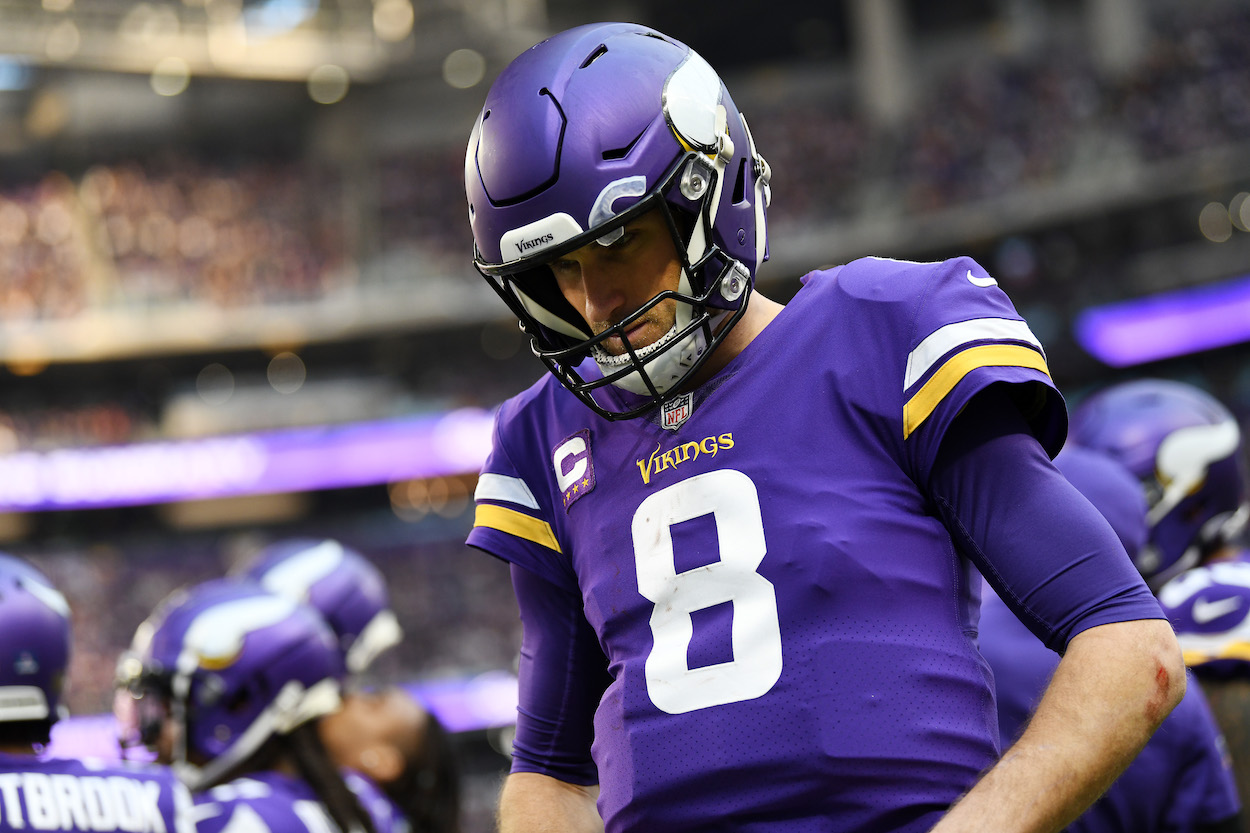 Following the Vikings' impressive NFC Championship run during the 2017 season, they acted aggressively the following offseason to upgrade the QB position. They replaced Case Keenum with Kirk Cousins hoping it would result in further deep playoff runs.
While Cousins did lead Minnesota to a playoff win in 2020, his results in purple haven't come close to living up to the expectations attached to being one of the highest-paid players in the league. The Vikings have missed the playoffs 3/4 times with Cousins at QB and are coming off back-to-back nine-loss seasons in 2020 and 2021.
It's been a whole lot of average from Cousins.
The former Washington Football Team QB has certainly had his moments in Minnesota. His final stat-lines each season always look impressive. However, the brutal reality of the situation is that he hasn't been good enough since arriving in Minnesota. His lack of elite play is a primary reason the team felt obliged to clean house after this past season's failure.
The Vikings' next GM will have to make a decision on Kirk Cousins
Once the Vikings identify their next general manager, the first order of business will be to construct a plan for Cousins.
Is he deserving of the team's QB1 job in 2022? Or will the Vikings explore trade talks regarding their highly-paid franchise QB?
Of course, the tricky part to all of this is Cousins' current contract. He's owed $35 million in 2022, thanks to Spielman extending him in 2020. That's a challengingly complex contract to trade on the open market.
Regardless, Cousins' current situation will undoubtedly be at the top of the following Vikings GM's to-do list. Most general managers like to draft/sign their own starting quarterback when they take over a new team, and clearing up $35 million in cap space would undoubtedly help the Vikings' rebuilding efforts as well.
Minnesota is likely entering a rebuilding phase
Whether Cousins is traded or not, it's hard not to see the Vikings cleaning house as a shift toward a rebuilding mindset. They've been trying to recapture their 2017 magic for quite some time with no results to show for it. Accepting that it's time to start over is a good step in the right direction.
Outside of the Kirk Cousins situation, the Vikings roster isn't all flawed. They have some genuinely elite talent in Justin Jefferson, Adam Thielen, and Dalvin Cook. That's a good starting point for the team's next general manager and head coach.
All stats courtesy of Pro Football Reference.