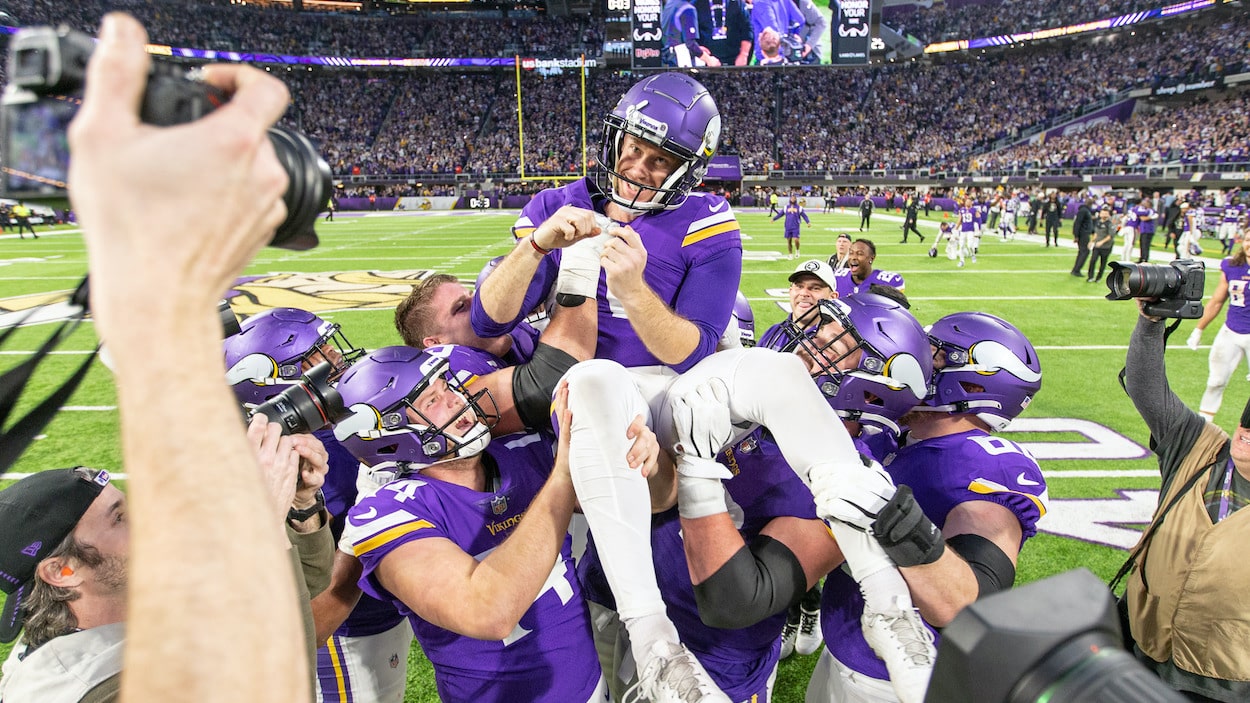 Phil Simms Talked Trash to Vikings-Colts Announcer Before Biggest Comeback in NFL History
The Vikings-Colts Week 15 game was a wild affair that ended with the Vikings completing the biggest comeback in NFL history.
The Minnesota Vikings Week 15 matchup with the Indianapolis Colts looked like a route at halftime as the visiting AFC team was up 33-0 against the home NFC squad. With a blowout like that, announcers Noah Eagle and Nate Burleson and sideline reporters Lindsay Czarniak and Tom Pelissero were going to have a long second half in front of them, trying to keep fans interested in the game. Burleson's buddy, former NFL QB Phil Simms, even texted his pal to tease him about what a rough second half he was in store for. However, the Vikings-Colts game not only got exciting down the stretch, it became the biggest comeback in NFL history.
The Vikings-Colts game looked like a massive blowout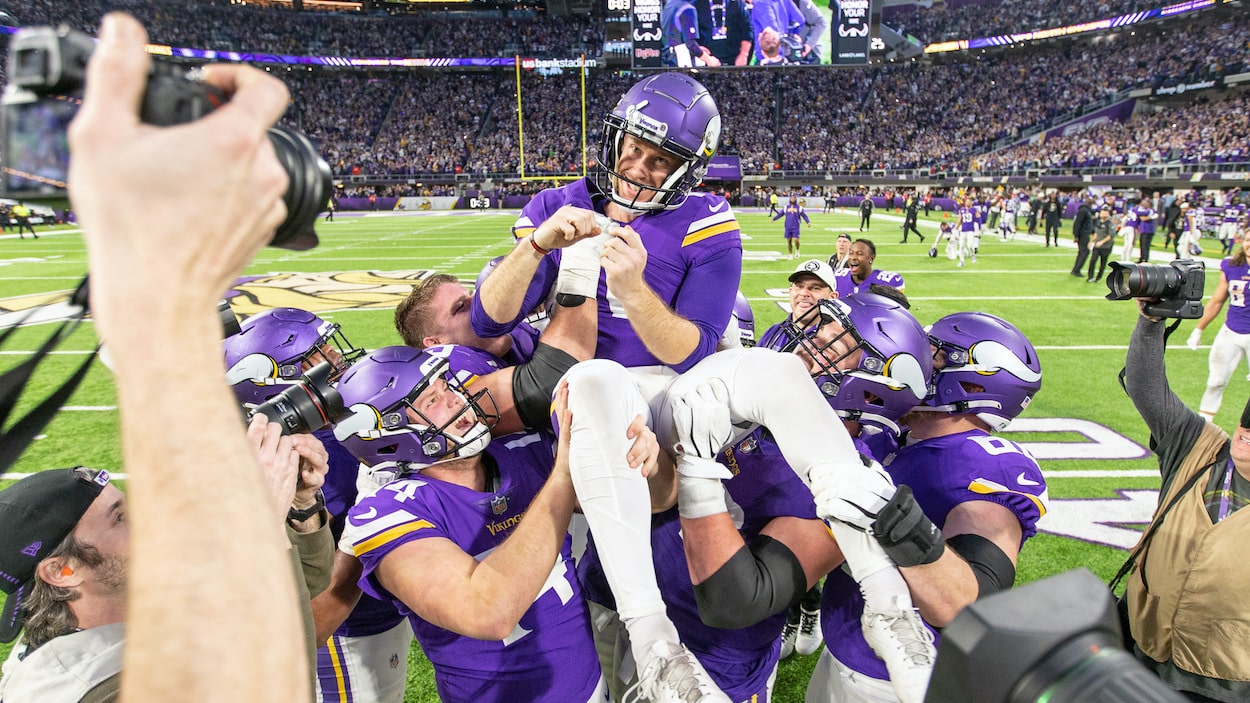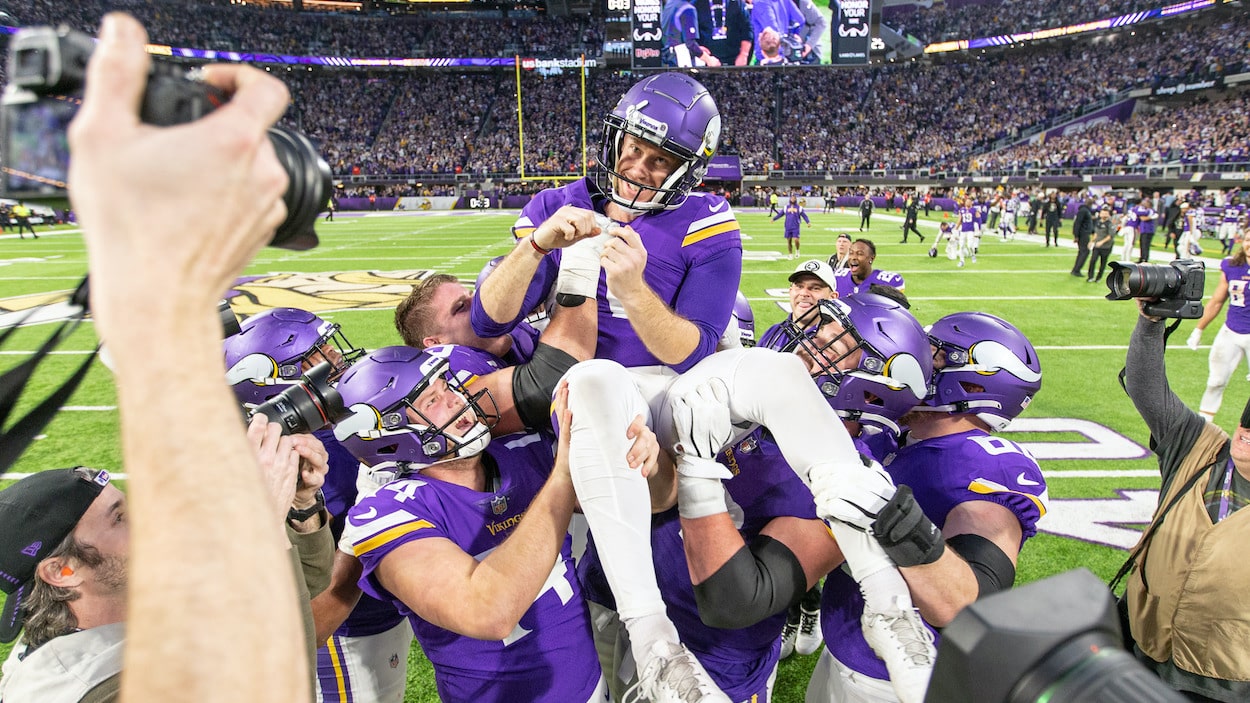 The Minnesota Vikings Week 15 matchup with the Indianapolis Colts had the 10-3 NFC team a – 4.5-point favorite against the 4-8 AFC squad. As the game got closer and money came in on the Colts' side, that number dropped to -3.5 at game time.
The bettors who jumped all over the Colts looked smart through the first 30 minutes of football. In the first two quarters of Vikings-Colts, the away team got a field goal, a blocked punt return for a score, a one-yard passing touchdown, two more field goals, an interception return for a TD, and one last field goal.  
For those scoring at home, that is a 33-point outburst by the Colts in Week 15.
On the NFL Today pregame show on CBS on Sunday, Phil Simms admitted he texted announcer Nate Burleson at halftime to tease him about how bad the second half would be.
"At halftime [of Vikings-Colts], I texted. I said, 'Sorry, Nate. Good luck with the second half.' How'd that work out?" Simms asked.
Well, it turned out well for Burleson and the Vikings, while it was an absolute nightmare for Jeff Saturday and the Colts.
A historic second-half comeback
Whatever Minnesota coach Kevin O'Connell said to his team at halftime of the Week 15 Vikings-Colts game, it worked. The Vikings came out like a house on fire and methodically clawed their way back into the game, drive-by-drive.
A K.J. Osborn two-yard TD catch gave way to another Colts field goal. That was the last time Indianapolis would score on Saturday. After that, the Vikings had a C.J. Ham one-yard TD run, an eight-yard Justin Jefferson scoring catch, a one-yard pass from Kirk Cousins to Adam Theilen for six, and a 64-yard touchdown scamper by Dalvin Cook. That sent the game to overtime, where Vikings kicker Greg Joseph for a game-winning 40-yard FG in OT.
It was a total team effort from the home team in the Vikings-Colts game. As Kirk Cousins correctly said after the game, "It was an ugly first half. Found a way. Complementary football, Lot of phases. Lot of plays."
And with that, the Vikings completed the biggest comeback in NFL history.
The biggest comeback in NFL history
In a twist of irony, the man who led the previous biggest comeback in NFL history was Frank Reich, the coach the Colts fired just a few weeks ago.
That happened in a 1992 AFC Wild Card playoff game (played in 1993) vs. the Houston Oilers. In that game, the Buffalo Bills fell behind 35-3 and clawed their way back to win the game (and advance to the next round) by a score of 41-38.
That 32-point comeback held for nearly 30 years before the Vikings-Colts game surpassed it.
The other biggest comebacks in NFL history are:
T-3. 28 points: 1980, Week 14, San Francisco 49ers beat New Orleans Saints 38-35 (OT)
T-3. 28 points: 2014, AFC Wild Card game, Indianapolis Colts beat Kansas City Chiefs 45-44
5. 26 points: 1997, Week 4, Buffalo Bills beat Indianapolis Colts 37-35
T-6. 25 points: 1987, Week 15, St. Louis Cardinals beat Tampa Bay Buccaneers 31-28
T-6. 25 points: 2014, Week 5, Cleveland Browns beat Tennessee Titans 29-28, Week 5
T-6. 25 points: 2016, Super Bowl LI, New England Patriots beat Atlanta Falcons 34-28 (OT)
Now the Vikings-Colts game is in the history books, and the chances are, it will stand up for a very long time.