The Vikings Have No Clear Solution to Their Crippling Kirk Cousins Problem
Heading into Week 17 at 7-8, the Minnesota Vikings are on the outside looking in when it comes to the NFC playoff picture. Despite high expectations and a highly paid quarterback (Kirk Cousins), it appears the Vikings are ultimately going to miss the postseason for the second year in a row.
The Vikings are being forced to start backup QB Sean Mannion against the Green Bay Packers on Sunday Night Football due to Cousins testing positive for COVID-19, almost guaranteeing they will fall to 7-9 and all but ending their chances of sneaking into a wild-card spot.
The Vikings are dealing with a number of internal issues
No more than five years ago, the Vikings looked like an organization on the upswing. They traveled to the NFC Championship with Case Keenum under center, thanks primarily to their strong defensive scheme. The initial hope was that acquiring Kirk Cousins would vault them into serious Super Bowl conversation, as most felt he was an upgrade compared to Keenum.
On a statistical level, Cousins has been better than Keenum. However, he's not been consistent enough to take Minnesota where it wants to be. His lack of true franchise quarterback ability has cost the Vikings on more than one occasion.
Additionally, head coach Mike Zimmer has failed to replicate his success from 2017. His job status has been under significant fire all year long, with a potential firing looming overhead.
Star wide receiver Stefon Diggs forcing his way out of town was another domino that fell against Minnesota's favor. However, the subsequent drafting of Justin Jefferson helped most Vikings fans forget all about Diggs. Jefferson is arguably already better.
However, quarterback Kirk Cousins is at the center of Minnesota's problems. Whether the Vikings want to admit it or not, everything circles back to the average QB who's being paid like a bonafide superstar.
Kirk Cousins' cap number is skyrocketing up to $45 million in 2022
Starting quarterbacks are paid a lot of money these days. That's just how the NFL works. However, the goal is to always be on the winning side of big-money negotiations as a general manager. You want to be paying the Patrick Mahomes of the world while avoiding the Jared Goffs.
The Vikings currently find themselves on the losing end of said negotiations.
Minnesota doubled down on its Kirk Cousins investment in 2020, handing him a massive two-year, $66 million extension. As things currently stand, the Vikings owe Cousins a mind-boggling $45 million in 2022, per Spotrac.
The Vikings have no clear solution to their Kirk Cousins problem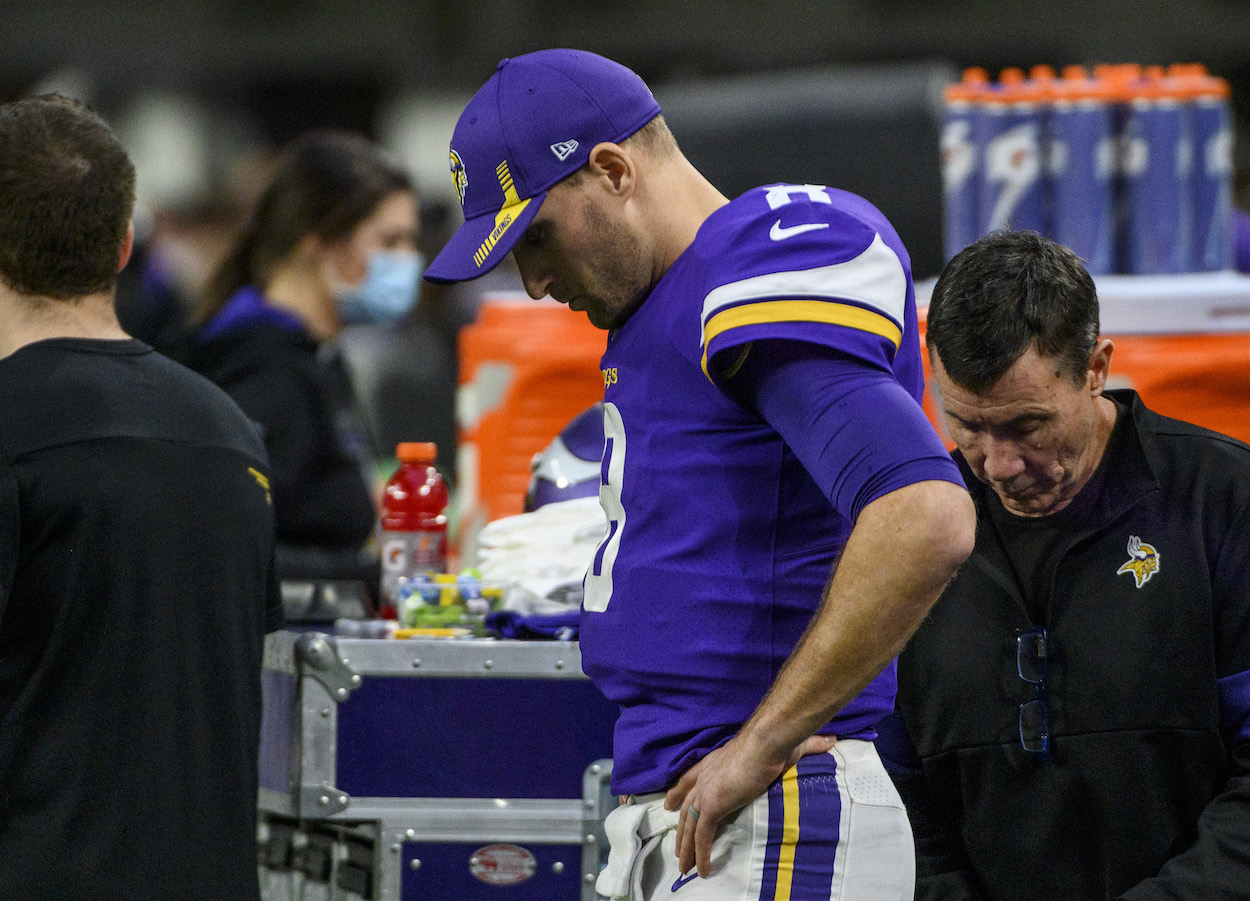 Whether you think Cousins is a good quarterback or not, the big (and obvious) problem here is that Minnesota can't justify paying him $45 million next season. That's an astronomical number for a quarterback who's looking at back-to-back losing seasons.
However, there's genuinely no clear solution for the Vikings to pursue.
Finding a suitable trade partner would be highly challenging due to the massive cap number. Minnesota would likely have to attach draft picks to Cousins to make it possible. The Vikings could extend Cousins further and subsequently restructure and lower his cap number. However, that means being married to him for another couple of seasons.
The Vikings also have no clear and obvious in-house replacement ready to step in next season. Rookie Kellen Mond was an intriguing pickup this past spring. However, he's yet to step on an NFL field this season. Trusting him to start next year would be ambitious.
Ultimately speaking, it feels like Cousins will simply remain in Minnesota for one more year. Unfortunately for the Vikings, this likely means one more year of playoff-less football.
Like Sportscasting on Facebook. Follow us on Twitter @sportscasting19.