The Vikings Just Suffered Another Heartbreaking Injury That Should Officially Crush Kirk Cousins' Playoff Dreams
Heading into their Week 12 matchup with the San Francisco 49ers, pressure was beginning to mount for Kirk Cousins and the Minnesota Vikings. They were coming off back-to-back impressive wins over the Los Angeles Chargers and Green Bay Packers, giving fans the belief that a playoff appearance was in their near future.
A big win against the NFC-rival 49ers would give Minnesota a significant leg up in the Wild Card standings.
The 49ers knocked off the Vikings 34-26
Despite the strong momentum that the Vikings entered Sunday with, they were ultimately unable to extend their winning streak to three games. The 49ers won 34-26, improving their record to 6-5 while simultaneously dropping Minnesota to a measly 5-6.
Kirk Cousins passed for 238 yards and two touchdowns. However, he also threw one interception.
The 49ers, on the other hand, had a ton of success moving the football in all aspects of their game. They finished with an eye-popping 423 yards of total offense, with Deebo Samuel and Elijah Mitchell combining for 199 rushing yards on 33 carries.
Minnesota suffered a much greater loss
While the Vikings' Week 12 loss undeniably hurts their playoff odds moving forward, they suffered a much more significant loss in the grand scheme of things. They lost running back Dalvin Cook to a dislocated shoulder, and it's currently unknown how much time he will miss.
Cook was visibly upset when the injury first occurred and had to be carted off the field. These are not good signs, for obvious reasons.
Vikings running back Dalvin Cook was carted off with 1:30 remaining in the third quarter.

Cook appeared emotional as he climbed on the cart, with his teammates wishing him well before he headed to the training room.

[He] was hit by 49ers defensive lineman Kevin Givens and fumbled before Cook's teammate, Olisaemeka Udoh, rolled over the top of him. Cook immediately grabbed for his shoulder.

The Vikings ruled out Cook with a shoulder injury.

Charean Williams, Pro Football Talk
Kirk Cousins and the Vikings' playoff dreams are in major jeopardy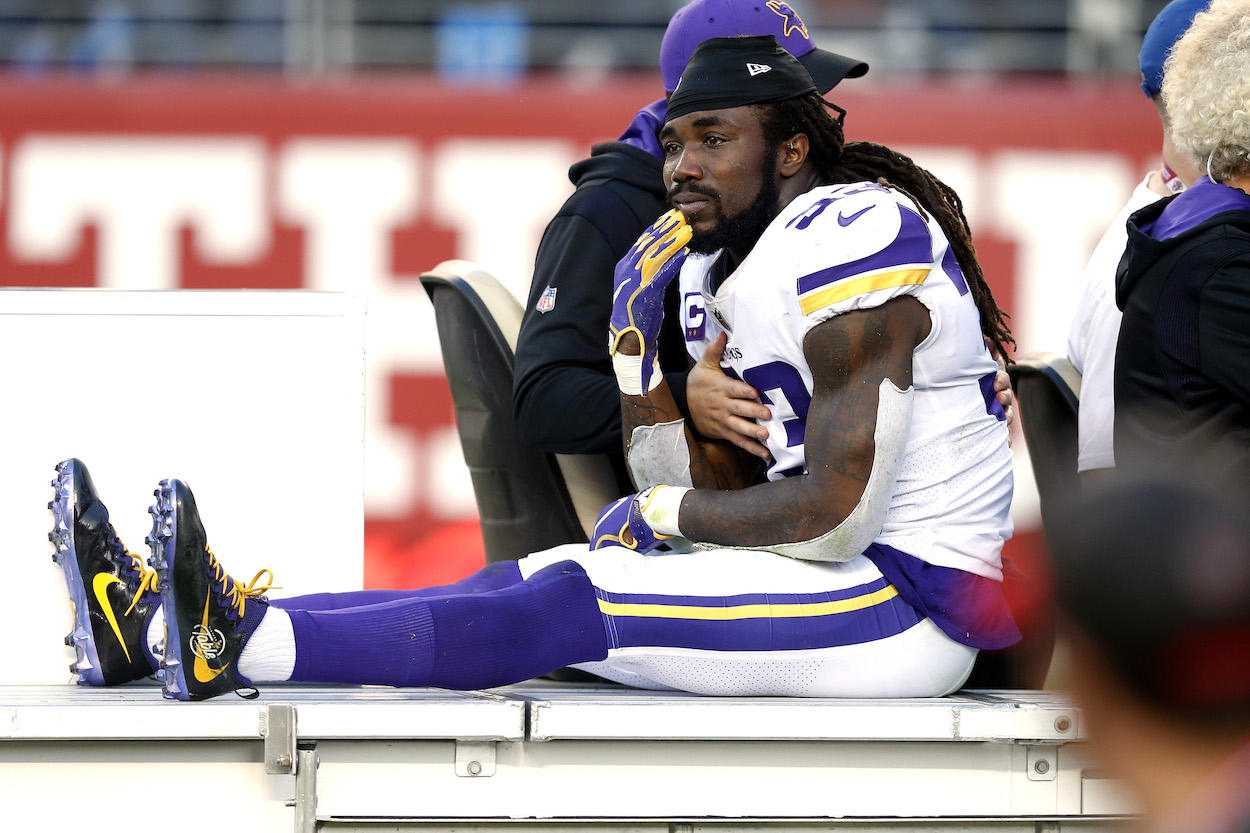 After the loss, Vikings head coach Mike Zimmer offered little information on the severity of Cook's dislocation. However, he did reveal his star running back is scheduled to undergo an MRI as soon as Monday morning. Again, this is typically bad news.
Ultimately speaking, a dislocated shoulder doesn't always equate to a player's season-ending. However, one can reasonably assume Cook will miss several games moving forward. Considering the state of the Vikings' season at the moment (5-6 record), they're not in a position to survive without their starting running back for an extended period.
It's also worth pointing out the Vikings are already operating without star pass-rusher Danielle Hunter. They're in a bad place right now, to put it bluntly.
The Vikings are hoping the MRI reveals good news and that Cook will be back later this season. However, the injury bug is undoubtedly working against Minnesota this year. The odds of Kirk Cousins and company cracking the postseason appear slim.
All stats courtesy of Pro Football Reference.