Could Vikings QB Kirk Cousins Play for the Colts in 2022? NBC Sports' Mike Florio Likes the Idea
Article Highlights:
NBC Sports' Mike Florio suggested the Indianapolis Colts pursue Minnesota Vikings quarterback Kirk Cousins
The two-time Super Bowl champions need a new quarterback after sending Carson Wentz to the Washington Commanders
Cousins absolutely makes sense for the Colts as a short-term option
Regardless of how football fans — and that includes those old enough to remember Robert Irsay's overnight departure from Baltimore — feel about the Indianapolis Colts, the franchise at least deserves credit for ending the Carson Wentz experiment when they did.
Indianapolis sent Wentz, the Philadelphia Eagles' No. 2 overall pick in 2016, to the Washington Commanders for multiple draft picks on Wednesday, March 9. As a result, the Colts are back in the market for a quarterback, especially if the franchise doesn't feel Sam Ehlinger, a sixth-round pick last year, is ready to start in 2022.
NBC Sports' Mike Florio has Wentz's ideal successor in mind: Minnesota Vikings quarterback Kirk Cousins.
Mike Florio likes the idea of the Indianapolis Colts acquiring Kirk Cousins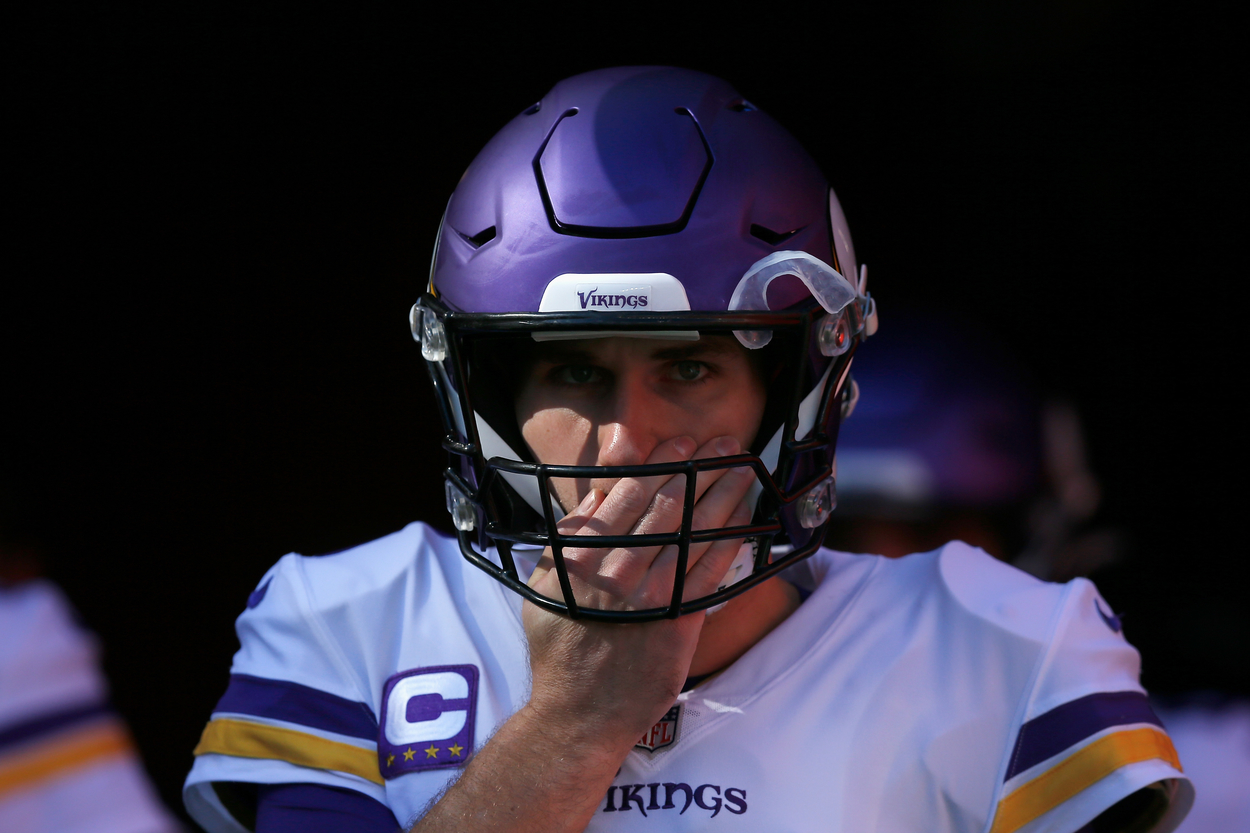 The Colts have been playing quarterback musical chairs since some of the 2022 NFL Draft's top prospects were high school underclassmen. Indianapolis hasn't had a player serve as the full-time starting quarterback for consecutive years since Andrew Luck did so from 2012-16; the Stanford product also started the entire 2018 season before retiring in August 2019.
Any hopes of Wentz fulfilling that dream ended long before the Colts traded him to Washington. Now, the Colts are left with Ehlinger, who did not attempt a pass last season, and James Morgan, a 2020 fourth-round selection of the New York Jets, on the active roster.
In an op-ed on ProFootballTalk's official website, Florio proposed the Colts pursue Cousins as the next stopgap. The three-time Pro Bowler will play the entire 2022 season at 34 years old and has a fully-guaranteed salary of $35 million. However, he'll hit free agency in March 2023, so the Colts could theoretically cut ties if things don't work out.
Should the Colts give up assets to potentially only have a quarterback for one year? Florio likes the idea.
"Given the one-year-at-a-time nature of the modern NFL, one year may be enough. With a very good offensive line, which would give Cousins time to get the ball to the open man, a great running back in Jonathan Taylor, and an excellent defense, Cousins could make the Colts surprisingly competitive."

Mike Florio
Cousins completed 66.3% of his passes in 2021 for 4,221 yards, 33 touchdowns, and seven interceptions in 16 games. His +26 TD-INT ratio marked the best difference of his career thus far. 
Cousins absolutely makes sense for the Colts as a short-term option
Cousins' doubters might immediately dismiss Florio's proposal given the quarterback's lack of playoff victories (one in seven seasons as a starter) and his unvaccinated status. The latter shouldn't matter, at least for now, if only because the NFL recently suspended its COVID-19 protocols.
As for the lack of playoff victories, Matthew Stafford just won a Super Bowl with the Los Angeles Rams after playing 12 seasons with the Detroit Lions. Anything is possible.
When the Colts acquired Wentz last spring, they were taking a chance on a player who, as the narrative went, needed to rebuild his confidence and ability. Conversely, Cousins has played at an extremely steady level in recent years. He tallied a 68.3 completion percentage with 16,387 yards, 124 touchdowns, and 36 interceptions from 2018-21.
Most football fans would agree Aaron Rodgers is arguably the NFL's top quarterback, right? The four-time NFL MVP completed 65.8% of his passes for 16,858 yards, 136 touchdowns, and 15 interceptions in the same span.
Cousins is comfortably in the tier below elite, and there's nothing wrong with that in a league where the likes of Sam Darnold and Taysom Hill could enter the 2022 season as starters.
At his core, Cousins is a moderately reliable quarterback option who could benefit from a fresh start the way Stafford did.
Who should the Vikings target as Cousins' potential successor?
For the sake of argument, let's assume the Vikings traded Cousins to the Colts and did not receive Ehlinger in return, which feels like a safe bet. Minnesota still has veteran backup Sean Mannion, 2021 third-round pick Kellen Mond, and 2020 seventh-round selection Nate Stanley on the active roster.
Are any of those quarterbacks worth committing to as the full-time starter in 2022? No, not yet. Mond, who turns 23 in June, completed two of his three passes for five yards in a Week 17 loss last year. The jury should still be out on him and his future, especially with a new head coach in Kevin O'Connell.
The free-agent market isn't especially impressive at first glance. However, Teddy Bridgewater, who spent his first four seasons with the Vikings, easily makes sense as a stopgap if he is willing to return to Minnesota. The recent flurry of transactions could have a severe impact on New Orleans Saints quarterback Jameis Winston's market, but he'd be an adequate replacement for Cousins.
Of course, Minnesota could also draft a quarterback, but that's a conversation for another day.
Suddenly, Vikings fans might need to prepare for a world without Cousins as their starting quarterback. You know what they say, right? You don't know what you have until it's gone.
Wait, wouldn't it be had? Thanks, Joni Mitchell, for changing the focus from quarterbacks to grammar, at an important time like this. However, the Colts shouldn't let lingering questions about grammar stop them from acquiring Cousins if they have the opportunity.
Like Sportscasting on Facebook. Follow us on Twitter @sportscasting19.
RELATED: With Russell Wilson Traded, Jared Goff Makes Even More Sense For Seahawks