Vikings RB Caleb King Lost His Job When Someone Compared Him to Eddie Murphy
When Caleb King arrived at the University of Georgia, he drew comparisons to Herschel Walker.
Comparisons like that don't happen without reason. But scouts and recruiting analysts saw enough of King's hybrid mix of speed and power to compare him to Walker, the 1982 Heisman Trophy winner.
Like Walker, King played with the Minnesota Vikings after his stint in Georgia. The circumstances of King's departure from Minnesota need to be seen to be believed.
Caleb King played college football at Georgia
RELATED: Todd Gurley Might Have Deion Sanders Worried About His Falcons' Legacy
A 5-foot-11, 217-pound from Norcross, Ga., Caleb King signed with the Bulldogs out of high school. ESPN considered King, who chose Georgia over Auburn and Florida, the country's seventh-best running back.
King redshirted as a freshman and averaged four yards per attempts on 61 carries in 2008. Most of King's damage came when he ran for 95 yards in a Week 1 rout of Georgia Southern.
A week later, King ran for his first career touchdown against Central Michigan. King increased his output to 594 rushing yards, seven touchdowns, and 5.2 yards per carry in 2009; he also added a receiving touchdown.
Poised for a breakout year in 2010, King only ran for 403 yards and two touchdowns in eight games.
King spent the 2011 season with the Minnesota Vikings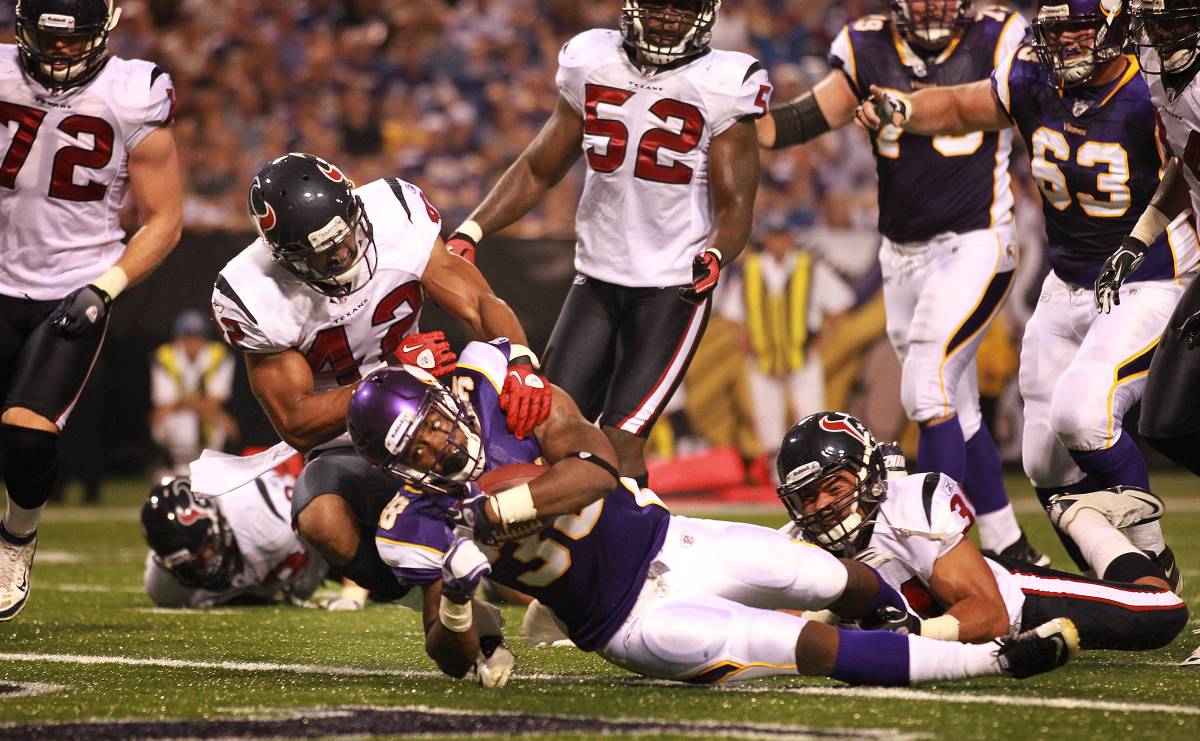 RELATED: Brett Favre Gave Adrian Peterson the Motivation to Keep Playing
When Georgia ruled Caleb King academically ineligible for the 2011 season, he entered the NFL supplemental draft.
The Oakland Raiders made Terrelle Pryor the only player selected in that draft.
King landed a roster spot, though, with the Minnesota Vikings. He ran for 62 yards and two touchdowns in a preseason game against the Houston Texans but didn't crack the 53-man roster.
When Adrian Peterson suffered a season-ending injury that December, King got his chance with the Vikings. To an extent, at least.
Minnesota promoted King to the active roster but he didn't play in a Week 17 loss to the Chicago Bears.
Caleb King lost his job over a fight involving Eddie Murphy
RELATED: Juan Marichal Ignited What Might Be the Most Horrific Brawl in MLB History
Minnesota kept Caleb King around that offseason. Even with Adrian Peterson firmly entrenched as the Vikings' starting running back, King could have had an opportunity to establish himself as a backup.
King never got that chance. The Vikings released the 24-year-old King in May 2012 after Minnesota police arrested him on suspicion of third-degree assault.
King was accused of punching a Minneapolis man and throwing his head into the ground that April.
According to the Star Tribune, the man King attacked told the running back he resembled comedian Eddie Murphy. King attacked the man, who suffered a fractured skull.
King was charged with third and fifth degree assault that August. He never played in the NFL again.