Vikings Star Justin Jefferson Sends Strong Message in Support of Odell Beckham Jr. Following Browns Release
Odell Beckham Jr. is no longer a member of the Cleveland Browns. Well, after he clears waivers, that is. After a troublesome tenure with the franchise, they decided to release him amid some turmoil, and he is set to join another team.
With Beckham and the Browns being in the spotlight over the past few days after deciding not to deal him at the trade deadline, things just reached a point of no return for both sides.
Athletes such as LeBron James shared their support of Beckham with "Free Odell" tweets and messages. After the Browns officially released him, others joined in on that action, and Minnesota Vikings star Justin Jefferson was another to follow in those footsteps.
Odell Beckham Jr.'s troublesome time in Cleveland has finally come to an end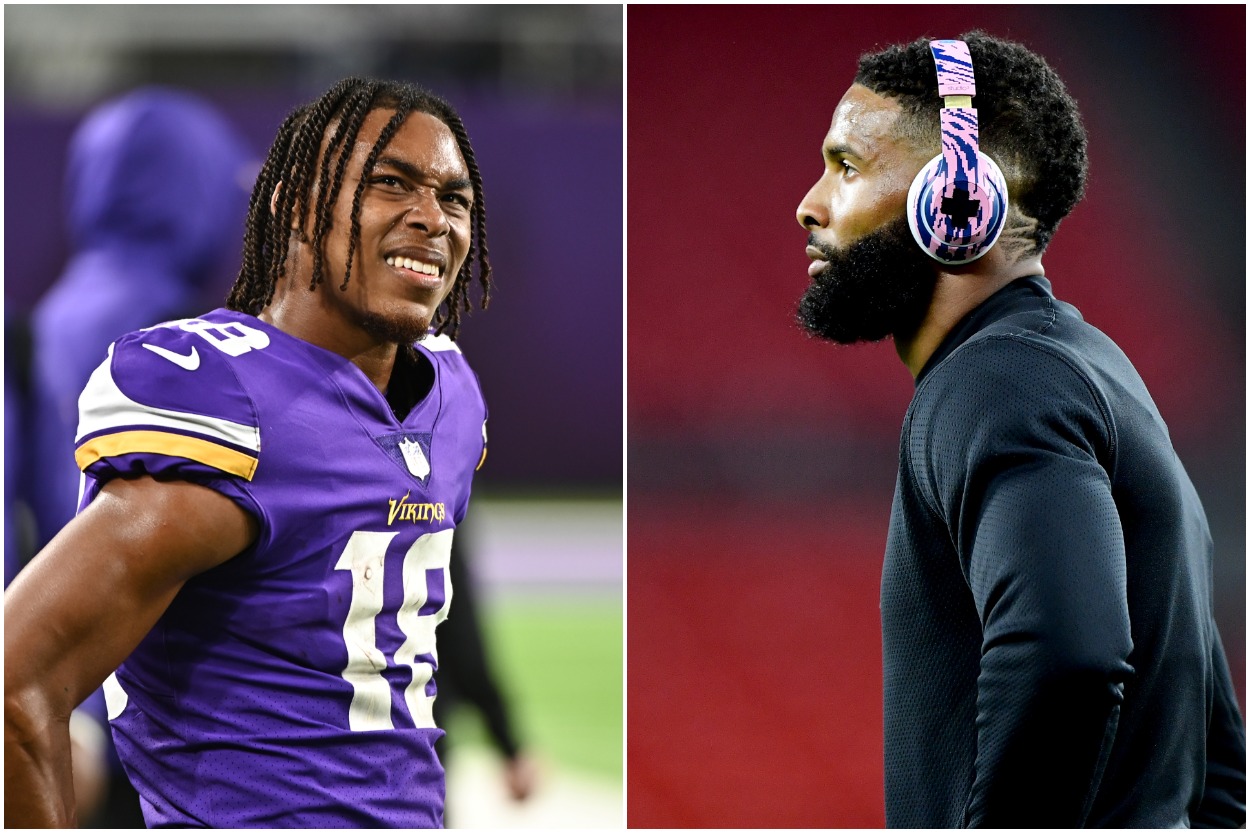 Beckham's dad's viral video, the Browns' refusal to trade him, and the overall lack of production after a stellar start to his career with the New York Giants has closed this chapter.
For starters, Beckham had trouble staying on the field. For another, the Cleveland offense is run-heavy, thanks to Nick Chubb and Kareem Hunt forming the best 1-2 punch in all of football.
Nonetheless, Beckham's role diminished and never really got into fruition as either side had hoped when he was traded from the Big Apple. His first year in Cleveland — in 2019– he went over 1000 yards but scored only four touchdowns and had 74 catches.
After that, he suited up for just 13 games combined over the next two seasons for a total of 551 yards and only three scores. In 2021, Beckham caught just 17 balls for 232 yards as Baker Mayfield and Kevin Stefanski had other plans on the offensive side of the ball.
Now, is it entirely Mayfield's fully? Not exactly. It also hasn't helped that Beckham has been a walking injury bug for the past two seasons and the running back attack.
Beckham has the support of many, including Justin Jefferson
On Sunday, as the Vikings prepared for their game against the Baltimore Ravens, Jefferson and some other Minnesota teammates threw on some interesting warmups.
Cam Dantzler also rocked the "Free Odell" hoodie ahead of the game.
The message is being sent to everybody — although Odell is already "freed" after getting released from the Browns. However, there is one problem.
The former LSU star is subject to waivers first, and there are a couple of very wide receiver-needy teams atop the waiver order. The Detroit Lions are on top, although nobody knows if they decide to roll the dice.
What Beckham has left in the tank is up in the air, but a wide receiver of his caliber is rarely available at this point of the NFL season.
All eyes on Beckham's next landing spot
It will be fascinating to see what happens over the next few days. On Sunday came another report and a troubling one for teams on top of the waiver order.
He wants to go to a contender (surprise), which should scare others off of rolling the dice, especially after what went down with the Browns.
However, there are a ton of teams, including contenders, that can use wide receiver help. The New Orleans Saints just lost Michael Thomas for the year and could certainly use the addition. The Green Bay Packers would love to give Aaron Rodgers — or Jordan Love — another option. The Kansas City Chiefs and Patrick Mahomes could greatly benefit from bringing in Beckham.
The options are aplenty, but who will end up taking a chance with Beckham?
Stats Courtesy of Pro Football Reference