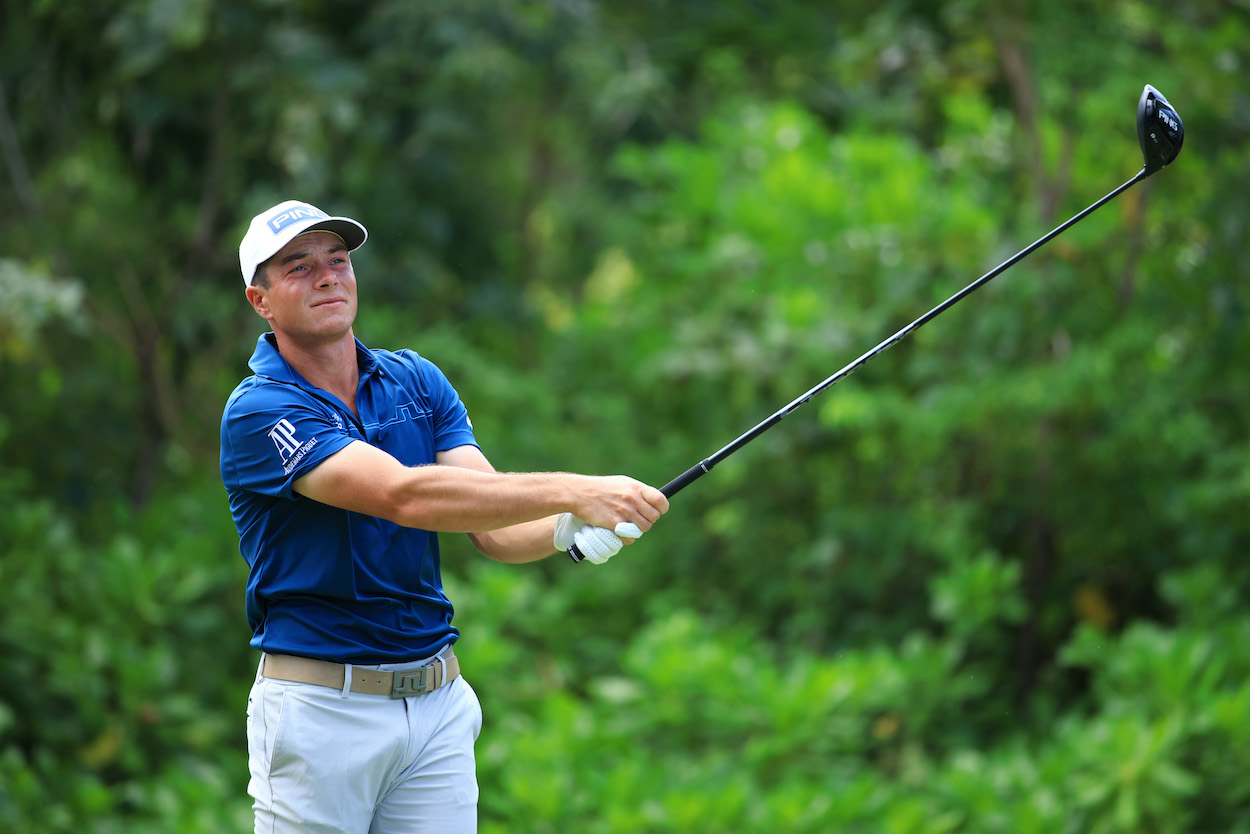 Viktor Hovland Might Owe a Generous PGA Tour Player a Cut of His $1.3 Million Payout If He Wins at Mayakoba
Viktor Hovland started the World Wide Technology Championship at Mayakoba playing with James Hahn's driver, and he's in the lead entering the final round.
PGA Tour players are very particular about their equipment. Every club has to be the exact right size down to the last millimeter, and every ball needs to be free of the tiniest scuff marks. Any sudden change to their bag can be disastrous before a tournament.
Viktor Hovland experienced a disaster of his own ahead of the Wide Technology Championship at Mayakoba, as a fellow Tour pro accidentally snapped his driver while borrowing it on the practice range. Thankfully for Hovland, another golfer had an extra driver of the exact same model as his, and now he's leading the tournament with one round to play.
A simple driving range session went horribly wrong for Viktor Hovland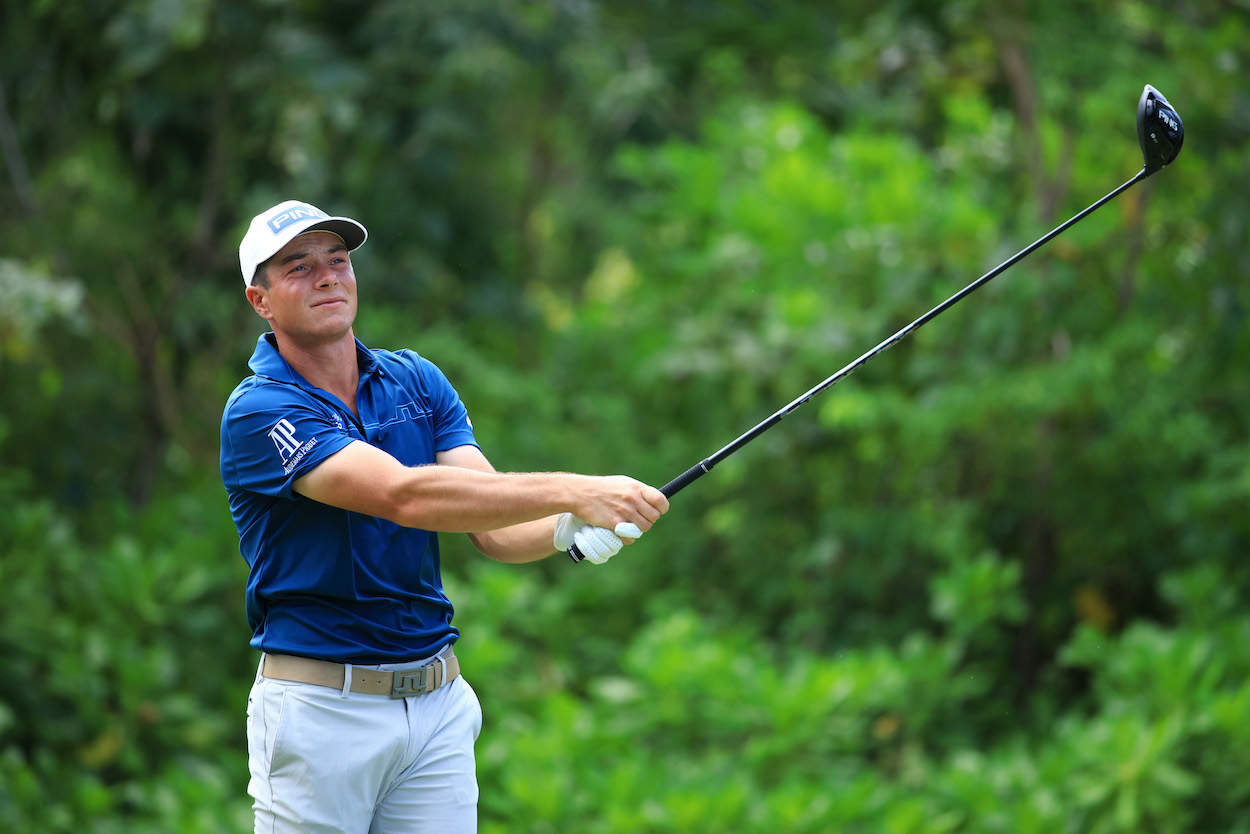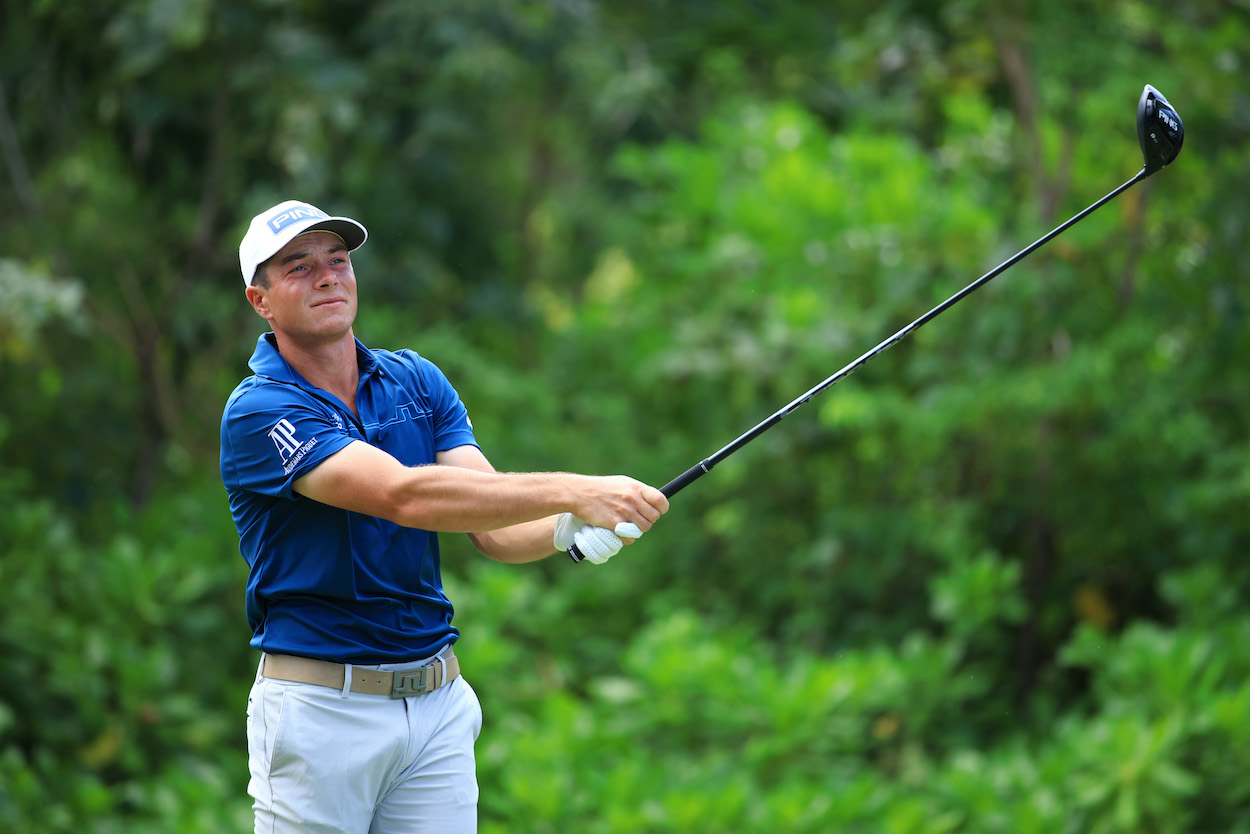 During a range session before the first round of the World Wide Technology Championship at Mayakoba, Hovland lent his driver to Danny Lee for an experiment. But what was meant to be just a nice gesture turned into a disaster.
"He asked me if I could hit some on his quad and I hit some drives as hard as I could. And then he went back to hitting his and like I was just kind of a, I was just curious. I wanted to see if he could get his ball speed up with my driver that was a little longer," Hovland said Thursday from El Camaleon Golf Course.
So, Lee started swinging for the fences with Hovland's driver, and the club couldn't handle it. When Hovland looked over after a swing, his driver was snapped in half.
"Yeah, I don't know where it snapped or how he snapped it, but I just look up after he hit the shot and it was in pieces," he said.
Without a backup driver in his bag, Hovland was in big trouble with his tee time quickly approaching.
James Hahn came to Hovland's rescue
Hovland didn't know what to do with no driver in his bag, but he luckily found another PGA Tour pro with his exact same driver model on the range. Incredibly, he had an extra for Hovland to use.
"James Hahn was in front and he was nice enough to lend me one of his backups," Hovland said. "It's a little bit shorter, it's a different shaft, but honestly, almost helped me this week because it's a little shorter. It probably goes 10 yards shorter, but I just felt like I could really hit it a little lower and a little straighter. So I'm hitting that thing really well."
With Hahn's driver in the bag, Hovland fired a 4-under 67 in the first round of the tournament. He followed that up with a 65 in the second round and a blistering 62 in the third round to take a two-stroke lead into Sunday.
Hovland might owe Hahn a cut of his possible $1.3 million payday
If Hovland holds on to his lead to win at Mayakoba this weekend, Hahn should absolutely get a cut of his $1.3 million winner's check. He wouldn't have been able to shoot a 67 in the first round without Hahn's driver, and he might've found his new favorite club in the process.
"I'm hitting it really straight off the tee and was able to set up some really nice birdie looks with some good approaches," he said Thursday. "Honestly, yeah, I think from an accuracy standpoint, I think [Hahn's] driver might be better."
Hopefully, Hahn gets rewarded for his generosity if Hovland cashes in big this weekend.
Like Sportscasting on Facebook. Follow us on Twitter @sportscasting19.