Vince Carter Achieved a Personal Highlight and a Career Lowlight on the Same Day
Among the red-letter days in many of our lives, the spectacle and achievement of college graduation must be up there. Add to that accomplishment the fact that you left college early to take a job and, in a promise to your mom, it was agreed upon you would someday finish and get your degree. For Vince Carter, whose 2019-2020 NBA farewell tour came to a Coronavirus-fueled end, his vow to finish his studies came to fruition in 2001, three years after leaving the University of North Carolina to enter the pros.
Vince Carter makes good on his promise
That vow, however, led to a day to remember for the surefire Hall of Famer, Carter. The 2000-2001 season saw the Toronto Raptors star end the regular season with a 27.6 points-per-game average followed by a 27.3 average in the playoffs. After a 47-35 record in the regular season, Toronto vanquished the New York Knicks 3-2 in the first round of the playoffs, which put them pitted the team against the Philadelphia 76ers in the NBA Eastern Conference semifinals.
The Raptors and Sixer traded wins in Games 1 and 2. In Game 3, Vince Carter exploded for 50 points in a 26-point win over Philadelphia on its home court. The tide then turned with the 76ers winning the next two, putting them one win away from a trip to the NBA Eastern Conference Finals. In Game 6, Carter scored 39 on the way to a 12-point win over the Sixers, which set up a decisive Game 7 in Philadelphia.
For Vince Carter, a day of highs and real lows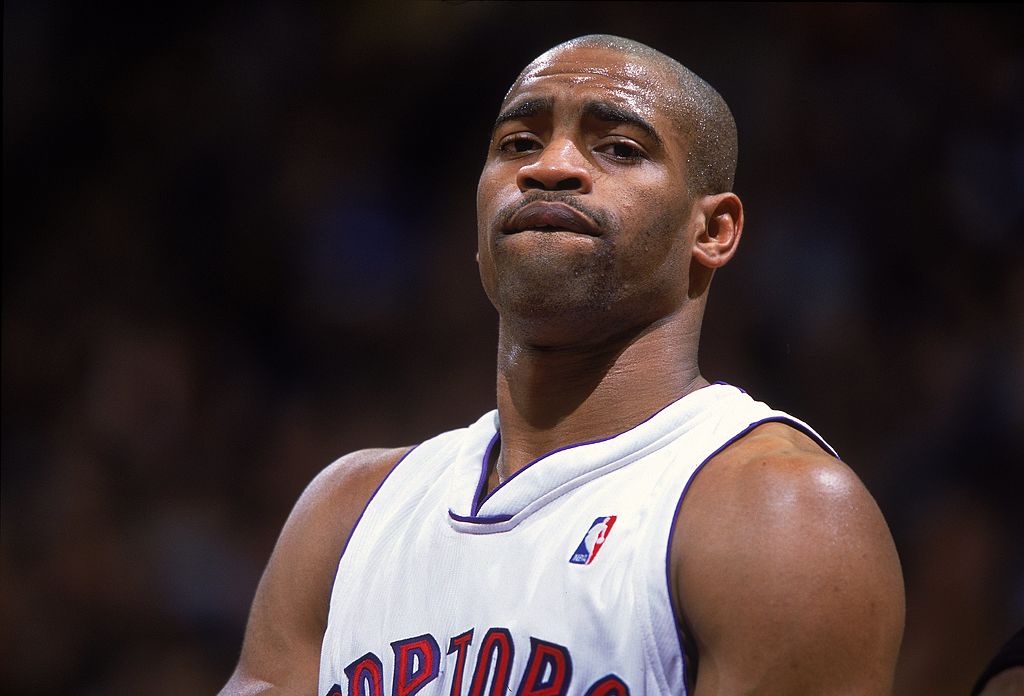 Game 7 was May 20, 2001, a day that coincided with graduation day at the University of North Carolina. For Vince Carter, that day started in Chapel Hill, North Carolina, where he proudly wore his cap and gown and was seated next to other UNC athletes. Knowing that a crucial series-deciding game was a few hours off, Carter left the ceremony early and hopped a ride on the Raptors' owner's private plane to Philadelphia. He arrived at the Wells Fargo Arena in Philadelphia five hours before tipoff.
"This is a special time for me, an important time for me," Carter said the day of his graduation at UNC. "Now that this day is here, I'm feeling better and better about it. This is something I had to do for me, regardless of what other people say about it because it's something I wanted to do, something I had to do…It's something I'm going to accomplish on top of playing in Game 7 and I think I'm mentally prepared for both."
Carter's shot heard round the league
While one wish for Vince Carter was granted, the other was not to be. The former 2000 NBA Slam Dunk winner went from hero to goat (the animal kind) when he missed a buzzer-beater in an 88-87 loss that ended Toronto's season.
Carter played 48 minutes, scoring 20 points with seven rebounds and nine assists. For some fans and teammates, Carter's long day was an act of selfishness. For one thing, Carter's decision to attend the UNC ceremony was never shared with the other Raptors before the game. One player, Raptors power forward, Charles Oakley, offered a bit of faint praise for Carter.
"He's still our brother. It was important to him and his life. He made the right decision for him, but it wasn't a team decision. He came in, played a good game, but it's like a band member off-key. You know the difference."

Charles Oakley
Before you feel too sad for Carter, the well-traveled future Hall of Famer made amends for his missed shot in 2014 when, as a Dallas Maverick, he hit a buzzer-beater against the Spurs in the NBA Playoffs.