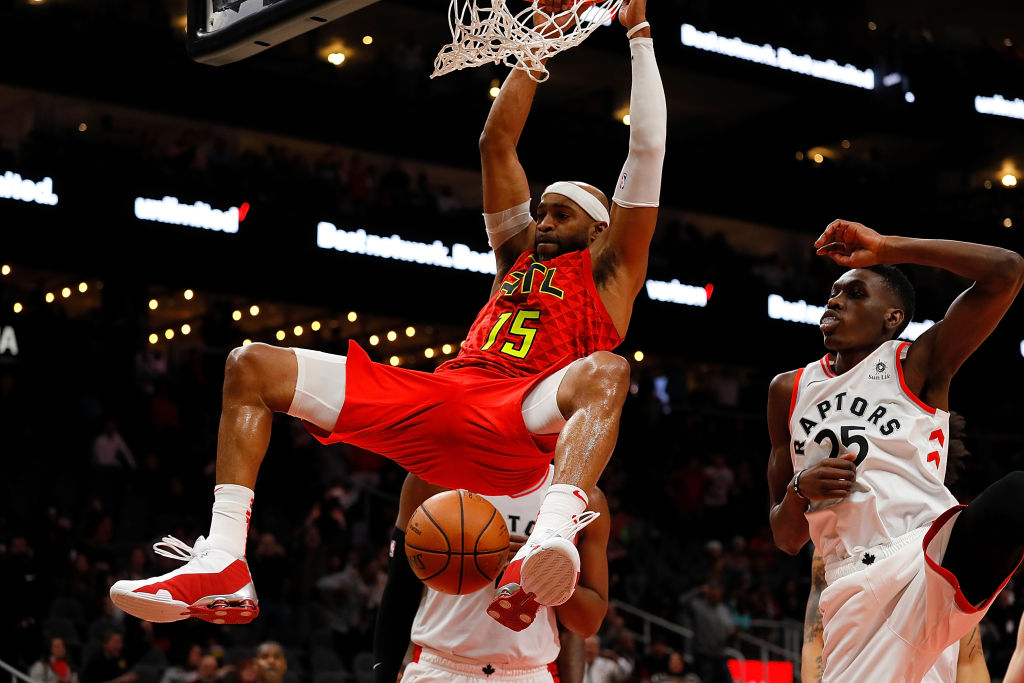 Vince Carter and 4 other NBA Players Who Could Retire in 2019
This upcoming NBA season is the most anticipated in years. Keep an eye out for these players to hang it up after this year.
Since LeBron James and Chris Bosh joined Dwyane Wade in Miami, there hasn't been an NBA season as anticipated as the one we are about to see. Kawhi Leonard and Paul George have joined forces in Los Angeles, looking to become the relevant team in the Staples Center. Although James and Anthony Davis will have a few things to say about that.
With all of the furious free agent moves, we still have a few beloved players that could hang up their jerseys for good at the end of 2020. Today we will point out the five players we expect to retire after next season.
Vince Carter
In his prime, Vince Carter was one of the NBA's most electrifying dunkers. He made a name for himself at the 2000 Slam Dunk Contest and had one of the sports most incredible moments when he dunked on Frederic Weiss in the 2000 Olympic Games in Sydney.
Carter has averaged 17 points per game for his career and has taken a mentorship role for the young Atlanta Hawks. He re-signed with Atlanta on a one-year deal and has stated next season will be his last.
J.J. Redick
We strongly believe Redick has been undervalued for much of his career. He is a career 40% shooter from 3-point range and can provide instant offense to any team in need of his services.
He played very well for the Philadelphia 76ers last season, averaging over 18 points per game. Redick has moved on to the New Orleans Pelicans, and we believe after another strong season he will call it a career.
Jamal Crawford
Jamal Crawford's longevity is astounding. He was drafted in 2001, and although he has played for eight teams, he has been a valuable bench player opposing defenses have trouble stopping.
Crawford has been a three-time NBA Sixth Man of the Year award winner, and if he plays up to the levels he has been for the last couple of seasons he could be a sneaky pick to win a fourth. 
Tyson Chandler
Another top-10 pick, Chandler has been one of the best defensive big-men we have seen in the NBA for some time. He won a championship with Dallas over the LeBron James led Miami Heat in 2011.
Chandler was named the NBA Defensive Player of the Year the following season after averaging nearly 10 rebounds and nearly two blocks per game with the Knicks.
This was a surprising stat, considering Chandler didn't average over two blocks per game for any season during his long career. We expect Chandler to call it quits next season, as he is on a one-year deal with the Rockets. 
Pau Gasol
Gasol is a multi-time champion and can still offer valuable offense to a team in need of a dependable post player. His free-agent rights were renounced by the Bucks, but we think a return to Los Angeles with the purple and gold could be in his future.
He would work well with LeBron in spurts and would be an excellent second-unit leader when Anthony Davis and DeMarcus Cousins are taking breathers.
If Gasol has one more season left in him, expect 2020 to see him go out as one of the best international players in the history of the league.
Who else will call it quits?
Are there any other NBA players who could retire at the end of the 2020 season? Our NBA section is full of news and information from around the league so be sure to check it out to stay up to date on all of your favorite players.