The Vince Carter Diet That Lets Him Play in the NBA at 42 Years Old
After joining the NBA in 1998, Vince Carter will soon become the first person to ever play in four different decades of the league. That means that his career's longevity will surpass that of other notable players like Dirk Nowitzki. The athletic swingman can play in multiple positions and also have such a long career because of his natural abilities as well as his training and diet routines. Here's what he eats so that he's still playing professionally while in his 40s.
Carter loves healthy carbs
GQ interviewed Vince Carter about his diet, and the biggest change for him between the diets of his youth and his current diet was in eating healthy carbs. In the past, he ate a burger like anyone else, and probably more than one. But nowadays, he rarely eats burgers, and when he does, it'll be on his cheat days.

Even then, he'll remove the bread and buns from the burgers that he eats for his cheat days. He says that burger buns don't have any clean carbs, and instead, he opts to eat just the patty and the vegetables.

Carter also mentioned that rather than a generic beef patty, he prefers a grilled chicken patty for his cheat days. He will also remove the buns from a grilled chicken burger, as he sees it as a healthy compromise for his body.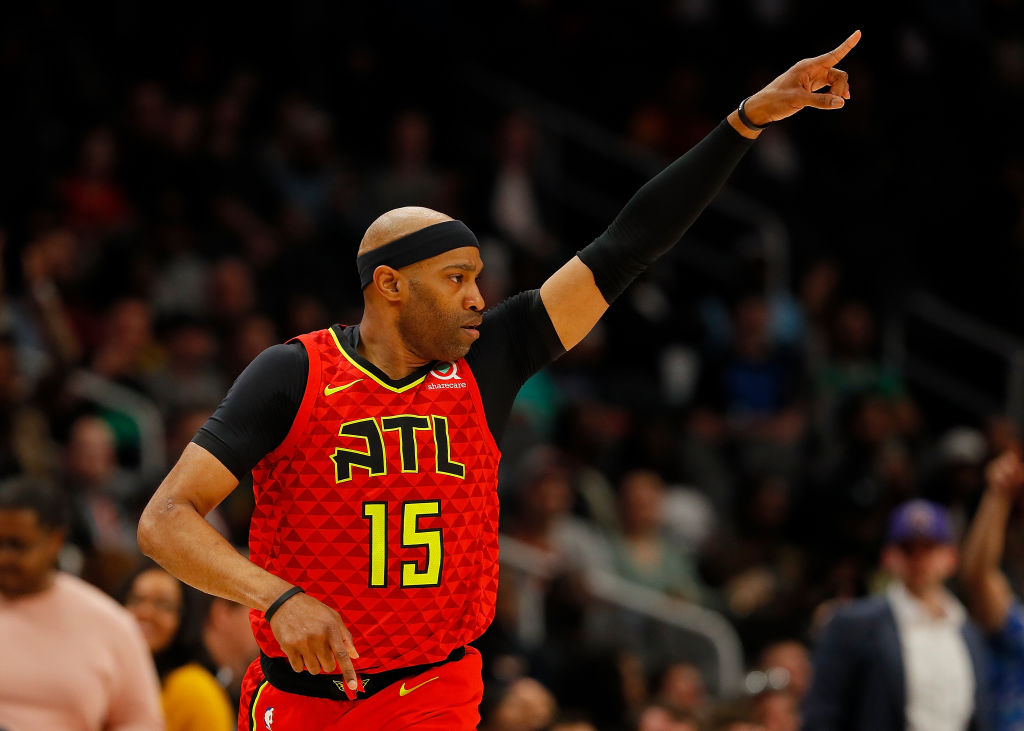 When it comes to his pre-game, Carter prefers clean carbs like pasta for his meals. He says that he feels his body not getting the fuel it needs if he doesn't eat any clean carbs before a game. For extra flavor and protein, he'll add chicken to his pasta from time to time to spice things up.

Carter's desire for clean carbs extends to drinks too, as he's removed every sugary drink from his routine, except for cranberry juice. He knows cranberry juice has unhealthy carbs, but unlike in his youth, he'll pair the cranberry juice with a healthy meal so that at the very least, it's a balanced diet.

This focus on clean carbs is very similar to what other high-performance athletes like Usain Bolt prefer in their diets.

Fresh vegetables and no fried foods
Rather than eating fried foods as he did in his youth, Vince Carter now substitutes their crunchy texture with fresh and crunchy vegetables instead. Like pasta, the vegetables and greens that he eats will have a lot of healthy carbs, but they'll also have a lot of the vital nutrients that his body needs.

When it comes to protein, he prefers grilled chicken over everything else, but he also mentioned that he avoids eating pork in his diet. He says that it isn't for any religious reason, just that he tries to avoid having any pork in his meals.

Carter says that these foods, unlike fried foods, are easy for his body to burn. At his age, that's a necessary trait for anything in his diet.
The importance of water
When he was younger, Vince Carter drank soda now and then, but he's cut that out completely from his diet. For him, it's just water and cranberry juice when it comes to his fluid intake. Carter says that he's a big water drinker, and that water has become the main thing that he drinks in his life.

He understands how hard it is to transition from drinking sugary drinks to drinking plain old water, but he says that it's had a significant impact on his game. Not only does soda have unhealthy carbs, but it also doesn't hydrate your body as well as water does. And for a career as long as Carter's, his body will need to stay as hydrated as possible.