Vince Carter's Career as Seen Through NBA Video Games
Unless he changes his mind, the suspension of the NBA season put an anticlimactic end to Vince Carter's 23-year career. The longest-tenured player in NBA history, Carter has seen the immediate impact of Michael Jordan's retirement, his brief comeback in Washington, and the entirety of LeBron James' career.
The man who once played one-on-one with a 10-year-old Steph Curry because his father was on the Raptors with him has seen a lot of change, and that change can be seen through the video games Carter appeared in.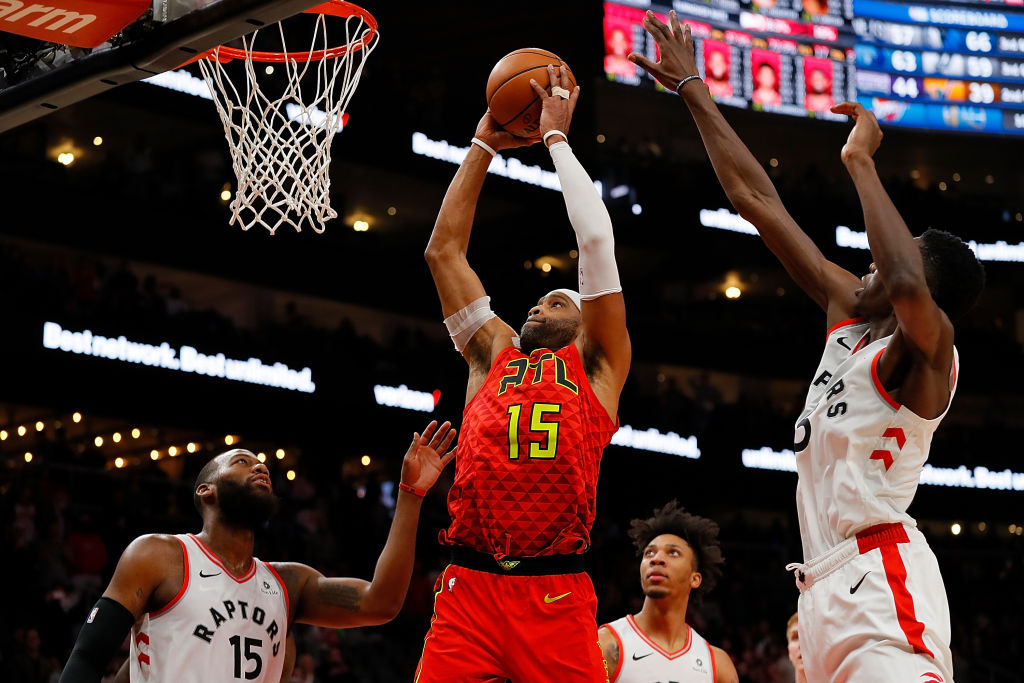 Pixelated beginnings
When Vince Carter came into the NBA, the Toronto Raptors were still a relatively new franchise. As one of two NBA teams in Canada, however, they drew a rabid crowd. Carter was, perhaps, the best dunker to ever put on a jersey, and the fans up north got to see his show every night during the early days of his career. In the video game world, this made Carter a hot commodity.
Looking back at his first game appearances, they fall into two categories. On the one hand, Carter appeared in NBA Live, NBA Shootout, and other franchises that spread across consoles of the early '90s. At the time, they were revolutionary graphics, but to a 2020 audience, these video games look downright archaic. The three-dimensional graphics look blocky, and the players are barely recognizable.
At the same time, Carter came in near the end of the previous generation, too. Several of his first video game appearances came to the Game Boy Color in the form of games like NBA Jam 99. A handheld version of the wildly successful arcade franchise, the Carter in these games was a blob of tiny pixels without a face or any defining features. Within years, however, Carter got to see the gaming world change.
Vince Carter gets a cover
RELATED: Vince Carter Has This Money Advice for NBA Rookies (Plus, 5 NBA Players Who Went Broke)
Related post url: 
By 2004, video games had significantly advanced. The block-like pixels were smoothed out into easily-identifiable manifestations of real players, and the pixelated games on Game Boy were a thing of the past.
According to NBA.com, Carter's star power allowed him to appear on the cover of NBA Live 2004. While the NBA 2K franchise was taking off on its own right, Live still ruled supreme at this point.
The Carter on Live 2004 actually like himself. It wasn't the textured, photorealistic version that games see today. Still, NBA fans could look at the characters' faces and see exactly who they were. This was a significant step in the right direction.
At this same time, games began to get more experimental. Capitalizing off of the streetball craze, games like NBA Street and NBA Ballers took the market, and with Carter's high-flying dunks, he was a favorite of that genre.
Over several years, the graphics got better and better. The recognizable faces got realistic skin and movement, the games grew less like arcade games and more like actual simulations. Carter premiered on PlayStation and went away just shy of the PlayStation 5, and with every step along the way, the games grew more realistic.
A journey through time
RELATED: Kendall Jenner Upgraded With a Richer NBA Boyfriend
Related post url: 
There are many ways to measure the amount of time that Vince Carter has been in the NBA. They can look at the players who have come and gone, or the eight teams he suited up for, for example. However, by looking at video games, we can see just how much things have changed since he first got to the league. Carter was in the NBA when NBA 2K came out on Dreamcast, and he's still in it for NBA 2K20.
Now in a league where players were born after the reign of Michael Jordan,. It was players like Carter and James who they grew up emulating on their gaming systems. With Carter's career in the books, his likeness will likely see through several future generations. Still, he saw himself go from a pixelated blob of nothingness to near-perfect representation of his face and game during his playing days.