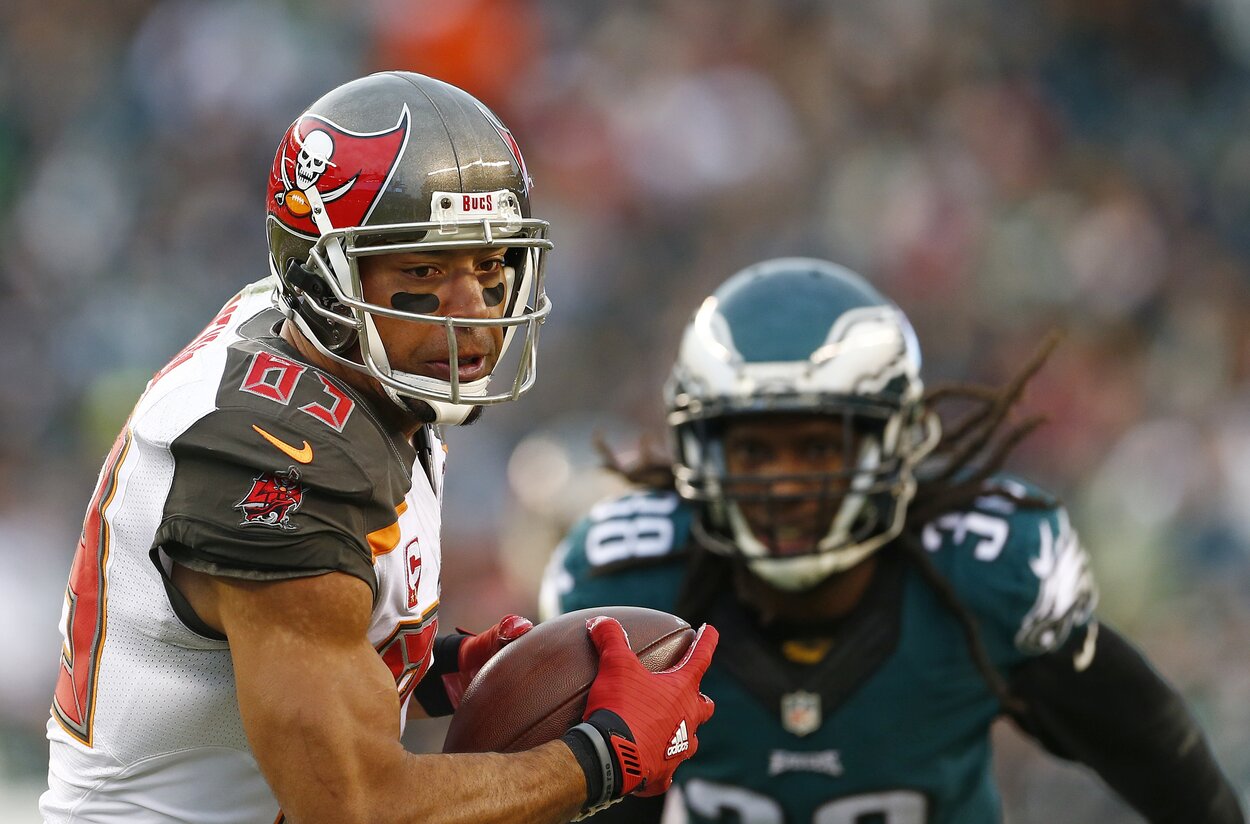 Vincent Jackson's Tragic Death Just Took a Brutal and Heartbreaking Turn
Former Tampa Bay Buccaneers receiver Vincent Jackson likely died days before he was found in a hotel, according to a preliminary report.
The NFL community is still mourning the death of former Tampa Bay Buccaneers receiver Vincent Jackson.
Jackson, who also made two Pro Bowls with the then-San Diego Chargers, was found dead at age 38 earlier this week. More details are emerging about Jackson's death, including heartbreaking news about when he might have passed.
Vincent Jackson's death just took a heartbreaking turn
Although he grew up in Colorado, Vincent Jackson made Florida his home after signing with the Tampa Bay Buccaneers in 2012.
Jackson remained in Florida after he played his final down in October 2018. He remained in the Sunshine State until his tragic death at only 38 years old.
According to wfla.com in Florida, a preliminary report provided more updates on Jackson's death. The medical examiner's report found that Jackson could have died as early as February 12, three days before police announced his death.
Staff members at the Homewood Suites in Brandon, Fla., went into Jackson's room on February 13 and 14 and "found him sitting slouched over on the couch." The staffers believed him to be sleeping and didn't call police until February 15, when a housekeeper found Jackson dead in his hotel room around 11:30 a.m ET.
The Hillsborough County Sheriff's Office arrived later that day.
Jackson was beloved in the Tampa Bay area
Many professional athletes live in Florida for the benefits, from weather to taxes.
Vincent Jackson made Florida his home in more ways than simply settling down. The three-time Pro Bowl wideout was active in the community and tried to make the local area a better place.
The son of military parents who served in the United States Air Force, Jackson sponsored the 'Jackson in Action' section at Raymond James Stadium. Jackson hosted military families in that area at every Buccaneers home game.
The Jackson in Action 83 Foundation also works with military families. According to its official website, the organization focuses on the "educational, emotional, and physical health" of the children.
The NFL community is mourning Vincent Jackson's passing
Vincent Jackson's death has had a profound impact on the football community at large.
The Tampa Bay Buccaneers paid tribute to Jackson with a "Throwback Thursday" highlight video on Twitter. The Chargers' Twitter account did something similar.
"[T]hrow it up to 83," the Chargers wrote, attaching a blue heart emoji.
Former NFL quarterback Ryan Leaf ripped the league and the players association in a Twitter video. Leaf pleaded for the NFL to start seriously addressing mental health.
"My NFL brothers continue to die and nobody's doing a goddamn thing about it. … The NFL just doesn't [expletive] care. They don't care. They'll write condolence letters and [expletive] like that, but if they were invested, they'd actually put some money behind the [NFL] legends community and into the mental health and substance abuse side of it."
Jackson's ex-Chargers teammate, Shawne Merriman, shared a 2005 photo of the duo and Luis Castillo, a longtime Chargers defensive end, on Twitter.
"I'm going to miss those occasional calls to call me soft and me saying come say it to my face Sweety pie lol," Merriman wrote about Jackson.
How to get help: In the U.S., contact the Substance Abuse and Mental Health Services Administration helpline at 1-800-662-4357.