Vincent Testaverde Is the Latest QB to Get Signed Over Colin Kaepernick
The Tampa Bay Buccaneers have signed Vincent Testaverde to be a backup quarterback to Jameis Winston this season after Blaine Gabbert dislocated his shoulder in Tampa Bay's last preseason game against the Cleveland Browns. Just one week after watching the Philadelphia Eagles sign a 40-year-old Josh McCown instead of him, Colin Kaepernick had to watch another quarterback position open up and close this weekend.
Vincent is the son of former Tampa Bay Buccaneer Vinny Testaverde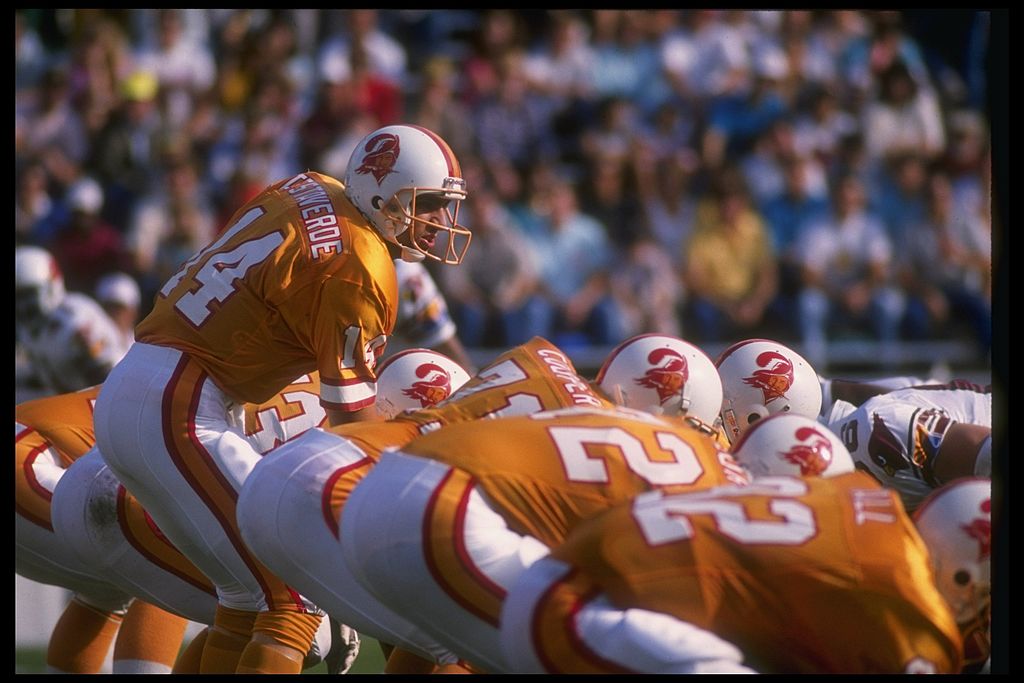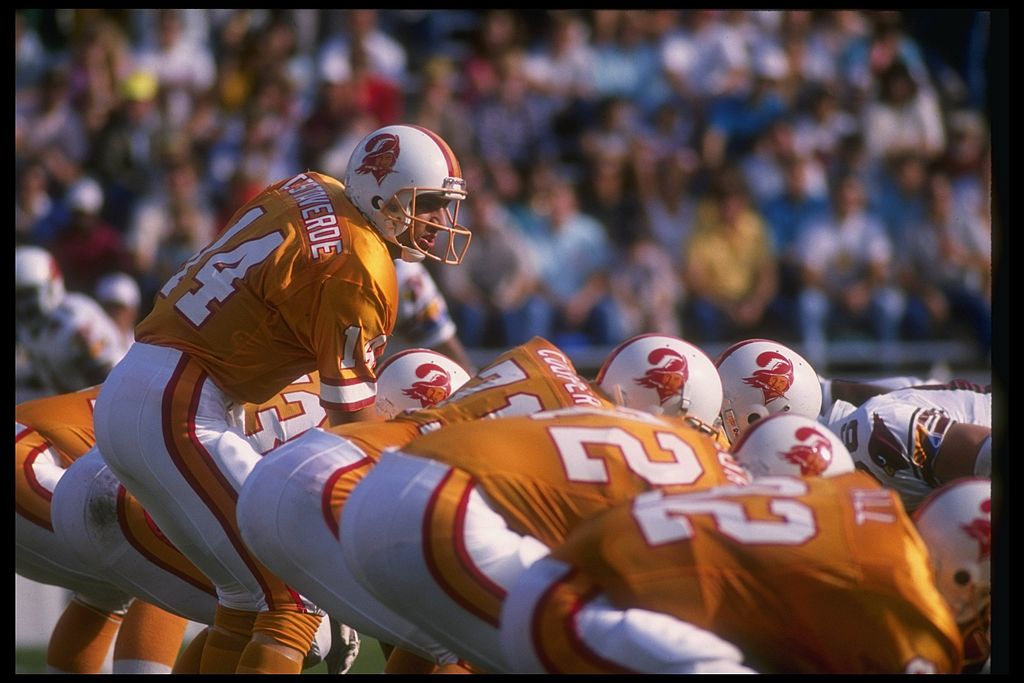 To be clear, this is Vincent Testaverde Jr. that the Bucs have signed, not his father Vinny Testaverde who spent 21 seasons in the NFL from 1987 through 2007. Though to be fair, the 55-year-old seems to have as good of a chance at getting signed as Colin Kaepernick does these days.
Vinny Testaverde is in the College Football Hall of Fame. He passed for 2,557 yards and 26 touchdowns in 1986 en route to winning the Heisman Trophy with the Miami Hurricanes. His excellent senior season led to him being selected with the first overall pick by the Tampa Bay Buccaneers in the 1987 NFL Draft.
Testaverde played six seasons for the Buccaneers from 1987 through 1992. He holds the Buccaneers franchise records in pass attempts with 2,160 and passing yards with 14,820. Despite those records, Testaverde was never able to lead the Bucs into the playoffs, and he threw far more interceptions for the team (112) than he did touchdowns (79).
The veteran would retire after playing as a 44-year-old with the Carolina Panthers in 2007. He wrapped up his long NFL career with 46,233 passing yards, 275 touchdown passes, and 267 interceptions. He owns the unenviable record of having the most losses by a starting quarterback in NFL history with 123.
Would Testaverde be getting this opportunity without his famous last name?
While his father had two great seasons with one of the best programs in the nation in the Miami Hurricanes, Vincent Testaverde couldn't crack the roster in short stints with the Texas Tech Red Raiders and the Miami Hurricanes. He eventually got the chance to start when he transferred to the Division I-AA Albany Great Danes.
In eight starts with the Great Danes, Testaverde completed 53.4% of his passes (117-for-219) for 1,714 yards. He threw 11 touchdown passes and 12 interceptions. Albany finished the year with a 3-8 overall record.
It's hard to believe that Vincent Testaverde would even be receiving a look from NFL teams if he wasn't the son of a former NFL quarterback. Nothing in his statistics, against Division I-AA opponents remember, suggests that Testaverde is an NFL-caliber quarterback.
Different day, same story for Colin Kaepernick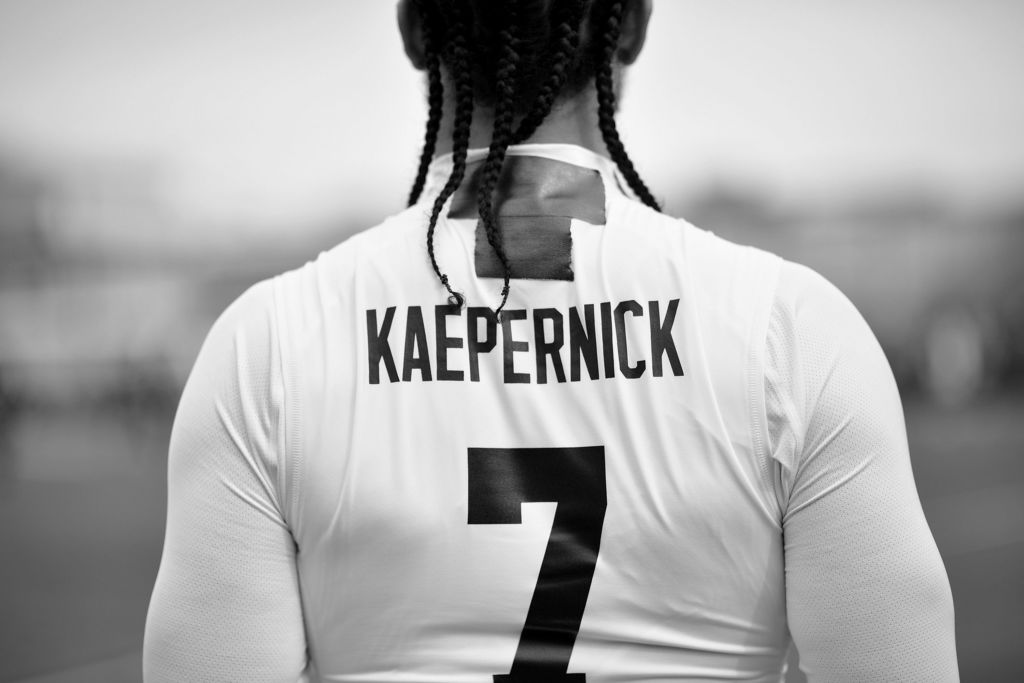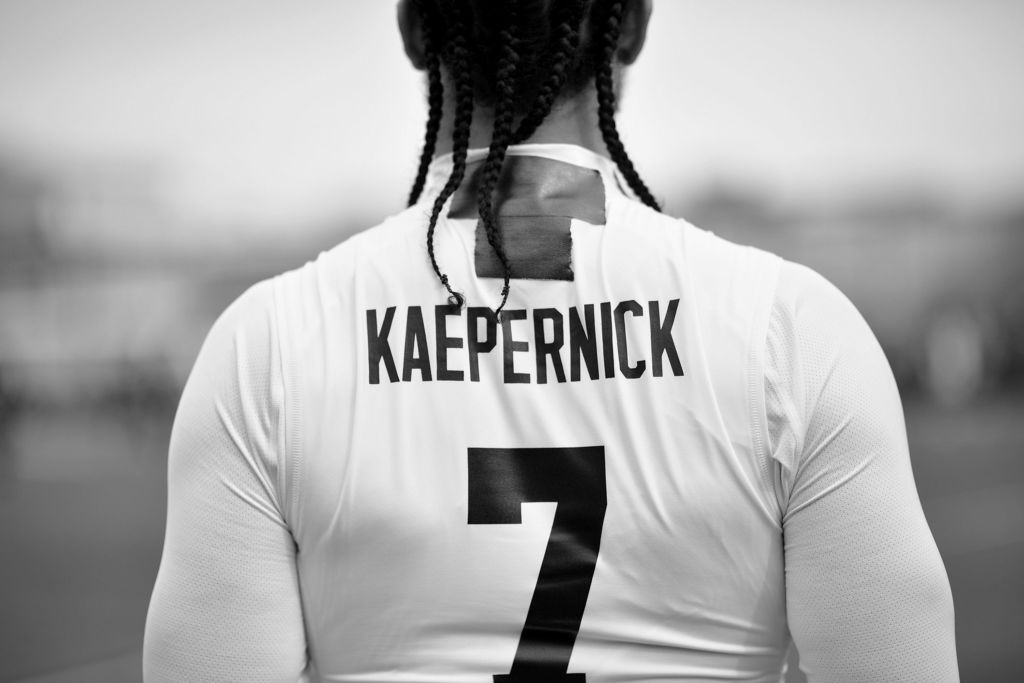 And so it continues, that NFL teams are more interested in avoiding the controversy of signing Kaepernick than making their roster more competitive.

The Tampa Bay Buccaneers haven't made the playoffs since 2007 (the last year Vinny Testaverde was still in the league) and are now on their fifth different coach of this playoff drought in Bruce Arians. Arians has stated that he is confident that his team isn't far from being a playoff contender.
Despite the high hopes for a quick turnaround under Arians, Tampa Bay is one Jameis Winston injury away from a quarterback tandem of Ryan Griffin and Vincent Testaverde. Colin Kaepernick is far from an elite NFL quarterback, but he'd probably beat out this crew for the backup job if given a chance.