Visibly Frustrated Brian Flores Provides What Seems To Be a Definitive Statement on Tua Tagovailoa and the Deshaun Watson Rumors
Brian Flores has to be counting down the days until the 2021 NFL trade deadline. The Miami Dolphins head coach has been peppered time and time again regarding the myriad of rumors surrounding his current quarterback, Tua Tagovailoa, and Houston Texans' quarterback Deshaun Watson.
Reports have been circulating all season long that the Dolphins were interested in trading for Watson and that Miami was the star quarterback's preferred destination. Watson's legal issues have held up a potential trade, but the fact of the matter is that no matter what has been said and reported in the media, Tua is still Miami's quarterback, and Watson is still a member of the Texans.
Flores has been asked multiple times about this situation over the past few weeks, and he's consistently backed up Tagovailoa.
It has to be highly frustrating as a head coach to overwhelmed with questions on rumors rather than questions on, you know, actual games. With the trade deadline quickly approaching, Flores is starting to look visibly frustrated with the whole process.
If you listen closely, though, he does seem to provide a definitive statement on Miami's future.
Brian Flores is continuing to back Tua Tagovailoa with Deshaun Watson rumors swirling
One would have to imagine that the only thing Flores wants to think about right now is Miami's upcoming matchup with the 4-2 Buffalo Bills.
The Dolphins are currently at 1-6 on the season and riding a tough six-game losing streak. That's frustrating enough, but imagine coaching a young quarterback like Tagovailoa who at one point seemed to be the future face of the franchise, but is instead now in the spotlight every weekend not just for his play on the field, but because his franchise would rather have a quarterback who may not even be able to play due to off-field issues.
That's a tough spot for a coach. He has to not only coach up Tua through the ups and downs of being a young quarterback in the NFL, but he also has to do everything he can to keep Tagovailoa's confidence up.
It makes sense, then, that Flores has vehemently backed up Tua publically, and he continued to do so in a recent press conference.
"I don't get into rumors; I don't get into speculation. Tua's our quarterback," Flores definitively said.
When pressed why the team hasn't come out with an official statement on the trade rumors, Flores responded by basically saying a press release isn't necessarily because he's been clear on the matter this whole time.
"I would say I've answered that question by saying Tua's our quarterback. I'm not getting into speculation; I'm not getting into rumors. I'm focused on our team and our quarterback, and that's Tua."
Flores says that Tagovailoa will be Miami's quarterback for the rest of 2021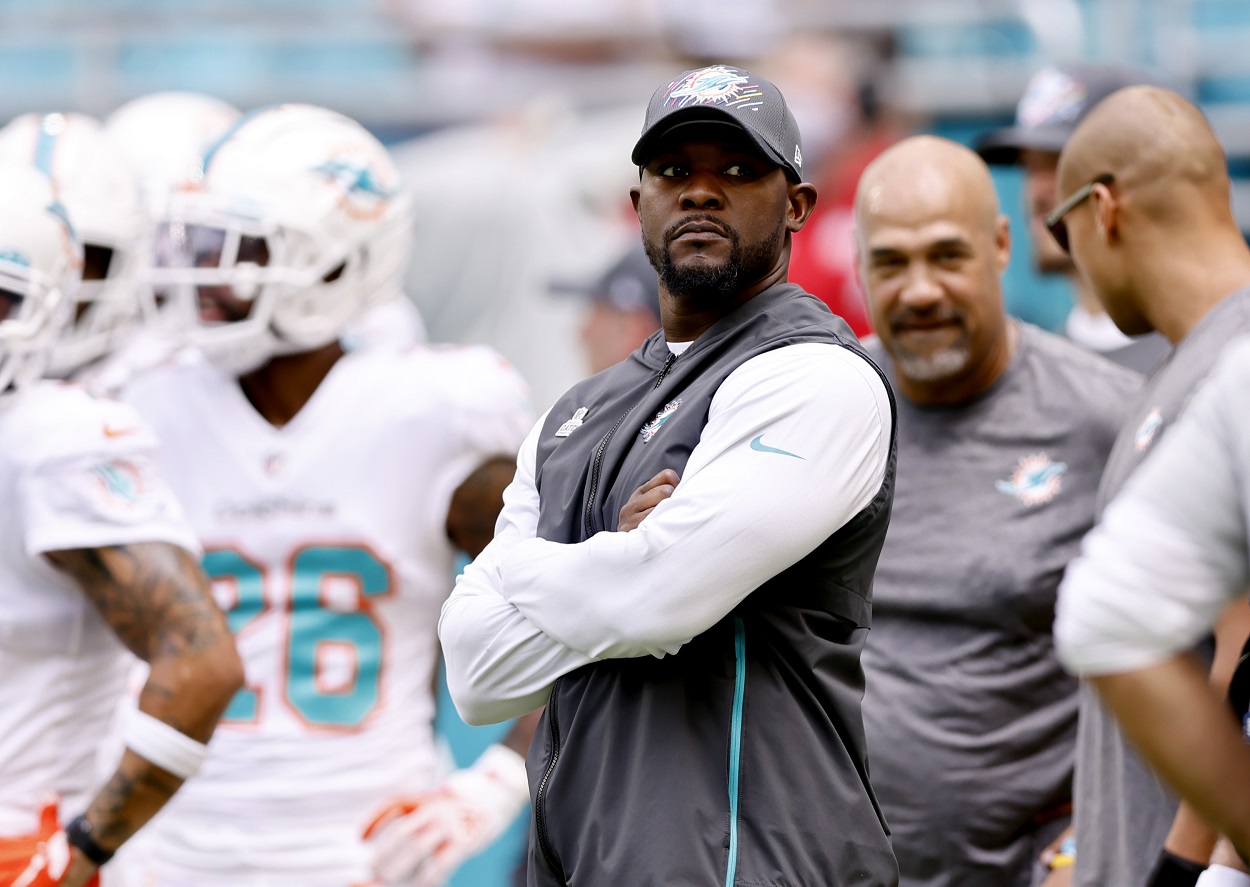 Earlier in the week, it was reported by the Houston Chronicle that Miami had actually already determined the financial side of bringing in Watson as the quarterback, and Dolphins' owner Stephen Ross has even gone as far as to approve the potential trade. The thing holding up the transaction is the fact that Ross wants Waton's legal issues resolved before a trade can be finalized. CBS Sports provided important context on the matter:
Miami owner Stephen Ross has even approved the trade, but the sticking point is that he wants Watson's legal issues resolved before it's executed. The only realistic way for that to occur prior to the Nov. 2 trade deadline would be if Watson settled his 22 civil suits. As McClain reports, however, Watson does not want to settle because he believes that would be an admission of guilt. 
It would seem that the trade hinges mostly on Watson not wanting to settle, which is his prerogative. With that in mind, no matter how much both Houston and Miami want this trade to happen, that appears to be a deal-breaker.
Listening to Flores talk, he perhaps realizes that a trade for Watson seems more and more unlikely with every passing day. He went as far as to commit to Tua when he was asked to "declare definitively" if Tagovailoa would be Miami's quarterback for the rest of 2021. Flores hemmed and hawed a bit as most coaches would, and he stated that injuries could play a factor. He did come out and give a definitive "yes" to that statement, though.
Flores' frustration with the situation is clearly growing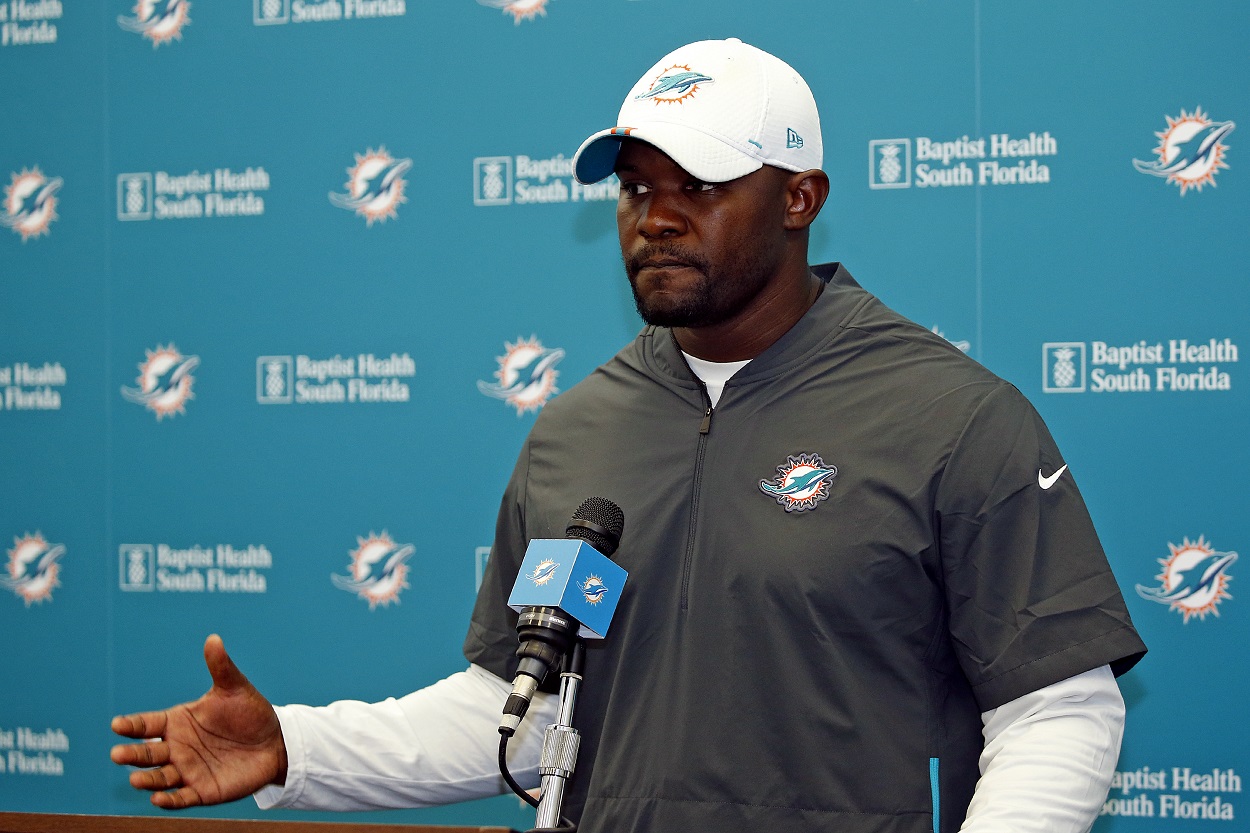 The thing about most coaches is that they're football nerds. They'd much rather be in the film room breaking down their opponent than talking to the media. Bill Belichick has made his distaste of the media clear over the years, and Flores did fall off his coaching tree.
Talking to the media is a necessary evil for most coaches, so one can imagine how frustrating it becomes for a person who's comfortable talking X's and O's to essentially become a public relations representative.
Of course, that's why NFL head coaches get the big bucks, but Flores does have his young quarterback to think about as well.
Tua hasn't been great this season, and he's always going to have the pressure of being the player Miami took before Justin Herbert, who went a pick later to the Los Angeles Chargers in 2020. That's a lot of pressure for a young quarterback, especially when considering how good Herbert has looked in LA. The thing is, Tagovailoa has shown the potential to be a starting quarterback in this league. He's also handled these rumors like a true professional, never showing that he's cracking under the pressure but rather saying that he hears the rumors, but doesn't listen to him.
Flores has a quarterback he can build around in Tagovailoa. Yes, he needs some coaching, but again, that's why NFL coaches make millions.
Of course, he's frustrated about this situation. Not only has the media in Miami been incessant about asking him about the potential trade, but he has to worry about how all of the rumors are impacting his young quarterback and his development for the future.
Right now, that's about all Miami has: the future.
It seems that at least one person in the organization is focused on moving ahead with Tagovailoa rather than indulging in a trade that's starting to look more and more like a fantasy. 
Stats courtesy of ESPN and Pro Football Reference.
RELATED: Dolphins Coach Brian Flores Is Already Willing to Eventually Consider Forgiving Jon Gruden: 'I Think We All Should Learn Something from It'