MLB: Can Vladimir Guerrero Jr. Live Up to All of the Hype?
Fans love seeing new generations of baseball players enter the game. So when Vladimir Guerrero Jr. started in his first big league game in Toronto, the crowd went wild. His dad, Vladimir Guerrero Sr., watched the game in person, and the anticipation was palpable during Vladdy's first major league at-bats against the Oakland A's in late April 2019. The 20-year-old third baseman went 1-for-4 with a double in his last at-bat of the game before exiting for a pinch runner.

Vlad Jr. was born in Montreal while his father played for the Expos. His dad entered the Hall of Fame in 2018, and the family line of baseball players doesn't stop there. Vlad Sr.'s older brother, Wilton Guerrero, is a former major league utility player. And, Wilton's son, Gabriel, is currently an outfielder with the Marlins' AAA team, the New Orleans Baby Cakes. Vladimir Guerrero Jr.'s baseball bloodlines run deep, but can he live up to the hype of being a star in the making?

Vladimir Guerrero Sr.'s career
Vladimir Guerrero Sr. spent 16 seasons in the majors playing right field and designated hitter. He played in Montreal for seven years before becoming an Angel for five, followed by one-year stints each with the Rangers and the Orioles. The right-hander was well-known for being a bad-ball hitter with 449 home runs and .318 batting average during his career.
Senior was a nine-time All-Star, won the American League MVP in 2004, and captured eight Silver Slugger awards. He joined the Angels Hall of Fame before entering the National Baseball Hall of Fame with 92.8% of the vote.

Vlad the Dad's legacy
The senior Guerrero played his last MLB game in 2011 at the age of 36, but he later signed a one-day contract with the Angels in 2014 to more formally retire from the game.
He earned numerous awards and accolades through the years, including being top-10 in MVP voting five times aside from his 2004 MVP season. He hit 30 or more home runs in eight seasons, and he topped 100 RBIs 10 times in his career. There's a lot to live up to, and Vlad Jr. is just one of his dad's eight children.

The son rises
While we are not quite sure if Vladimir Guerrero Jr. is the eldest child of his father, it is almost certain he is the eldest son, hence the name. He spent a lot of time as a youngster in the Montreal dugout during dad's career.

Born a Canadian in Montreal, the young Vladdy was considered Baseball America's top international free agent in 2015 and signed with the Blue Jays to the tune of $3.9 million. His Canadian fans have been anxiously waiting for him to make his major league debut, and at the mere age of 20, he did, adding to Toronto's turnaround potential.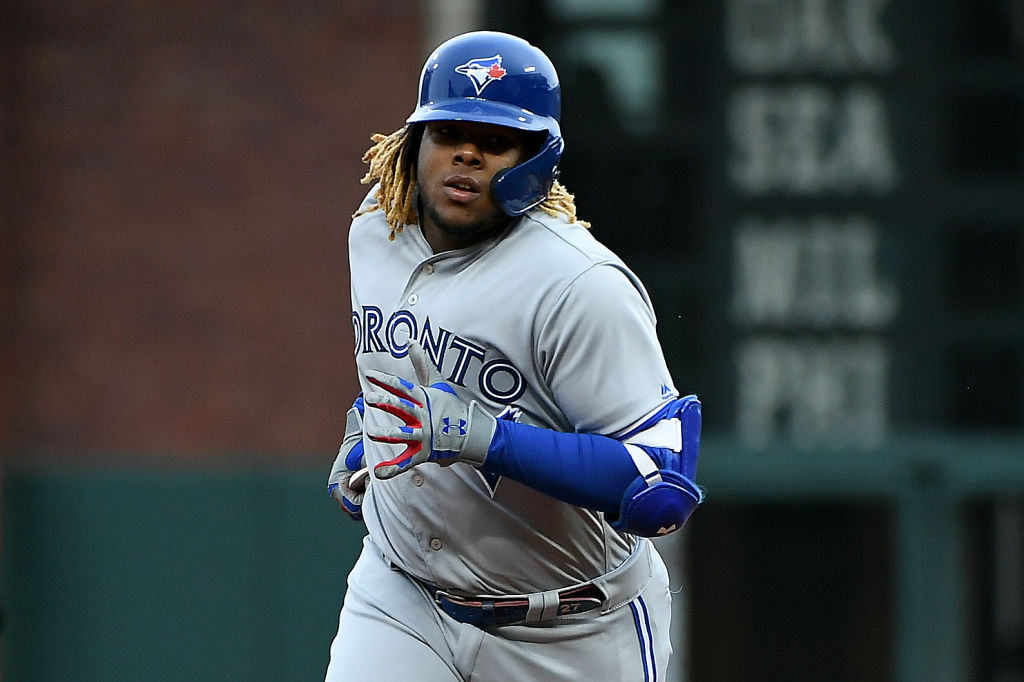 Vladdy torched the minor leagues with 44 home runs, 209 RBIs, and a .331 batting average in just 288 games. No doubt he wants to live up to his dad's legacy, and his minor-league numbers show he just may. Those numbers are quite, not surprisingly, similar to the elder Guerrero.

What we can expect from Vlad Jr.
Vlad Jr.'s fans expect him to perform much like his father. So, too, does Toronto's front office. But, it is important to remember that he is his own person. While he bats right-handed like his dad and had a similar minor-league record, the younger Guerrero plays third base. His dad was an outfielder. Although well-known for his batting average and home runs, senior was a solid defender. So is Junior.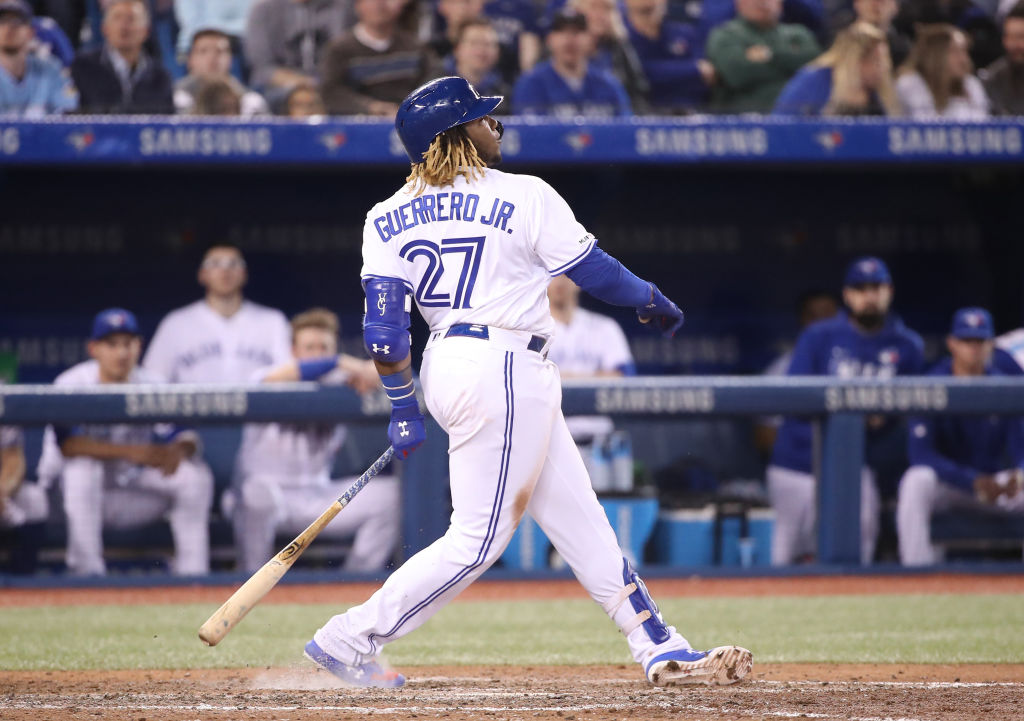 Vladimir Guerrero Jr. has a long way to go to reach his dad's home run total (he hit his first two in a win against the Giants on May 14, 2019), but it's just a matter of time until he at least comes close. He shows maturity at the plate beyond his years, and he takes the time to study tape and work on tweaking his performance.

He's already demonstrated some of his defensive abilities at third. His team and his fans are looking for Vladimir Jr. to make his own way, with some of his own records, and we'll be watching the youngster for many years to come.