Vomiting Fans and Fired Coaches: The Sacramento Kings Existence Boiled Down to 2 Constants
In the fourth quarter of their blowout loss to the Utah Jazz, the Sacramento Kings delayed their Nov. 20 game because a fan seated at courtside vomited on the court. Early the following day, the Kings reportedly fired coach Luke Walton. He was the franchise's 11th head coach since its last playoff appearance in 2006.
It's hard to imagine a better metaphor for an organization that followed up a team-record eight straight playoff seasons with a 15-year (and counting) postseason drought. It's hard to imagine being a Kings fan and not having to fight the gag reflex multiple times a season.
Luke Walton should never have been with the Sacramento Kings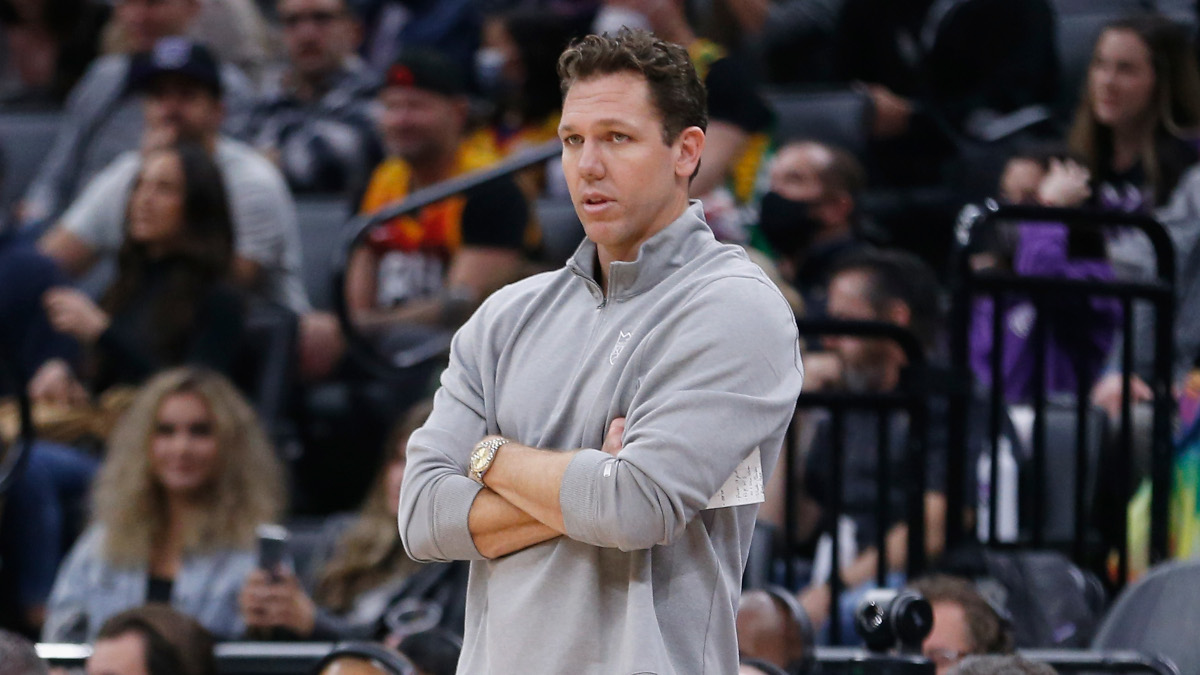 In 2018–19, the Sacramento Kings finished with a 39–43 record. That does not cause celebration in many markets, but it was the team's best season since the last time they qualified for the playoffs in 2005–06.
If that seems like an odd time to fire a coach, it is. But there was reportedly some tension between former coach Dave Joerger and some front office members, according to a tweet from Zach Lowe of ESPN.
Joerger had the Kings improving. They won 12 more games in 2018–19 than they had the previous year and, as previously noted, posted more victories than any Sacramento team in more than a decade.
Enter Luke Walton. Three days after Walton and the Los Angeles Lakers mutually agreed to part ways (not sure how mutual it was after 98–148 over three seasons, but it's how they phrased it), former team president Vlade Divac brought Walton to Sactown.
Walton's stock as a potential head coach skyrocketed in 2015–16, his second year on Steve Kerr's staff with the Golden State Warriors. While Kerr recovered from back surgery, Walton led the Warriors to an NBA-record 24 straight wins to open the season. Golden State was 39–4 when Kerr returned. The team went on to win a record 73 games before coughing up a 3–1 lead in the NBA Finals.
The Kings were 31–41 in 2019–20. They were close enough to a playoff spot to earn an invitation to the bubble in Orlando when the season resumed in July 2020. In typical Kings' fashion, Sacramento took the opportunity and went 3–5 before going home.
Last season was another 31–41 treadmill and another 12th-place finish in the Western Conference. The Kings were seven games out of the play-in field. This season, Sacramento lost seven of eight after a 5–4 start, which led to Walton's firing. Adrian Wojnarowski dropped the bomb on Twitter for ESPN.
Unfortunately for Sacramento Kings fans, the vomiting guy is the franchise in a microcosm
During the Sacramento Kings 123–105 loss to the Jazz, the game was delayed for more than 13 minutes, according to Sarah Todd of the Deseret News, while the Golden 1 Center staff cleaned up the mess after a sitting courtside vomited on the floor near the Utah bench. Less than 24 hours later, Luke Walton was out.
While the Kings dutifully posted a warning on the scoreboard that intoxicated fans would be ejected from the arena (which the offending fan was, for the record), the incident unfortunately captured most of the team's history since leaving Kansas City in 1985. So, too, did the firing of Luke Walton.
After coming to California's capital city, the Kings have eight winning seasons in 36 years. All of those came under Hall of Fame coach Rick Adelman between 1998–99 and 2005–06.
Outside of Adelman's tenure, Sacramento has never enjoyed a better-than-.500 record. The 28 seasons not under Adelman resulted in two (two!) playoff appearances, both first-round losses. Since the move, the Kings are 1,224–1,677, tied with the New Jersey/Brooklyn Nets for the NBA's fifth-worst record since 1985.
Consider that Sacramento was 395–229 under Adelman, a .633 winning percentage that was fourth-best in the NBA over his tenure. We're talking about a franchise that is otherwise 829–1,448. For those of you without calculators, that's a .364 winning percentage. That's not a rebuilding organization; it's a fan base enduring a hostage crisis.
Who comes next after Luke Walton?
Cleaning up the figurative mess after the firing of Luke Walton is a big job. According to Wojnarowski via Twitter, either associate head coach Alvin Gentry or first-year assistant Doug Christie is expected to be named interim head coach.
Whoever it is will be the 19th coach of the Sacramento Kings since 1985. That list includes Phil Johnson, Jerry Reynolds (two tenures), Bill Russell, Dick Motta, Rex Hughes, Garry St. Jean, Eddie Jordan, Adelman, Eric Musselman, Reggie Theus, Kenny Natt, Paul Westphal, Keith Smart, Mike Malone, Tyrone Corbin, George Karl, Joerger, and Walton.
The franchise owns one title in its history. That came in 1951 when the club was still known as the Rochester Royals. The Royals moved to Cincinnati in 1957 and went to Kansas City (and Omaha, briefly) in 1972 before heading to Sacramento in 1985.
In 73 seasons, the club has had 29 playoff appearances. None has been in the last 15, and without a strong turnaround this season, the Kings will break the tie with the Buffalo Braves/San Diego and Los Angeles Clippers from 1977–1991 as the NBA's longest streak of playoff-free basketball.
From looking at that track record, it's hard to understand how no one threw up on the Sacramento Kings floor a long time ago.
Statistics courtesy of Basketball Reference and Stathead.