NFL: How Von Miller's New Contract Will Affect the Denver Broncos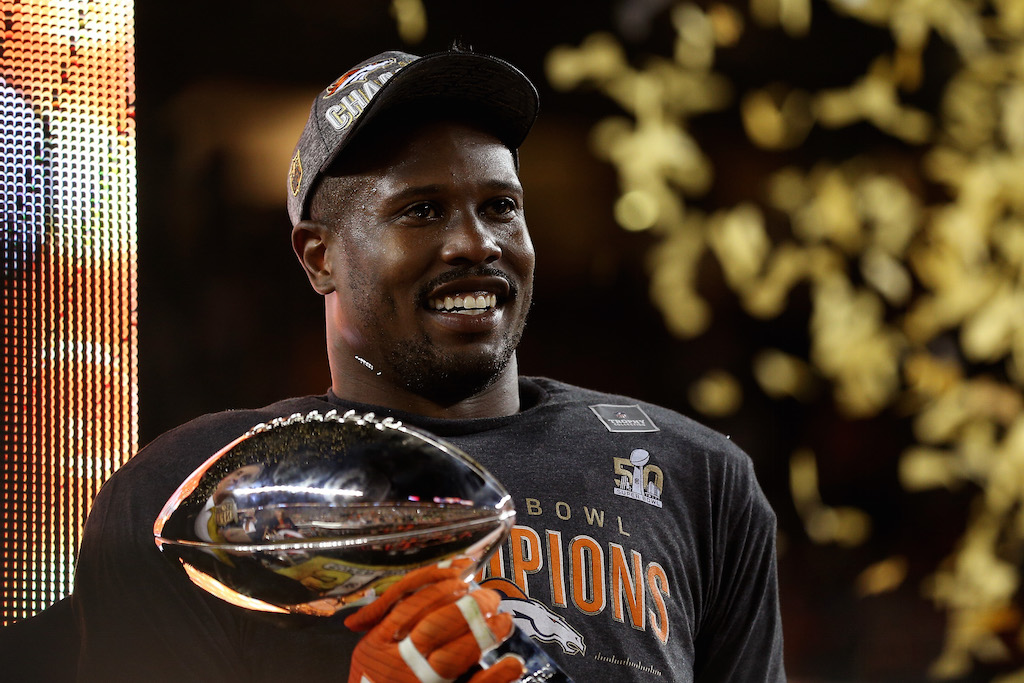 Denver Broncos outside linebacker Von Miller just became a very, very rich man. After being slapped with the Broncos' franchise tag and then engaging in a contract dispute that lasted for virtually the entire offseason, the Broncos and Miller have agreed to a long-term extension that made the Most Valuable Player of Super Bowl 50 the highest-paid defensive player in the history of the National Football League.
Miller's new deal was struck shortly before the NFL's deadline for franchise tagged players to reach long-term extensions with their current team, and will pay the former Texas A&M standout a total of $114.5 miller over 6 years. The record-breaking contract includes $70 million in guaranteed money, a $23 million signing bonus, and will pay Miller at least $61 million over the first three years of the deal.
Here's Miller's response to the news:
FOR LIFE pic.twitter.com/ayvzpJ1WZh

— Von Miller (@Millerlite40) July 15, 2016
The guaranteed money and the per year average salary in this deal are both new NFL records for non-quarterbacks on both sides of the ball, but more importantly, Miller's public battle against playing on the franchise tag was a major victory for future players who may find themselves in a similar situation. While it's highly unlikely that the franchise tag will go away with the next collective bargaining agreement between the league and the NFL Player's Union, there is no denying that, thanks to Miller, it will not be as effective on All-Pro caliber players as it once was.
Nevertheless, now that Miller's contract dispute is settled and his threats to sit out the entire season are officially over and done with, we can move forward and look at how this mega deal is going to affect the Broncos and the rest of the league going forward.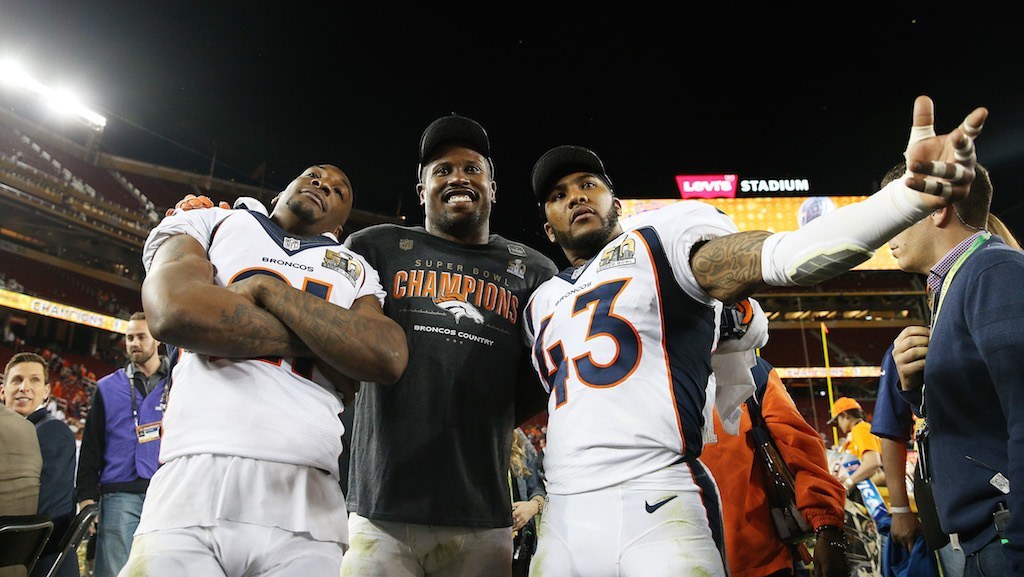 The Broncos currently have one of the more unique salary cap situations in the league. They are legitimate Super Bowl contenders, but do not have a big-money quarterback on their roster — and they won't until the time comes to sign rookie Paxton Lynch to a contract extension, if that time comes at all. As a result, they have more than enough salary cap space to keep their core group of players in tact, even with Miller's massive new deal on their books. They will still have to workout fair market deals for key impending free agent players such as Pro Bowl wide receiver Emmanuel Sanders, kicker Brandon McManus, and outside linebacker Shaquil Barrett, but the Broncos are still in the fortunate position of not having to cut ties with any other player as a direct result of Miller's new contract.
It kind of goes without saying that a contract such as Miller's doesn't come without a fair amount of risk. If the four-time All-Pro flops, packs it in after landing his big payday, or suffers a career debilitating injury, the Broncos will be set back for several years. Moreover, history would suggest that paying a defensive player or non-quarterback close to $20 million per year doesn't equate to success in the NFL. And truth be told, had the Broncos not locked Miller up, it would have hurt them during future contract negotiations with their own free agents, and decreased the likelihood of them attracting big name players on the open market.
At the end of the day though, keeping Miller in the fold means that Denver will have most of their key pieces — and their best player — back from their legendary 2015 defense as they attempt to repeat as Super Bowl champions.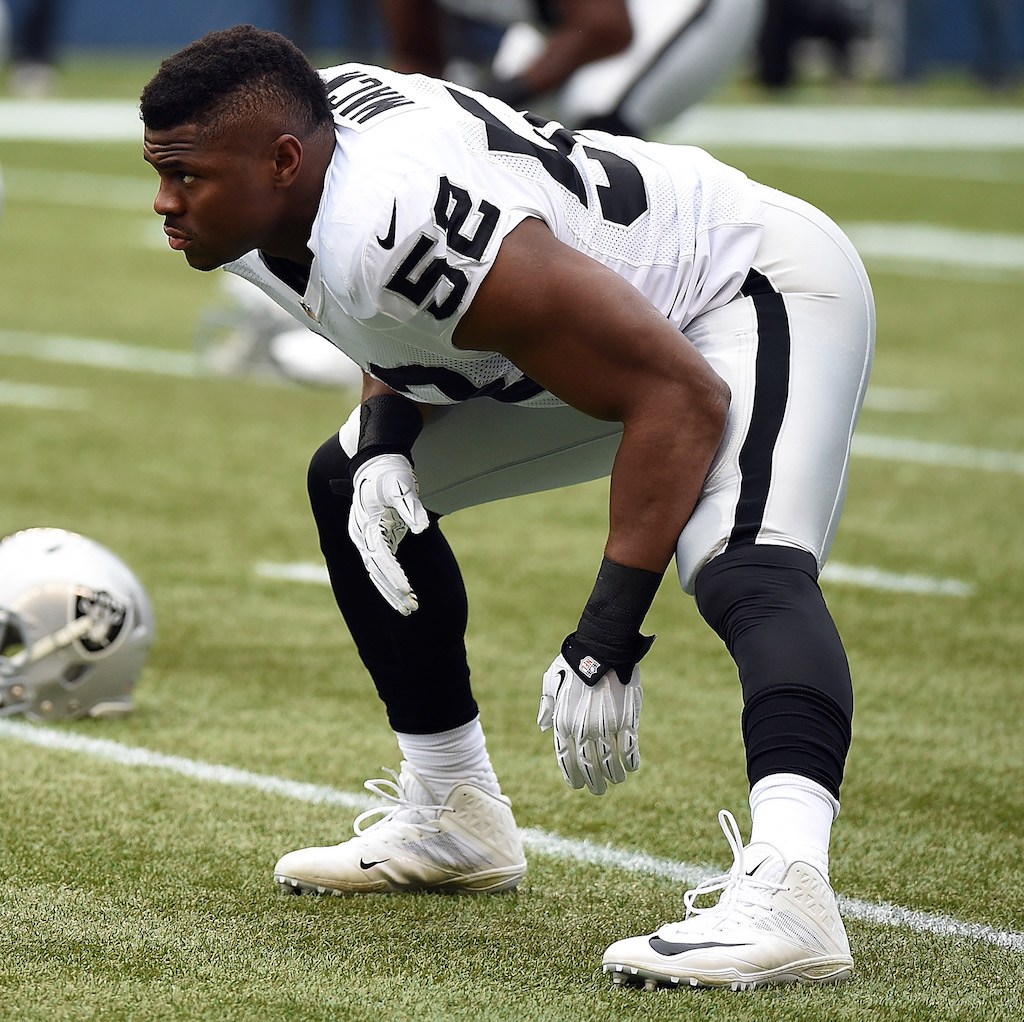 As we previously mentioned, Miller's new contract completely shook up the NFL landscape going forward. The guaranteed money, money paid out in the first three years, and per year averages are all going to serve as new benchmarks when the time comes for rising defensive stars such as Oakland Raiders outside linebacker Khalil Mack (pictured above), Los Angeles Rams defensive tackle Aaron Donald, Carolina Panthers defensive tackle Kawann Short, and New York Jets defensive end Muhammad Wilkerson to negotiate long-term deals.
Perhaps the only party that is happier than Miller with the result of this contract dispute is the NFLPA. The way Miller and his representatives played hardball (and won) against having to play on the franchise tag was a major step towards eliminating the extremely team-friendly aspect of the current CBA when it comes time to negotiate the next CBA. Furthermore, by beating one of the toughest negotiators in the league – Denver General Manager John Elway – at his own game, Miller proved that teams don't hold all of the power in contract negotiations.
All said, the resolution to Miller's contract standoff more or less signifies the unofficial end to the 2016 NFL offseason. We now know that the defending Super Bowl champion Denver Broncos will have their best player on the field as the set out on their quest to repeat as world champions, and we have a new framework for future contract negotiations for All-Pro caliber defensive players. Now, only time will tell if Miller can live up to the expectations that come with being the highest-paid defensive player in NFL history.
All statistics courtesy of Pro-Football-Reference. Contract and salary cap data courtesy of Spotrac.