Von Miller Finally Has a Quarterback He's Excited About Playing With
Since Von Miller entered the NFL in 2011, he's seen it all. The linebacker joined when Tim Tebow briefly took the league by storm. And Miller came up in the ensuing years behind Peyton Manning. Despite the Broncos' recent struggles, Miller looks forward to his future in Denver thanks to one young quarterback, Drew Lock. Here's why.
Von Miller's career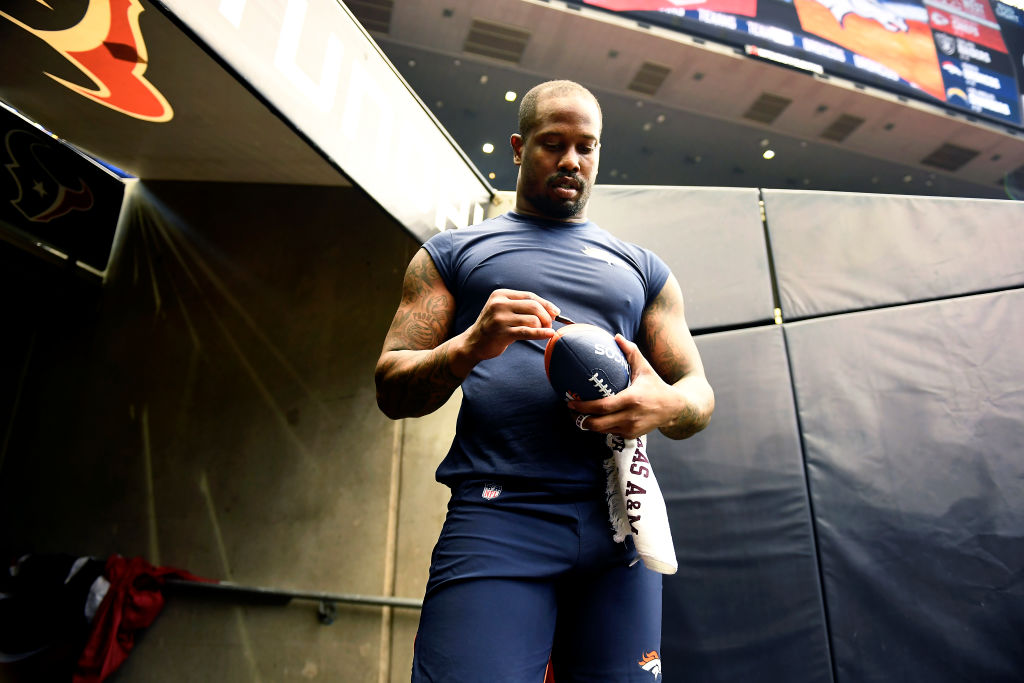 The second pick in the 2011 NFL Draft, Miller was expected to have an immediate impact on the up-and-coming Broncos. To some, this pressure could lead a player down a surefire path to mediocrity. But Miller wasted no time using the hype to become a star.
As a rookie, Miller immediately proved to be one of the best linebackers in the NFL. He collected 64 combined tackles (50 solo).
Although he'd barely dipped his toe into the NFL waters, Miller's defense made Tebow and the offense's success better. Then, after the linebacker's rookie season, everything changed for the better. Despite Tebow's breakout year, the Broncos shipped him out in favor of aging superstar Manning for the final years of his career.
With Manning running the offense, Miller became a defensive superstar and received All-Pro honors in just his second year. By 2016, he was a three-time All-Pro player, Super Bowl MVP, and an absolute nightmare for NFL offenses.
Miller's years since Manning's retirement, however, have not been as successful. The Broncos have struggled to find anything that works at quarterback (Trevor Siemian, Brock Osweiler, Case Keenum, and Joe Flacco). The Broncos' QBs have fizzled out quickly, but Lock could change this trend if we believe Miller.
What did Miller say about Drew Lock?
Behind the Broncos' injury-plagued 2019 season was a glimmer of hope at the end of the year. While many struggling teams do all they can to lose at the season's end and protect their draft position, Denver used the home stretch to try out Lock after injury kept him out for most of the season. The result was a 4-1 record that put him on the radar.
Miller was as impressed as anyone with Lock's breakout at the end of the year. With an entire offseason to work on his skills, he sees no reason Lock cannot be better by the 2020 season. 
"I thought he was going to be good without a new offensive coordinator," Miller said, according to the Associated Press. "And now they're bringing in all these guys to help him be successful? The sky's the limit for him."
Miller may not take the field at the same time as Lock, but he faces him in practice and has a front-row seat to games. The NFL veteran sees a QB who is ready. "Whenever you have a confident quarterback out there balling and doing all the great stuff he does, everybody feeds off that," Miller said. "It gets everyone excited."
Is the sky the limit for Lock and the Broncos?
If the last two years taught football fans anything, it's that anything can happen in one offseason. The last two NFL MVPs, Patrick Mahomes and Lamar Jackson, were in similar positions as Lock. (Mahomes played in only one game as a rookie.)
With a taste of the NFL, Lock could very well continue the tradition of young quarterbacks having breakout years during their first full-time seasons as starters. 
Miller knows the highs and lows that come with being an NFL quarterback, so his praise of Lock means a lot. Now, the Broncos have to prove they are as good as their star linebacker believes they are.
Follow more updates from Sportscasting on our Facebook page.