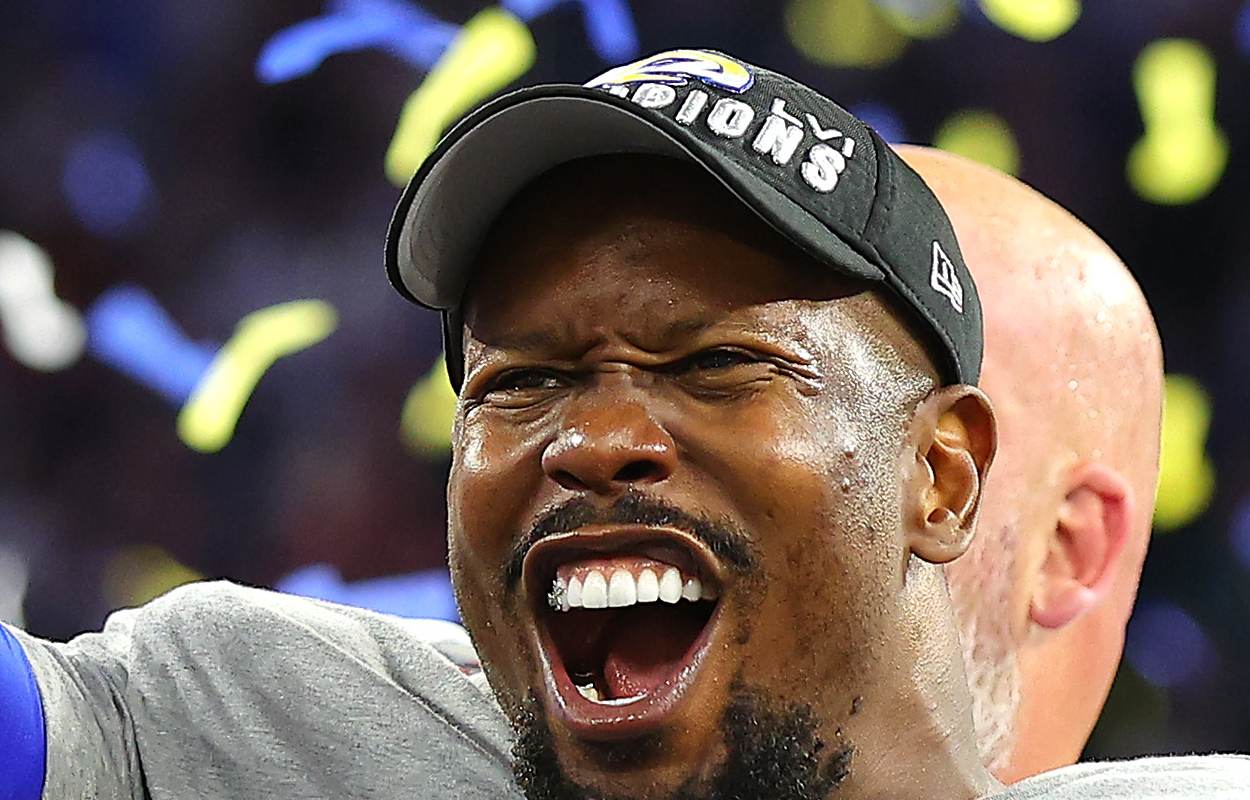 Von Miller Could Make NFL History if the Bills Finally Break Their Super Bowl Drought
If the Buffalo Bills win a Super Bowl in the coming years, veteran linebacker Von Miller could have an excellent opportunity to make NFL history.
As the rest of the AFC tried upgrading on offense, the Buffalo Bills turned their attention to Von Miller.
Shortly after free agency opened on Wednesday, March 16, the Bills shocked the football world by snagging Miller, the prolific outside linebacker who will play the entire 2022 season at 33 years old, to a six-year, $120 million contract. Despite his age, he totaled 13.5 sacks (9.5 in the regular season and four in the playoffs) across 15 games with the Denver Broncos and Los Angeles Rams last year. 
Next up for the nine-time Pro Bowler? A shot at making history by joining an exclusive club and potentially forming his own in the process.
Von Miller has an opportunity to become the second player to win Super Bowls for three different teams
Miller isn't exactly in rare company among players who have won Super Bowl rings with two different teams. Tom Brady obviously did it with the New England Patriots and Tampa Bay Buccaneers. Peyton Manning, Miller's former teammate, won a ring with the Broncos and the Indianapolis Colts.
Alright, we'll take quarterbacks out of the equation. Legendary cornerback Deion Sanders won championships with the San Francisco 49ers and Dallas Cowboys. Adam Vinatieri, one of the greatest kickers in NFL history, won three rings with Brady on the Patriots and a fourth alongside Manning on the Colts.
How many players have won three rings? Longtime NFL linebacker Matt Millen, who won titles with the then-Los Angeles Raiders, 49ers, and Washington Commanders, is the club's only member as of March 2022.
Miller, who won a ring in February 2016 with the Broncos and six years later with the Rams, is one championship away from doubling the club's membership.
Miller would start his own club (without Millen) if he plays in that Super Bowl
Although Millen has three Super Bowl rings, there has never been a player who participated in the Big Game for three different teams and emerged victorious each time. Millen didn't play in Washington's Super Bowl 26 victory over, coincidentally, the Bills.
Ideally, Miller should want Buffalo to reach, and win, one of the next two Super Bowls. He'll turn 35 ahead of the 2024 season and, in spite of his massive contract, could potentially arise as a cap casualty or trade target at that point considering his age.
Luckily for Miller, the odds favor such an outcome. As of March 18, 2022, the Bills' +650 odds (bet $100 and win $750) of winning Super Bowl 57 ranked atop the FanDuel Sportsbook. The Tampa Bay Buccaneers (+700) and Kansas City Chiefs (+850) narrowly trailed behind the Bills, who haven't reached a Super Bowl since January 1994.
Rob Gronkowski could also join the club if he chooses to move on from Tom Brady and the Buccaneers
Theoretically, any player can win Super Bowls with three different teams, especially in the era of free agency. Of course, things are never that simple.
The NFL's constant parity, even amid the Patriots' recent dynasty, makes it extremely challenging for players to the Super Bowl as a member of two different teams. There's a reason why, despite the Super Bowl existing for nearly 60 years, only a single player has won rings for three separate franchises.
Unless Tampa Bay Buccaneers tight end Rob Gronkowski plays for another team in 2022, Miller easily stands the best chance at joining Millen next season. Gronkowski, like Brady, won rings with the Patriots and Buccaneers. However, the four-time first-time All-Pro selection is widely expected to stay in Tampa Bay if he doesn't retire.
All it takes is another ring to change the equation for several other players. Veteran receiver Odell Beckham Jr., Miller's former Rams teammate, remained a free agent as of publication. If Beckham signed with the Bills or the Green Bay Packers and won another ring next season, he'd be a championship away. The same premise applies for San Francisco 49ers quarterback Jimmy Garoppolo, who won two titles while backing up Brady on the Patriots in the mid-2010s.
Seeing as the football gods have forced us to endure another year of Brady, how about giving us a Buffalo-Tampa Bay Super Bowl next season? Please?
How to get help: In the U.S., contact the National Council on Problem Gambling helpline at 1-800-522-4700. In the U.S., call the National Suicide Prevention Lifeline at 1-800-273-8255. Or text HOME to 741-741 to connect with a trained crisis counselor at the free Crisis Text Line.