Von Miller: The Rams Can't Allow Themselves to Be Priced out in Free Agency
Von Miller wants to be back with the Los Angeles Rams. Fresh off a Super Bowl win, why wouldn't he want to run it back with the team that brought him his second ring?
The issue for both parties is this: Miller hasn't been a free agent before, so he does want to at least test the market. The Rams also have some major money moves to make this offseason. At the time of this writing, they're roughly $13 million over the cap.
The Rams have got to make it work, though.
Von Miller proved invaluable for the Los Angeles Rams in 2021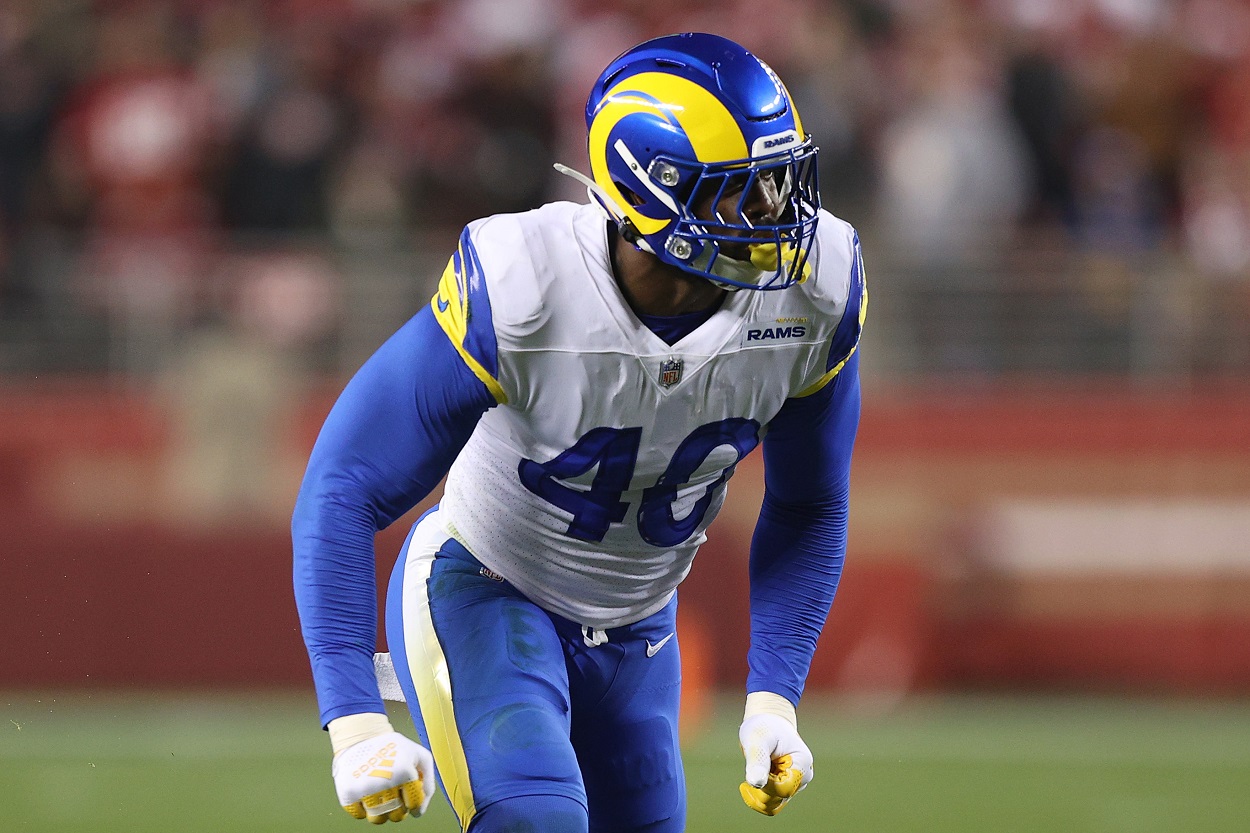 There were some questions about Miller's overall effectiveness when the Rams traded for him mid-season. They sent a second and third-round pick to the Denver Broncos in return for a player who was undoubtedly a superstar in name in reputation but was coming off an ankle injury and perhaps not his usual explosive self.
What the Rams wanted made sense, though. They didn't need Miller to be the guy who could carry a defense, as he did for many years in Denver. LA needed Miller to be extra juice for an already strong defensive front. Aaron Donald and Leonard Floyd were getting the job done with Jalen Ramsey covering the air behind them, but Miller was brought in to be the final piece of the puzzle.
To LA's credit, he fit.
Miller finished the regular season in LA adding five sacks and a forced fumble to his total. He was also excellent in the playoffs, with four sacks (including two in the Super Bowl), one forced fumble, one fumble recovery, and one pass defended.
There is mutual interest between Miller and the Rams, but he wants to be paid
Miller has been in the NFL since 2011, but he's never been a free agent. He's, of course, made a ton of money because the Broncos were more than willing to lock him down up until this past season, but he's never actually hit the open market.
NFL Network inside Mike Garafolo had reported before the Super Bowl that while Miller has enjoyed his time in LA, he is "expected to fully explore" free agency.
It makes sense, too. At 32-years-old this will likely be his last chance to garner a significant contract, especially since he proved he can still be an integral part of a defense.
"I'm told there's mutual interest in him coming back and them wanting him back, but he's one of the top pass rushers in free agency. We'll see if he's able to price himself out of LA or if they're able to come up money-wise where he wants to be and get together," NFL insider Ian Rapoport recently reported.
The Rams will have to make some big money moves this offseason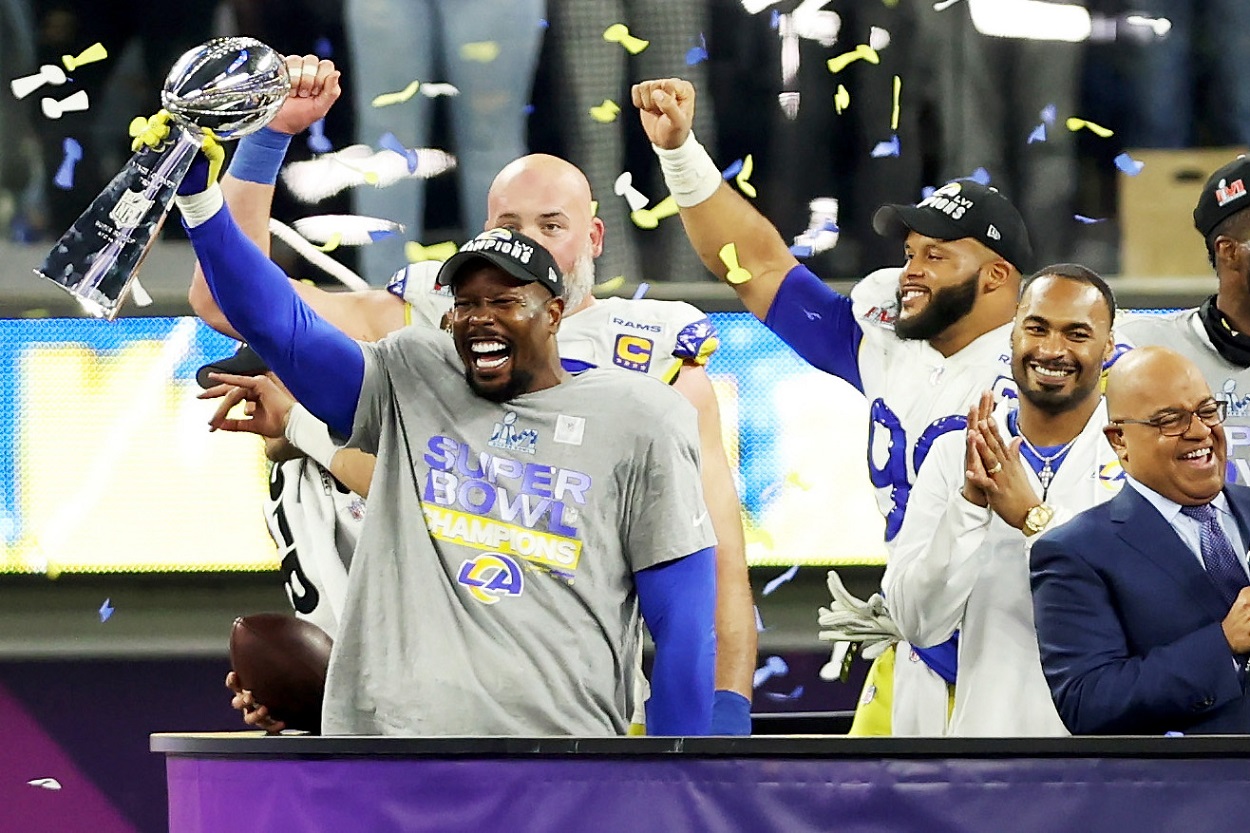 It sounds like the fit is there for Miller, and the Rams have the opportunity to keep their Super Bowl window open in a big way this offseason if they play their cards right.
Freeing up money for Miller has to be key, though, because even though he may not desire a long contract, it sounds like he does want to be paid what he feels he's worth.
That's where that pesky salary cap number comes in for LA. As mentioned, the Rams are $13 million over the cap, so they've got some work to do if they want to re-sign Miller. He's not the only free agent LA would want back, either. Odell Beckham Jr. will be coming off a significant ACL injury (his second on the same knee), but Aaron Donald was evident in the wake of the Super Bowl that one of the stipulations of him coming back rather than retiring is for the whole band to get back together.
"If we bring everybody back, I'm back," he had told TMZ after the Super Bowl celebration, specifically mentioning OBJ and Miller.
So how do the Rams pull it off?
First of all, 2022 is the last season of Matthew Stafford's current contract. If the Rams extend him, which they should, they can move some money into the future in order to make some cap room for 2022.
A new contract for Donald is also another domino that will have to fall for the Rams.
"He is not yet firmly and finally committed to the Rams. They believe he's going to come back, and there's been some momentum toward that, but it has not been made official," Rapoport said.
They have discussions about giving Donald a "raise," per Rapoport, and a restructure of that contract is another way the Rams can make money for Miller and potentially OBJ.
However they do it, if the Rams want to "run it back"; not getting outbid for Miller on the open market is a massive step in that process.
Stats courtesy of ESPN and Pro Football Reference. Contract information via Spotrac
RELATED: 2022 NFL Free Agency: 4 Best Destinations for Von Miller