Von Miller Takes Stand and Refuses to Play on Turf: 'I Really Want to Be on Grass Especially With the Type of Injury I Had'
Von Miller is coming off a frustrating season with the Denver Broncos.
During an early practice in September of 2020, Miller suffered an injury near and around his ankle. Following an MRI, it was revealed that the Broncos pass-rusher had dislocated his peroneal tendon. Miller was placed on injured reserve and didn't play a single snap for the Broncos that year.
Fast forward to this year's preseason, and Miller is still having concerns about his ankle.
Von Miller is refusing to play on turf
Miller has been telling reporters that he's healthy and currently ready to step on the field but made it clear that he wouldn't be doing so on Seattle's artificial turf. The Broncos are scheduled to play their second preseason game against the Seahawks on August 21, leaving their game against the Los Angeles Rams on August 28 as the last opportunity for Miller to get some reps in before the regular season begins.
"I am ready to play. I think I was ready to play last weekend. It's just about feeling the right opportunity to play. Seattle has turf. I didn't want my first game to be on turf. I really want to be on grass, especially with the type of injury I had," Miller said (The Denver Channel).
Having not appeared in any form of NFL game in close to a year, Miller obviously needs to test out his rehabbed ankle. The Broncos and their team of doctors would presumably like to see how he looks before signing off on him playing Week 1.
Von Miller needs the reps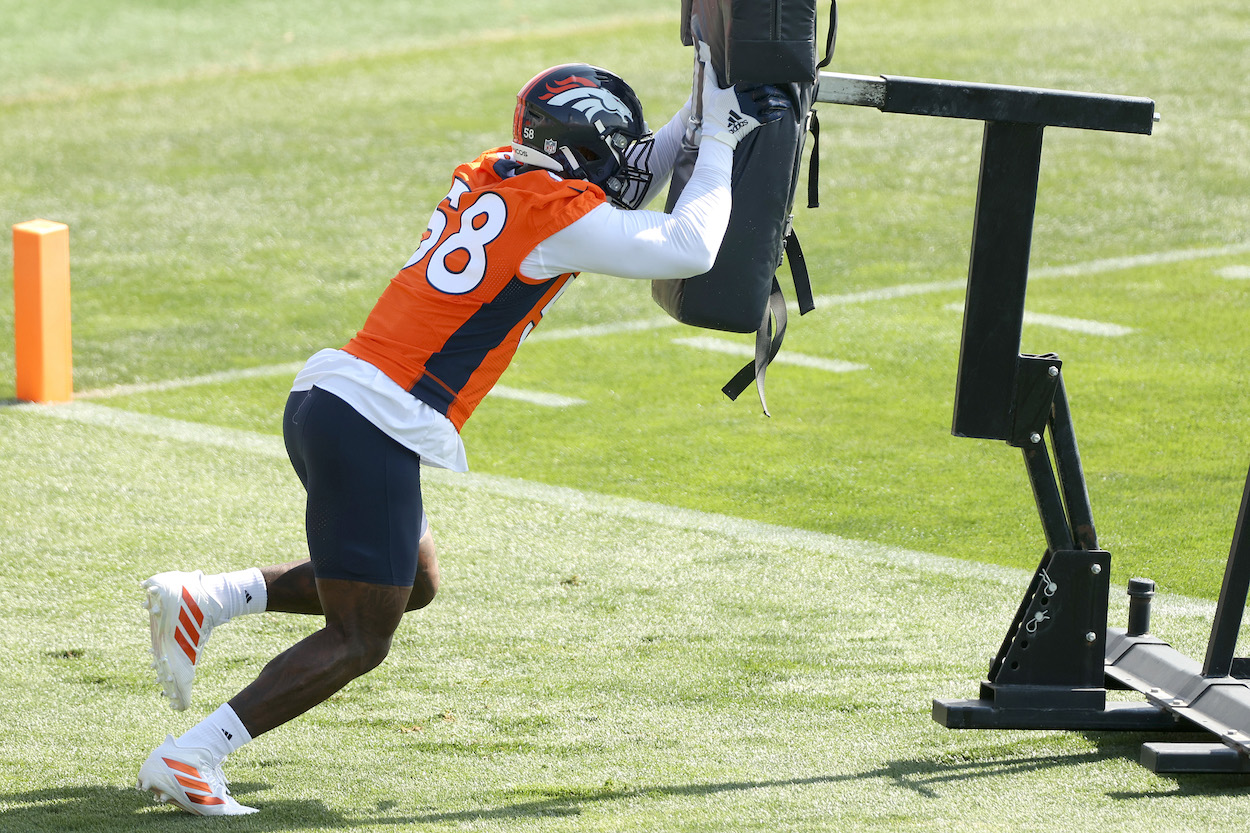 Von Miller is one of the greatest pass-rushers ever to play the game of football; there's no arguing that. He's recorded 216 quarterback hits, 135 TFLs, 106 sacks, and 26 forced fumbles. He's been a wrecking ball since the moment he debuted in 2011 and should still have a few good years left in him.
Miller is also an eight-time Pro Bowler, three-time All-Pro, Rookie of the Year, and of course, a Super Bowl Champion (2015). The numbers and the accolades speak for themselves.
With that said, Miller still needs to get preseason work in just like everyone else. While he likely hasn't forgotten what it takes to maneuver around an opposing offensive lineman, he hasn't experienced the physicality of the game in 11-plus months.
Even for a future Hall of Famer like Miller, that first time an offensive tackle throws his weight at you Week 1 can be a nasty experience.
The Denver Broncos are in for a tough season
While a returning Miller will undoubtedly benefit the Broncos, they're projected to struggle in 2021.
They play in one of the best divisions in football and still don't have a clear answer at quarterback. Neither Drew Lock nor Teddy Bridgewater has what it takes to guide an uninspiring Denver offense to the playoffs.
For Miller, he's set to be a free agent at the end of the season. If the Broncos completely bottom out, don't be too surprised if the now-healthy pass-rusher explores the idea of departing in free agency for a team better suited to contend in 2022.
All stats courtesy of Pro Football Reference.