Von Miller Will Be a $21 Million Deadweight on the Denver Broncos' Roster for the 2021 Season
Denver Broncos fans had reason to hope when George Paton assumed the role of general manager, replacing John Elway. It seemed that positive change would come to the Broncos' roster after five seasons of stagnation. Unfortunately, it seems that the team will continue to cling to the past, as proven by their decision to hold onto aging linebacker Von Miller.
Von Miller is a Denver Bronco for at least one more year
RELATED: Elvis Dumervil's Free Agency Fax Fiasco Remains Among the NFL's Greatest Embarrassments
According to KUSA's Mike Klis, the Denver Broncos have exercised the option on Von Miller's contract. This guarantees $7 million of Miller's $18 million salary for the 2021 season and keeps him on the Broncos roster. Tuesday was the absolute last day the Broncos had left to make this decision.
Earlier this month, Paton told NFL Network that he wanted Miller back. It was only a matter of working out the technicalities. According to Klis, the Broncos offered him a restructured deal which included a pay cut. The two sides could not reach an agreement, but Paton decided to retain Miller anyway.
Miller now takes up more cap room than anyone else on the Broncos roster. According to Spotrac, his total cap hit is $22.2 million, more than 10% of this year's salary cap.
Von Miller has not had a stellar year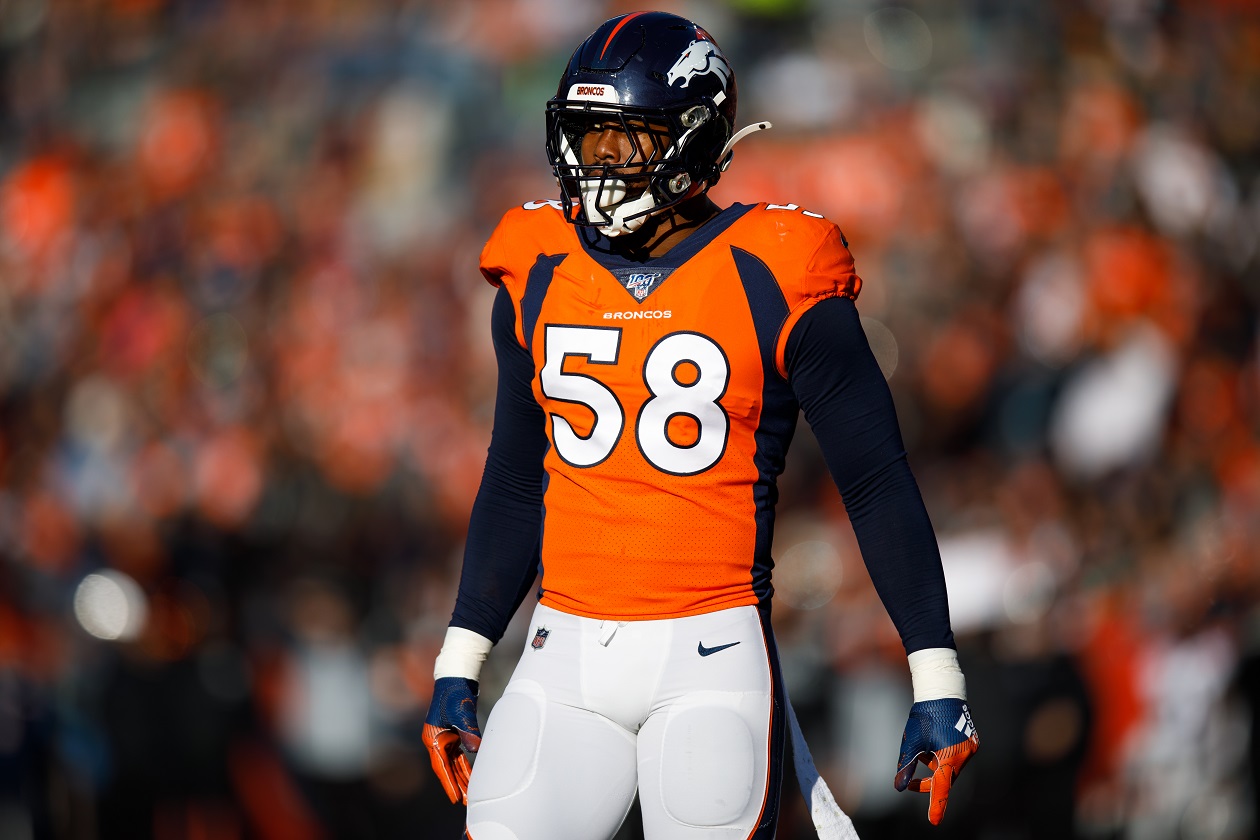 RELATED: Broncos WR Jerry Jeudy Plays for His Younger Sister, Who Tragically Died at Age 7
There is no denying the contributions that Von Miller has brought to the Broncos. He is an eight-time Pro Bowler, the franchise's all-time leader in sacks, and a former Super Bowl MVP. But those days are long over.
In effect, the Broncos have reserved over 10% of their budget for a player who hasn't seen the field in an NFL game for over a year. Miller is still recovering from an ankle injury he suffered during the last preseason which sidelined him for all of 2020.
Even before the injury, his play was arguably on the decline. In 2019, he picked up eight sacks — still an impressive total, but a decrease from 14.5 the year before.
On top of that, Miller has a history of off-field conflicts and personal troubles. Earlier this offseason, he found himself under police investigation in Douglas County, Colorado for undisclosed reasons. Eventually, no charges were filed.
The Denver Broncos have played it safe
From Paton's point of view, this deal makes some sense. Given the market for other players at Miller's position, an $18 million salary with $7 million guaranteed is a bargain. To replace Miller with another player of his caliber and credentials would cost more than twice as much.
However, most of those players are not as old as the 31-year-old Miller, who turns 32 next week. Most of those players aren't coming off an injury that sidelined them for an entire season. Most importantly, most of those players haven't recently been subject to a police investigation in Colorado.
In his first move as general manager, George Paton could have sent a message to the fans of Denver that the team was ready to move on from the past. Instead, he clung desperately to it, possibly sabotaging his team's hopes of future success.