Wade Davis's Wife Joins the Pro Sports Tipping Hall of Fame
Katelyn Davis, wife of Royals pitcher Wade Davis, will go down in the Tipping Hall of Fame — if there is such a thing — after what she did for a waiter at lunch on Tuesday.
Davis, who was eating with some of the other Kansas City players' wives, gave server Ryan O'Connor a ticket to sit with their group at Game 1 of the World Series that night in place of the usual monetary gratuity. Luckily, O'Connor's boss let him take the evening off work so the young man could enjoy the opening game of the Fall Classic at Kauffman Stadium. We're guessing a World Series ticket just might trump the usual few bucks thrown O'Connor's way for waiting on a table.
Mrs. Davis's kind gesture got us thinking about some of the other well-known tippers in pro sports, whether because of their extreme generosity or, in some cases, their reputation for stinginess. There's quite a spectrum to be found from best to worst, which starts at the top with…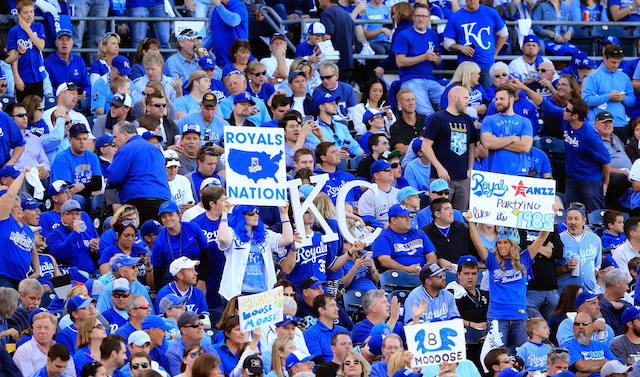 Charles Barkley
Barkley is known for his generosity, and once told the story on Conan O'Brien's show of leaving a $25,000 tip at a blackjack table. (To be fair, it's not like that was a normal night of gambling: Barkley says he won a cool $700,000.) Either way, that was unsurprisingly the point in the broadcast, during which O'Brien graciously volunteered to bring Barkley's car around front once the taping ended.
Tamba Hali
Chiefs linebacker Tamba Hali made news in October 2013 when he went above and beyond with his gratuity at a local Brazilian steakhouse. (What is it about Kansas City athletes and great tipping?) In addition to the automatically added tip on his bill, Hali threw in an extra thousand dollars that the wait staff divided among themselves.
Pro golfers not named Tiger Woods
Although Tiger Woods has a reputation for being tight-fisted with his money — he was once ranked the worst celebrity tipper in the world — golfers in general do well by those who serve them. Golf Digest detailed how players learn early on in their careers to take care of those who take care of them and mentioned Phil Mickelson as a shining example of that kindness. Also deserving of recognition: Bubba Watson and his Masters celebration at — where else? — Waffle House, which netted the staff there a $148 bonus.
Peyton Manning
The good news for the waiter who served Peyton Manning at a Raleigh restaurant in 2012 was the generous $200 tip Manning added to the automatic gratuity. The bad news came shortly after, when the employee was fired for posting a picture of the signed receipt online. (That leads us to wonder: How much was the autograph on the credit card slip worth? More or less than the $200 extra tip? We're guessing the newly unemployed staffer might have had to find out.)
Charles Barkley's friends
At the other end of the spectrum from Charles Barkley when it comes to tipping appears to be several of Barkley's well-known friends. In addition to referencing the aforementioned Tiger Woods as one example in his Conan appearance, "Chuck" had no problem calling out Michael Jordan and Scottie Pippen for being "cheap," either. Pippen has actually acquired the "No Tippin' Pippen" nickname due to stories of his meager gratuities through the years.
LeSean McCoy
It's nearly impossible for someone to tip less than Eagles running back LeSean McCoy did in a September visit to PYT, a burger restaurant in Philadelphia.  McCoy, frustrated with the service he received, left a $0.20 gratuity on a bill totaling $61.56. McCoy's tip was so bad that actor Charlie Sheen volunteered on Twitter to add a thousand dollars to it. For a highly paid star NFL player to leave a tip worth only two dimes, well, that seems a bit "shady," if you ask us.