Wade Miley Can Thank the Incredible Hulk for Helping Him Throw a No-Hitter
Cincinnati Reds pitcher Wade Miley and The Incredible Hulk will each find their names in the MLB history books going forward. At least, Miley will, and he should petition baseball to give The Hulk some recognition, too.
Miley, a former All-Star who is in his second year with the Reds, threw his first career no-hitter on Friday, May 7. The veteran left-hander credited his accomplishment to a fictional character known more for brute than brains.
The Incredible Hulk helped Wade Miley throw a no-hitter
Wade Miley took the mound with a tattoo of The Hulk on his forearm and made baseball history.
Miley, 34, held the Cleveland Indians without a hit in a 3-0 victory on Friday night. In addition to pitching the fourth no-hitter of the 2021 MLB season, Miley went viral for his Hulk artwork.
The Cincinnati Enquirer transcribed comments that Miley made after the game. Miley revealed that his 4-year-old son, Jeb, had placed a temporary Hulk tattoo on his forearm. 
Miley then suggested that his son and the Avengers may have helped him throw a no-hitter.
"I put it on my shoulder so I could hide it. [Jeb] had to have it on my forearm. And that's what we went with. He loves the Avengers and stuff like that, so I'm rocking it. … I've got no muscles at all. I'm shriveled up. But maybe this gave me some strength; I don't know. It was fun."

Wade Miley
Remember, Miley only wore a temporary tattoo. Would he consider getting some legitimate artwork featuring The Hulk?
"I don't know. I'm so scared of needles right now; I don't even want to think about this tattoo," Miley said. "I'm gonna try to get my wife to order as many Hulk tattoos as she can. Maybe I'll just slap on them before every start – let [Jeb] do it."
Miley dominated in his first career no-hitter
In each of his first five starts this year, Miley hadn't pitched more than six innings or reached the 100-pitch mark.
Miley topped both of those in his 114-pitch no-hitter against the Indians. The veteran left-hander struck out eight Indians and allowed only one hitter, second baseman Cesar Hernandez, to reach via walk.
Cleveland didn't reach base until the sixth inning, when Amed Rosario took first base on an error. Miley later walked Hernandez with two outs before he induced a lineout to end the inning.
Before Miley's gem, no Reds pitcher had recorded a no-hitter since Homer Bailey shut down the San Francisco Giants on July 2, 2013.
Miley has had a long and respectable pitching career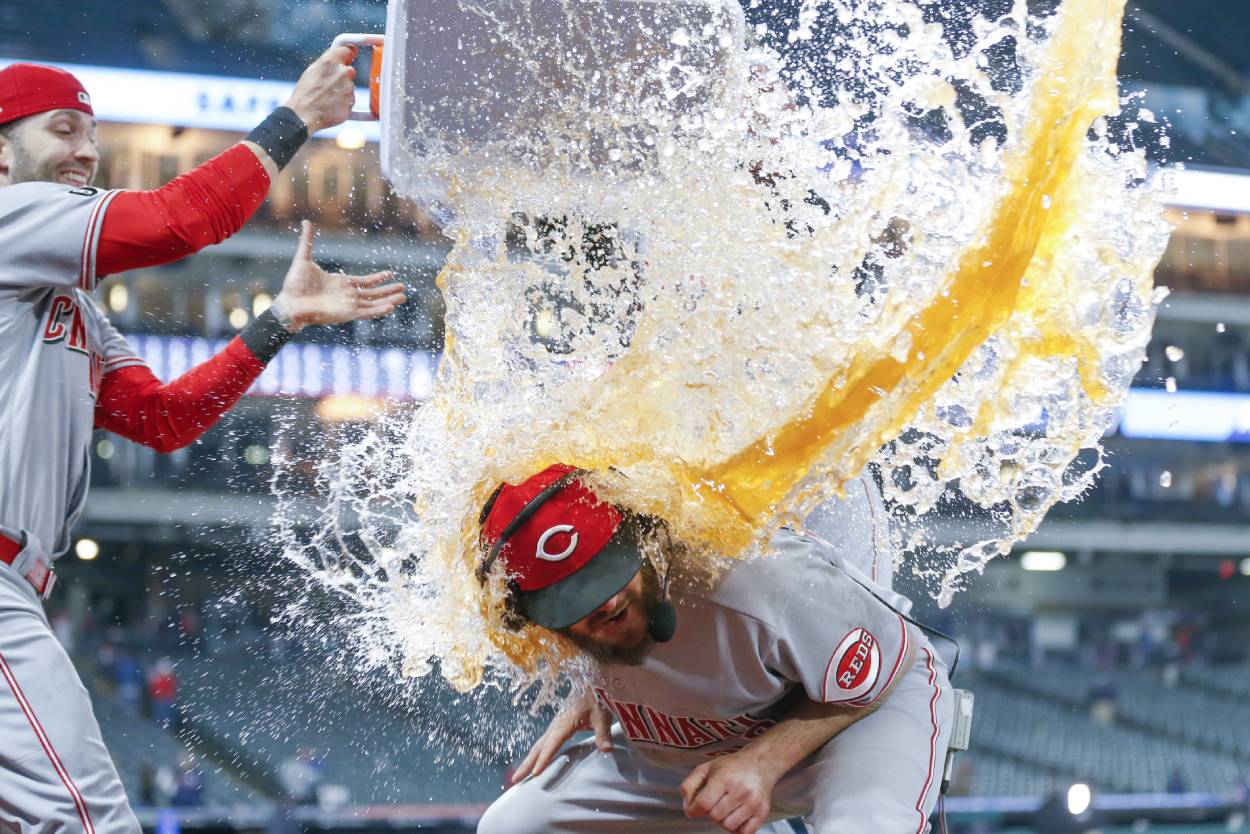 Miley's first career no-hitter continued what has been an excellent bounceback season thus far for the veteran starting pitcher.
The 34-year-old improved to 4-2 with a 2.00 ERA in six starts in the 2021 season. In six games during the pandemic-shortened 2020 season, Miley went 0-3 with a 5.65 ERA.
As of May 8, 2021, Miley is 89-87 with a 4.18 ERA in 261 career games and 255 starts. An All-Star selection in 2012, Miley also holds a 2.08 ERA in five career playoff games.
Like Sportscasting on Facebook. Follow us on Twitter @sportscasting19.