Will the Warriors Be the Best Offensive Team in NBA History?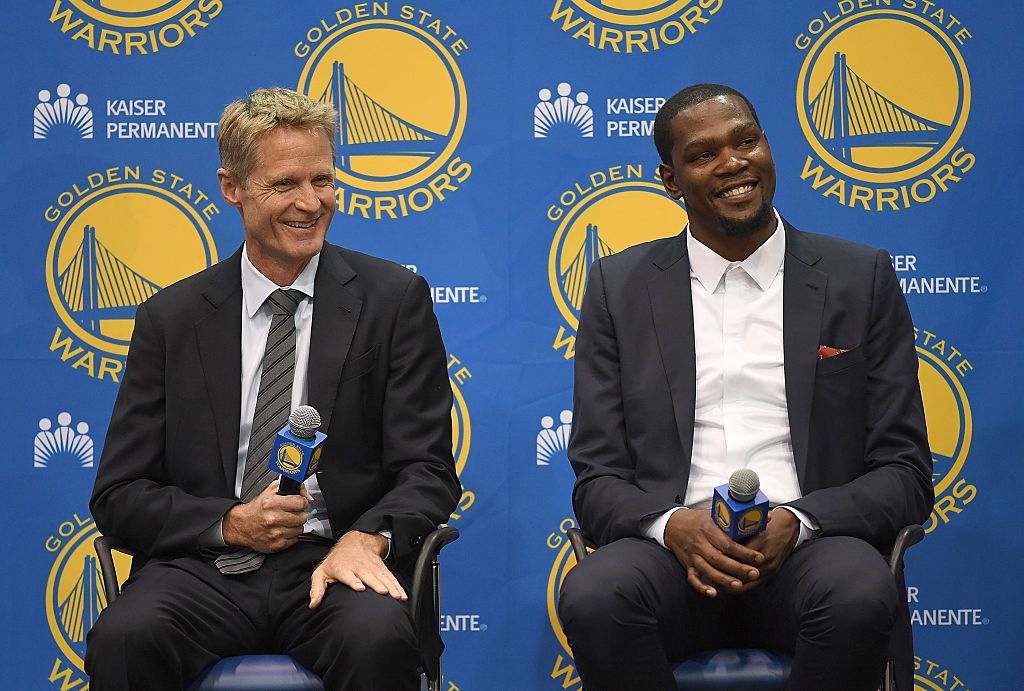 The Golden State Warriors are making waves right now, largely thanks to the recent signing of Kevin Durant. While the move will undoubtedly make the Warriors the favorite to win the NBA championship in 2016–17, it doesn't necessarily mean that they'll be as dominant as some people believe.
While Golden State will be a force this coming season, and should very well grab the No. 1 seed in the Western Conference once again, we shouldn't expect history to be made. Don't get us wrong; the four-headed offensive monster will be fun to watch, but it won't make the Warriors the best offensive team in NBA history.
Some of the best offensive teams in the history of the league actually came from the '80s and '90s. In terms of offensive rating, it was the 1986–87 Lakers who have the best rating ever at 115.6. (Offensive rating is an estimate of points produced by a team per 100 possessions.) The 73-9 Warriors from 2015–16 had a rating of 114.5, ranking them No. 12 overall. Even when basing it purely on total points scored in a season, that Warriors comes in at No. 15 overall.
So now the question is, how much will the Warriors be able to improve on those offensive numbers with the addition of Durant? They may be able to improve their scoring by season's end, but there's one thing that will take a bit of a hit: their ability to get open looks due to the lack of any true form of an inside game.
Golden State's Achilles heel in 2016
–

17
There is a common saying that in the NBA having a strong big man can help create open shots on the perimeter for players. Obviously, while specific players like Durant and Stephen Curry can create their own shots, Klay Thompson and Draymond Green aren't quite as good at this skill. This means that the Warriors could really use a talented big man to open things up for them.
While Andrew Bogut, Marreese Speights, and Festus Ezeli weren't dominate on the inside, they were at least options that defenses had to pay attention to, and they could cause some havoc inside. The recent additions of 35-year-old David West and 32-year-old Zaza Pachulia don't exactly strike fear into the hearts of opponents at this point in their careers, and neither are great passers.
The lack of a serious inside game and passing big man will hurt the Warriors. Obviously, Golden State is more than talented enough to overcome this in the long haul — they still have  strong chance at winning an NBA title once again — but in terms of being the best offensive team in NBA history? Let's pump the brakes.
The comfort factor
As much as we'd all love to see the Warriors hit the floor on opening night of the 2016–17 NBA season and start scoring 115-plus points a night consistently, it's hard to envision. Why? Because the adjustment that comes along with finding your role next to a player like Durant is time consuming. Again, this doesn't mean that the Warriors won't win games. What it does mean is that figuring out how everyone will get their shots, and who will be taking over what role, will take some time.
Even more importantly is comfort factor. The Warriors were so good during the 2015–16 season, the one in which they broke the Chicago Bulls' win record, largely due to the fact that they were so comfortable playing with one another. That group of players knew where each other would be, knew who needed the ball when, and knew how to be successful right out of the gate last season. That won't be the same story for the Warriors next season, at least not right away.
There's no reason why the Warriors can't win a title next season, and Durant's decision to head to Golden State to get a ring was probably the best move for him in the pursuit of that. Unfortunately for some, don't expect offensive fireworks on each and every night from this team, especially not early in the season. Maybe if the whole team stays together for a second season we can have that conversation, but for now, it's just not in the cards.
Statistics courtesy of ESPN and Basketball-Reference.