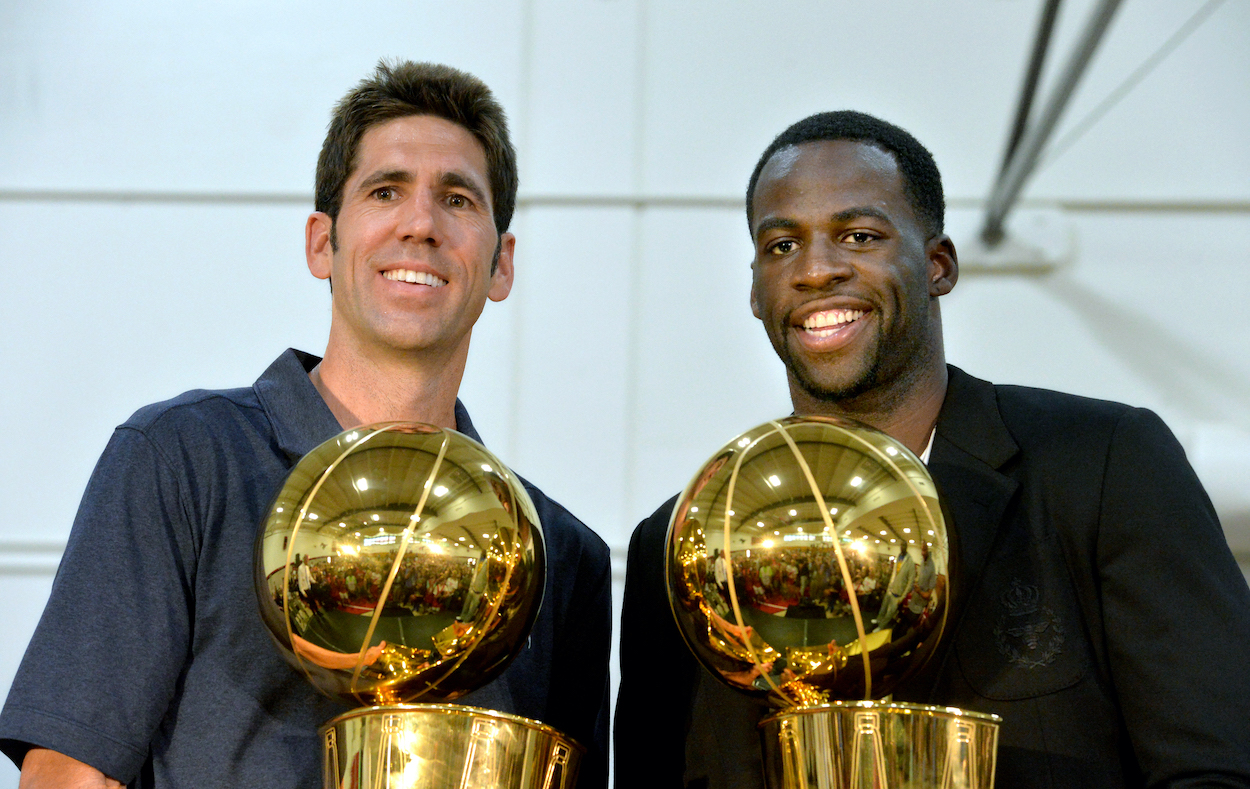 Warriors GM Bob Myers Finally Responds to Draymond Green's Damning Comments About Him and Seems Surprisingly Unbothered: 'I Love That Guy'
Warriors GM Bob Myers isn't too worked up about Draymond Green calling him out earlier this offseason.
Draymond Green and Kevin Durant broke the internet a few months ago with a candid, unfiltered interview about their time together on the Golden State Warriors. The two stars spoke about what made those championship teams special, their infamous sideline argument, what led to Durant's departure.
During the interview, Green ruthlessly cursed out Warriors general manager Bob Myers for his role in the Durant breakup. A few months later, Myers finally responded in a way you might not expect.
Draymond Green ripped Bob Myers in Kevin Durant interview
When Durant left the Warriors to join the Brooklyn Nets in 2019, it was easy to go back to his heated argument with Green and peg that moment as the catalyst to his decision.
In a tie game against the Los Angeles Clippers back in February of 2018, Green grabbed a rebound with time running out and refused to pass Durant the ball. Green sloppily turned it over before the Warriors could even attempt a game-winning shot, and Durant wasn't happy. The two then exchanged words on the bench and had to be separated by their teammates.
A few months ago, Green and Durant appeared on an episode of Bleacher Report's "Chips" and broke down the incident. Green bluntly claimed his argument with Durant wasn't a big deal, and he hated how Myers and head coach Steve Kerr handled it.
"It wasn't the argument, it was the way everybody acted like it didn't happen," Green said. "Steve Kerr acted like it didn't happen. Bob Myers tried to discipline you and think that that would put the mask over everything. I really felt like that was such a big situation for us as a group. The first time we went through something like that. We had to get that s*** all out."
"The only person that can make this right is me and [Durant], and there's nothing y'all can do, and y'all are going to f*** this up. And in my opinion, they f***** it up."
Warriors GM Bob Myers responds in a surprising manner
It's been nearly two months since Green's damning comments started going viral online. Myers, who's still the GM of the Warriors, finally got a chance to respond last weekend in an interview with Frank Isola and Brian Scalabrine on Sirius XM NBA Radio.
He didn't seem too worked up about it.
"I haven't even talked to him about it," Myers said. "I haven't. Let's say I know this guy really well. And let's say he said something about me to you. My relationship with him is so much beyond that and if it really bothered me I would, but I know Draymond. I drafted him. He was like my first draft. I sat with him when he got suspended for the Finals over in Oakland. I didn't go to the game. I sat with him at the Oakland A's game."
I love that guy. It's gonna take a lot more than that, and he's allowed to feel how he feels. And so is Kevin. I've been through too much with him.

I've watched that guy win three Championships with us. I can't get upset about that. Him and Kevin, the good that they've done for me and this franchise, way outweigh anything like that.

Bob Myers
Sounds like it's all good in the neighborhood down in Golden State.
A fruitful relationship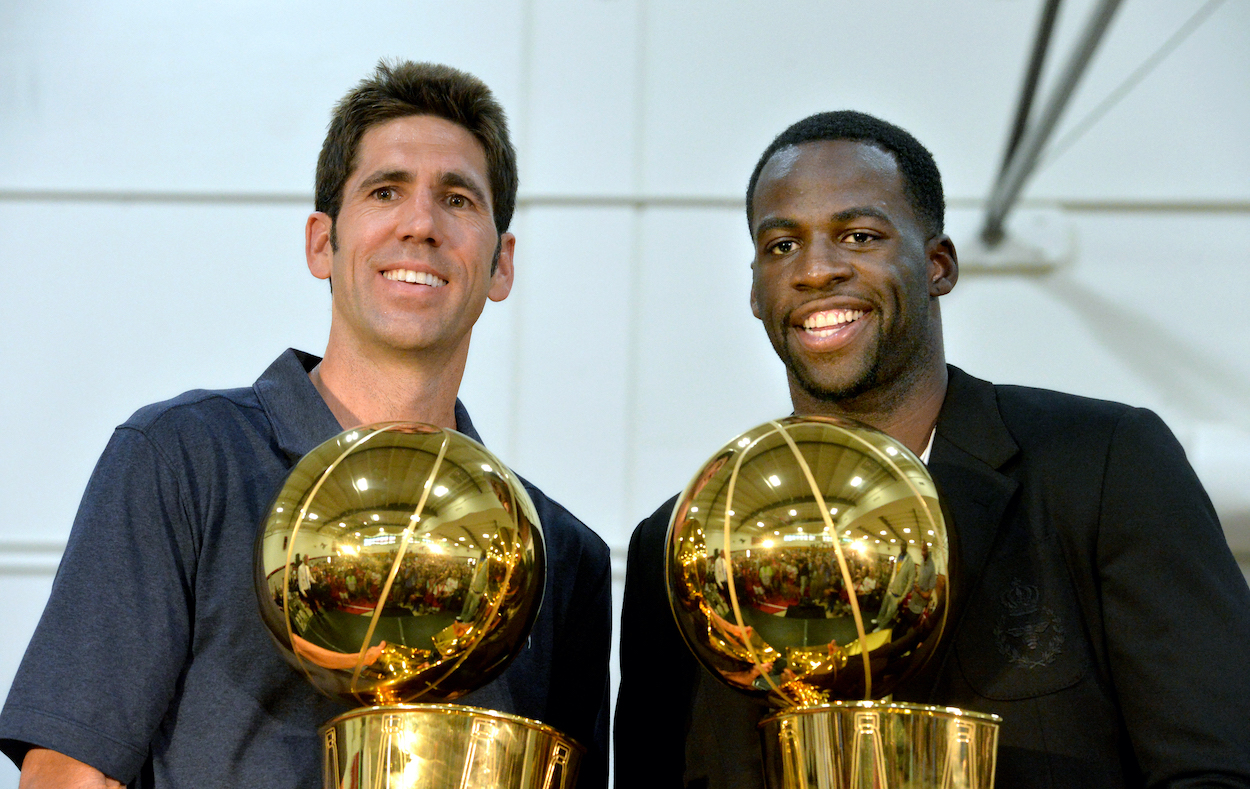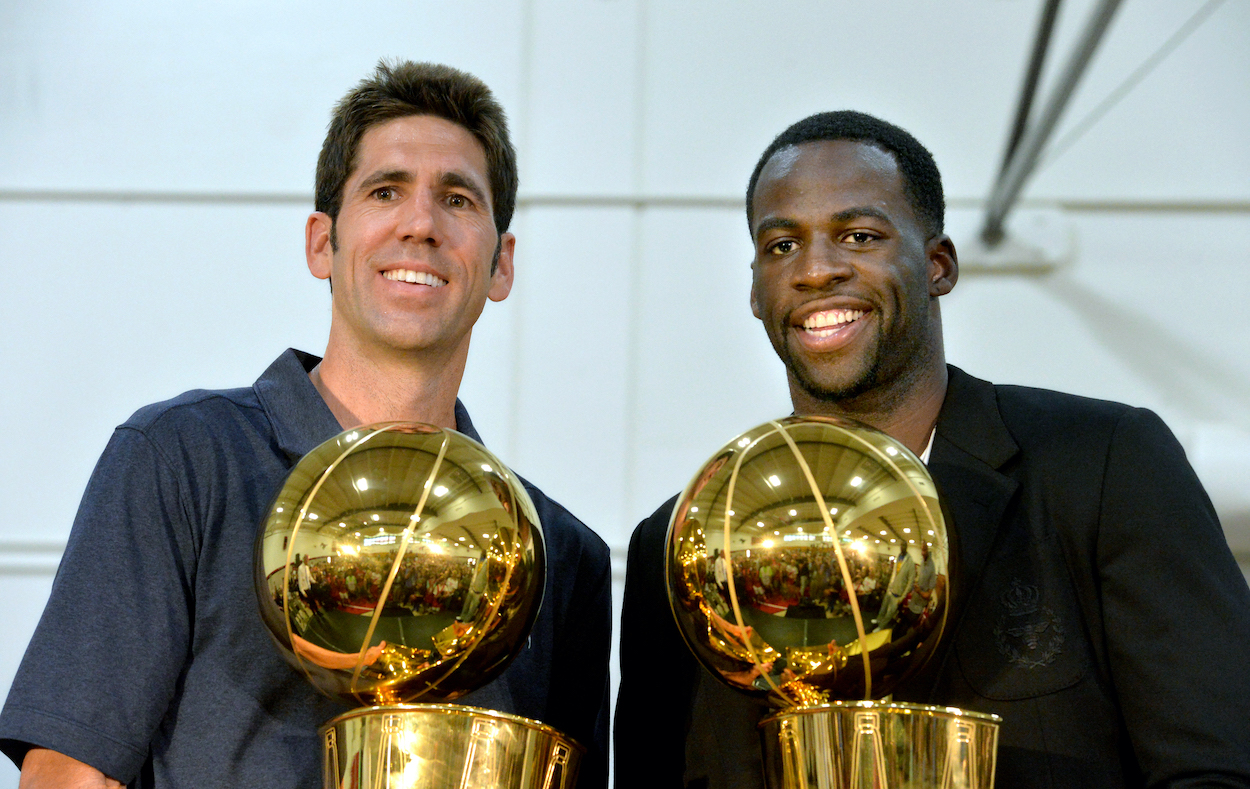 Myers has been with the Warriors since 2011. He was instrumental in the decision to draft Draymond Green in 2012, and the two have seen quite a bit of success together since then.
Golden State has reached the NBA Finals five times and won three championships with Myers and Green in the building. The duo has also formed a special friendship over the last decade, so one damning comment isn't going to destroy everything they've built.
Myers and Green are ready to chase their fourth championship together in the 2021-22 NBA season, and their relationship couldn't be stronger despite some recent drama.
Like Sportscasting on Facebook. Follow us on Twitter @sportscasting19.