NBA
The Warriors Can Be the Best Offensive Team in NBA History; Here's How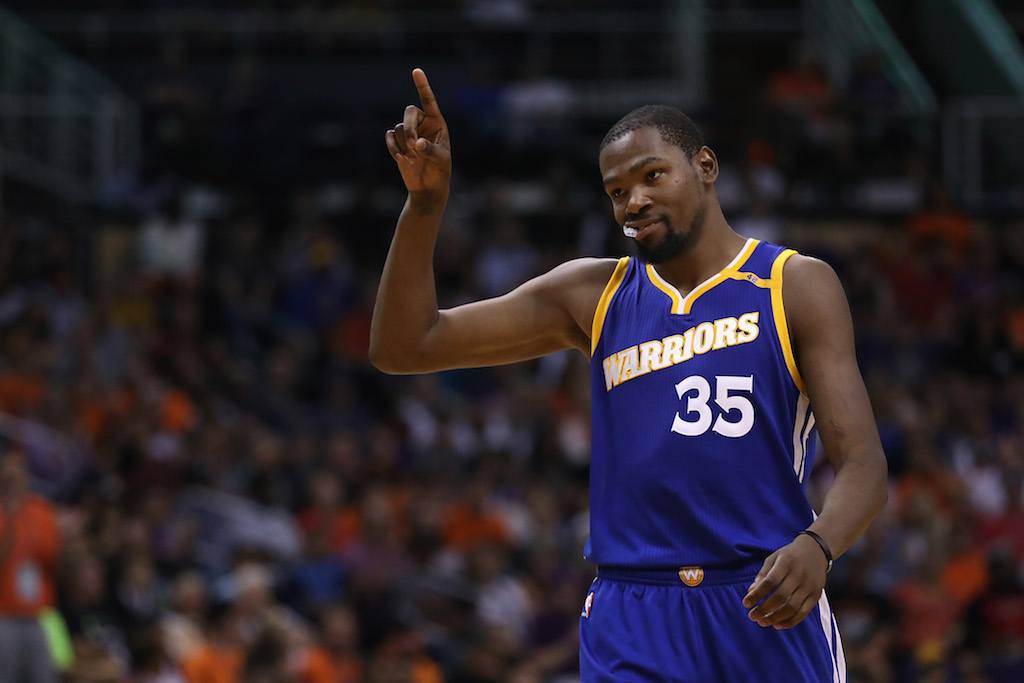 Prior to the start of the 2016-17 NBA season, the Golden State Warriors were the team on everyone's lips. Despite squandering a three games to one lead in the Finals, the offseason addition of Kevin Durant had folks wondering just how good this latest "super team" could be — particularly from an offensive perspective. Of course, not everyone was ready to sing the Warriors' praises just yet.
To make room for KD, Golden State was forced to make certain changes — some that could, in fact, disrupt the chemistry which led to a championship and two straight Finals appearances. On paper, the Warriors looked like an unbeatable juggernaut, destined to turn the league upside down on their way to creating the next great sports dynasty. In reality, however, perhaps we were all just setting ourselves up for a massive disappointment. Either way, there was never going to be a dull moment with this group, a fact that's been reinforced — emphatically — at the quarter-mark of the season.
At 31-5, the Warriors have the best record in basketball. Given the immense talent on the roster, this is hardly surprising. Yet, while many (ourselves included) assumed Golden State would struggle early on to get all their stars enough touches, the exact opposite has happened. Thus, they've created an offense that's more lethal than anyone could've possibly imagined.
Usually it's two-time MVP Stephen Curry who gets folks talking about the insanely ridiculous shooting prowess of the Golden State Warriors. This time, it's fellow Splash Brother, Klay Thompson, who has people scratching their heads in disbelief. With one incredible performance against the Indiana Pacers, No. 11 reminded everyone that the Warriors have enough firepower that, on any given night, any one of them can destroy the opposition.
It's not just that Thompson dropped 60 points on the Pacers in the Warriors' 142-106 blowout victory, but it's the way in which he did it. In just 29 minutes, Big Smokey knocked down 21 of 33 shots, connected on eight of 14 shots from behind the arc, and knocked down 10 of 11 free throws. Best of all, Golden State recognized that Thompson had the hot hand and made it a priority to feed him the rock, assisting on 20 of his 21 made field goals.
In a way, this showing is a microcosm of what makes the Warriors so unbelievably terrifying. Not only is the roster compiled of some of the game's top scorers, but it's made up of a group of players who don't mind sharing the wealth. Thanks to this crucial element of the team's identity, the Warriors are officially on pace to rewrite the NBA's offensive record books.
Through the first 21 games of the season, Golden State has three players averaging over 22 points per game. Durant is leading the way at 27 points per contest, followed by Curry and Thompson at 26.2 and 22.5 points per game respectively. Yet, what's even more impressive is what this group is managing to do as a whole.
At present, the Dubs lead the NBA in a multitude of offensive categories. Golden State tops the rest of the league in points per game (120.2), field goal percentage (50.3%), assists per game (32.0), and offensive rating (118.2). But here's the thing — that offensive rating isn't just the best in the game today. It's the best the game has ever seen. Period.
According to the numbers, no team in NBA history has ever finished the year with an offensive rating greater than 115.6. The team that accomplished this feat was the Los Angeles Lakers back in 1986-87, who went 65-17 on the year and capped it off with an NBA championship. The Golden State Warriors are on pace to shatter this mark. We had a feeling knew they'd be good, but we didn't expect them to be this good.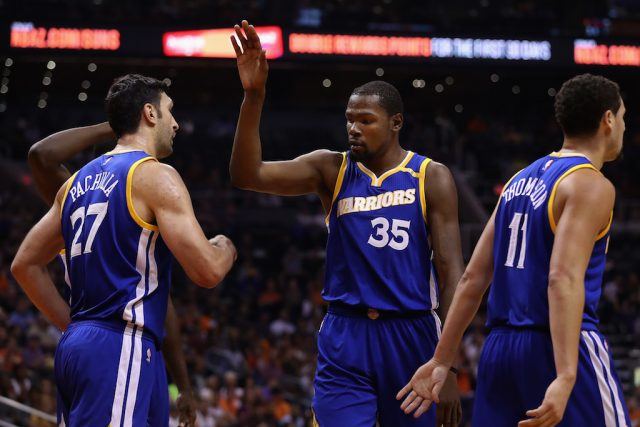 There's still plenty of basketball left to be played this season, but what we've seen so far from the Golden State Warriors, specifically from an offensive perspective, is impossible to ignore. If the Dubs remember to move the rock, pass up good shots for better shots, and continue to play an unselfish brand of ball, they have a a chance to go down as the greatest offensive team of all time. Of course, that doesn't necessarily mean they're guaranteed to win a championship. And as we all know, that's all that really matters.
Statistics courtesy of Basketball-Reference, NBA.com, and ESPN.