Warriors Coach Steve Kerr Locks in 1 of his NBA Mount Rushmore Players
Steve Kerr has been around Hall of Fame talent since his playing days. Not only is he the coach for what is perhaps the greatest collection of talent in NBA history, but he played with greats like Michael Jordan, Tim Duncan, Scottie Pippen, and David Robinson. Because of that, when Kerr speaks on the theoretical Mount Rushmore of NBA players, one cannot help but listen to what he says.

Kerr gave one and only one player whom he would definitively place on his Mount Rushmore, and that player was Bill Russell. Kerr's reasoning, however, goes far and beyond his on-court achievements and give us insight into what he values when he looks back on a player.

"He's obviously the greatest winner in the history of the NBA."
As far as individual and team success, it is hard to have a better career than Bill Russell. While he may have never been the scoring monster that Wilt Chamberlain was, his stats still seem absurd looking back. Although his 15 points-per-game career average would never put him near the top, his 22 rebounds and four assists show just how skilled Russell was.
Combine the stats with his accolades, his 12 All-Star Game appearances, his 11 championship rings, and his unprecedented feat of winning some of his rings as a player-coach, and Russell's career is hard to replicate. For over a decade, his team was the best in the NBA. It is a run that nobody has come close to replicating since those days, but there is far more to the Bill Russell story.

"He's one of the most important athletes in the history of our country."
Kerr didn't just bring up Russell's skills as a player when he praised him. He also mentioned his impact on the greater good. Never one to remain silent about issues that are bigger than basketball, Kerr acknowledged that while he is too young to remember Russell's playing days, a large part of his impact came off the court.

As a black player in the 1950s and 1960s, Russell was in many ways the face of the movement from the NBA being a mostly white league, to the one which would eventually embrace diversity. That transition was not easy, however.

Russell experienced racism throughout his playing days, and rather than accepting it, he often spoke out. The same went for political issues, social injustices, and speaking out on rights regarding the treatment of professional athletes.

They may have been controversial during his playing days, but Russell's impact on the league in that regard cannot be understated. That's part of the reason Russell will receive the 2019 Arthur Ashe Courage Award at this year's ESPY Awards.
So, who would Steve Kerr add to his Mount Rushmore?
Looking at the way Steve Kerr spoke about Russell, we can only speculate who may join Russell on Kerr's Mount Rushmore. While teammates such as Michael Jordan and Tim Duncan may appear to be the obvious choices, one could argue that Kerr is not going to include players based on talent and talent alone. He values the overall character along with the on-court accolades.

Because of this, one can imagine players like Oscar Robertson, Kareem Abdul-Jabbar making Kerr's cut. Abdul-Jabbar joined Russell during that era as the faces of the Civil Rights Movement as well as being among the greatest players in NBA history. Robertson helped spearhead the movement which would allow players to become free agents, and his activism never stopped. Jabbar maintains his status as an activist today, as well.

Modern-day candidates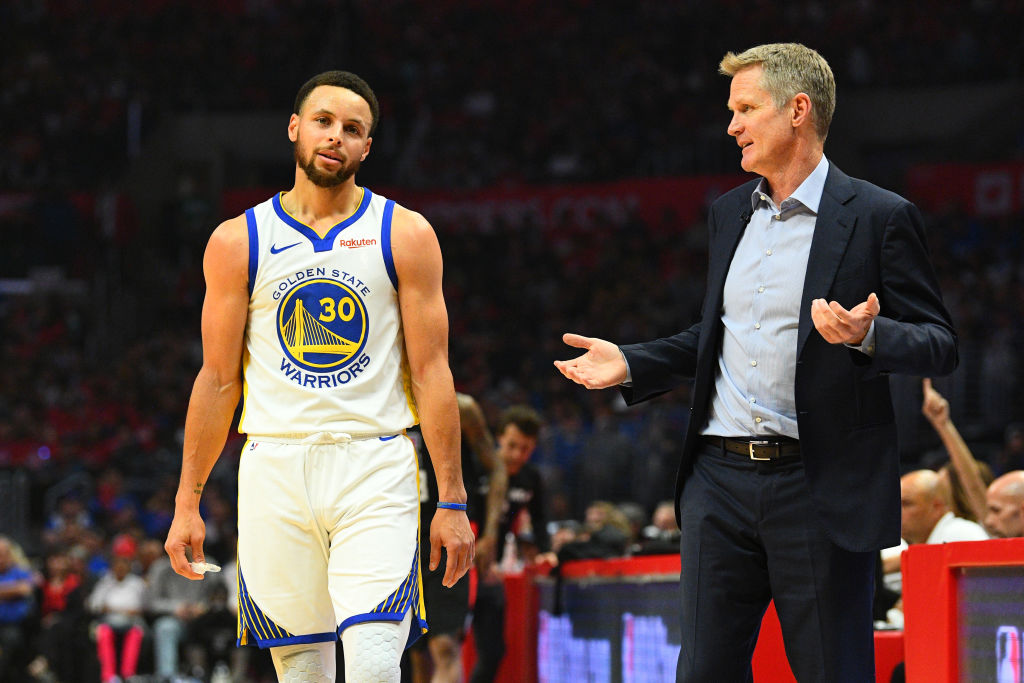 In the modern game, some may presume Stephen Curry would be the first player on Kerr's Mount Rushmore, but Kerr has been vocal about how much he respects Kevin Durant, who is known for being very good in his community as well as on the basketball court. He has gone on record to say that Durant is one of the best players ever, and praised his character in the process.

Finally, one would have to assume that Kerr's sometimes rival LeBron James may get another spot. James may be the biggest player in decades to be as politically active, and he continues to dominate on the court to this day. James has spoken out on important issues, constantly donated his money to charitable causes, and has spearheaded movements to keep politics in sports. He is, in many ways, the closest the league has seen to Russell's impact.