Was Antonio Gates a Better NFL Tight End Than Rob Gronkowski?
In the NFL, some players are easily associated with the position they play. When you hear the words wide receiver, you probably think Jerry Rice or Randy Moss. For running back, you may think of LaDainian Tomlinson or Barry Sanders. For a quarterback, Tom Brady or Peyton Manning may spring to mind.

When it comes to tight end, there are a few players who may pop up in the heads of football fans. One of them is Antonio Gates. The Los Angeles Chargers' tight end has come to redefine the position but recently called it quits after a long, productive career.

Another tight end whose name is synonymous with the position? Rob Gronkowski. Gates and Gronk both played in the same era, so it begs the question: was Antonio Gates a better tight end than Rob Gronkowski?

Antonio Gates' retirement announcement
After a very long career in which Gates was one of the most prolific tight ends of his era, he decided to call it a career. Gates called it quits as the Chargers head into a difficult offseason in which they may part ways with long-time quarterback Philip Rivers. Gates, who had played with Rivers the majority of his career, will definitely not be a part of the Chargers' plans next season. He released a statement announcing the decision:

"After 16 seasons in the NFL, 16 seasons as a Charger, eight Pro Bowl appearances, and many records broken, I find it hard to officially put this statement out and retire from the game of football," Gates said in a statement.

Gates' has some impressive career highlights
Amazingly, Gates never played college football and went undrafted. The freakish athlete played college basketball for Kent State. After a pro tryout, the Chargers signed him in 2003. Gates quickly became one of the best tight ends in football. Even though he hasn't had the same type of production he showed early in his career in quite some time, he's been able to hang around for quite a while due to his sheer athleticism. Here are the accomplishments he was able to achieve during his unbelievable career:
236 games played
955 catches
12.4 yards per reception
116 touchdowns
Eight-time Pro Bowl selection
Three-time All-Pro selection
Six seasons with more than 70 receptions
Pro Football Reference compiles similarity scores to provide context on a player's career. Here are the players Gates compares favorably to:
Shannon Sharpe
Kellen Winslow
Jackie Smith
Tony Gonzalez
Rob Gronkowski
Mike Ditka
Ozzie Newsome
Jason Witten
Of the non-active players on that list who are eligible for the Pro Football Hall of Fame, all have been inducted to Canton. Given that Antonio Gates is already rubbing shoulders with some of the best tight ends of all time, it seems likely he could do so again in the Hall of Fame.

Was Antonio Gates a better tight end than Rob Gronkowski?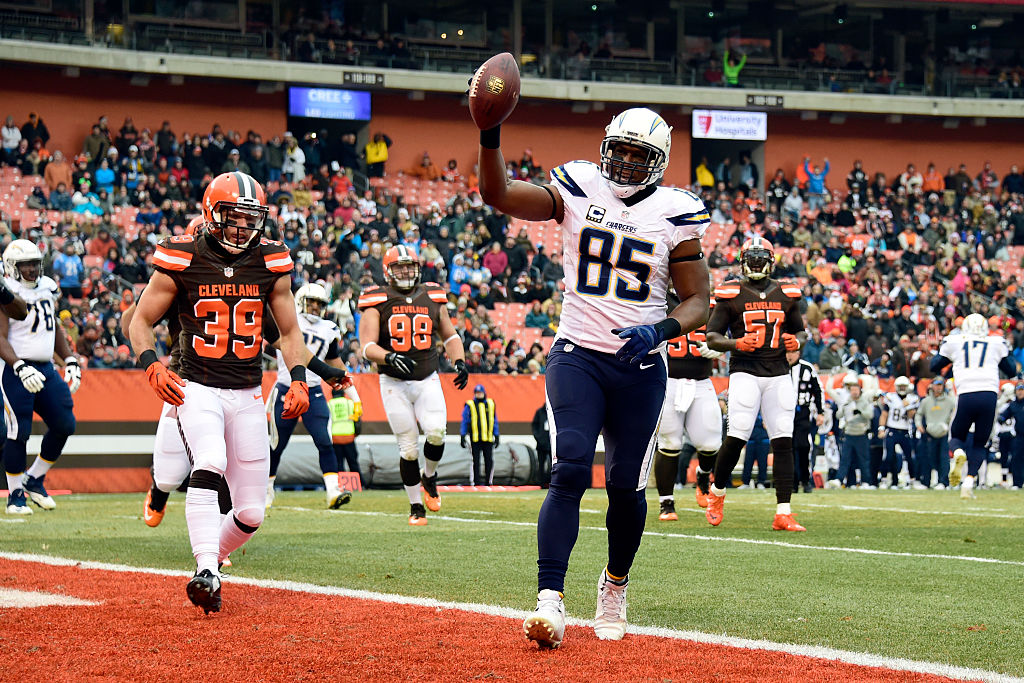 It's hard to compare Gates and Gronkowski. While Gronkowski seemingly had more impact when he played, he didn't play as long. And Gates, in his prime, was one of the greatest tight ends ever to do it. As great as Gronk was, the edge has to go to Antonio Gates. The main reason Gates gets the nod is for two points in his favor:

At his peak, he was as dominant as a tight end as you'd ever see — maybe just as dominant as Gronkowski
His longevity was much better than Gronk's
You can make a case that Gronkowski may be the greatest tight end ever to play the game. But in any discussion of the greatest ever, his decision to retire young works against him. There are some tight ends Gronkowski didn't play as long as but is definitely better than. Gates isn't one of them. Antonio Gates will likely go down as the greatest tight end in NFL history.