Was John Madden a Better NFL Coach or Broadcaster?
No one can dispute what John Madden did for football. Playing in the pros wasn't in the cards for the now 83-year-old, who suffered knee injuries in college and his first year at NFL training camp. Instead, Madden made a name for himself as a professional NFL coach.
Following his retirement from coaching in the late '70s, he entered the broadcast booth. For three decades, his name was synonymous with pro football. The question often arises, "Was Madden a better coach or broadcaster?" Let's look at his careers to decide.
John Madden's coaching days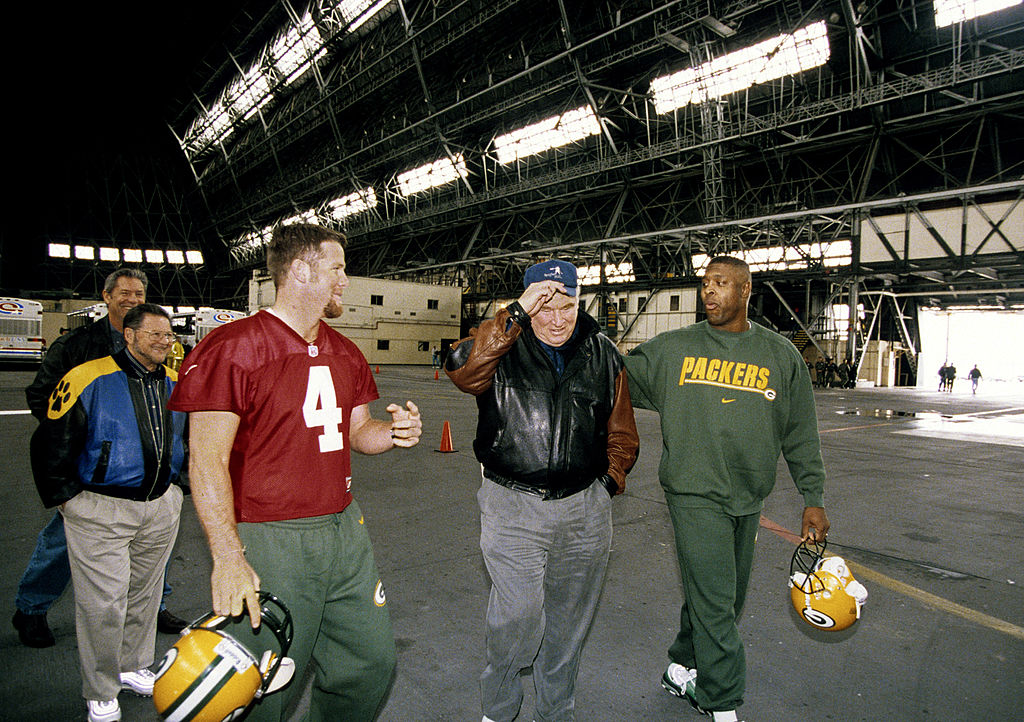 While playing for the University of Oregon, Madden injured his knee and required surgery to repair it. Later, he transferred to Cal Poly, San Luis Obispo, where he earned all-conference honors in football, playing on both the offensive and defensive lines.
The Philadelphia Eagles drafted Madden in 1958, but he suffered an injury to his other knee in training camp, sidelining him for good. Armed with a Master's Degree in Education, he began coaching college-level football until the Oakland Raiders hired him as a linebackers coach in 1967, according to the Pro Football Hall of Fame.
Two years later, at the mere age of 32, Madden was named as head coach for the Raiders, the youngest in the AFL. During his first year at the helm, Oakland boasted a 12-1-1 record and Madden earned AFL Coach of the Year.
Under his leadership, the Raiders won seven Western Division titles, and the team never had a losing season. In 1976, the team won Super Bowl XI beating out the Vikings, 32-14. Madden retired from coaching following the 1978-79 season. In 2006, he was inducted into the Pro Football Hall of Fame.
Madden's legacy as a broadcaster
Madden worked closely with ABC's Al Michaels, who once said Madden was "the most important figure in NFL history." We agree; Madden remains one of pro football's most prominent figures even 10 years after his retirement.
His personality is larger-than-life — and he is no small man. Madden stands at 6-foot-5, according to Body Size. It was not just his football knowledge but also his play analysis and big personality that made him a hit with TV viewers.
During his 30 years in broadcasting, Madden earned 16 Emmy Awards for Outstanding Sports Analyst/Personality.
He worked for all four major networks, CBS, Fox, ABC, and NBC. In 2002, Madden partnered with play-by-play announcer Michaels for Monday Night Football. In 2006, he moved to NBC and became the first sportscaster to work for all four networks. He was also the first to cover Super Bowl games for all of those networks.
Madden is also noted for pioneering the use of the Telestrator as part of sports commentary. The apparatus was first utilized by a Chicago station during weather forecasts. It was also used by its sports department, but not the way Madden did to give play descriptions, notably for the first time during the 1982 Super Bowl game.
The broadcaster had a way of explaining game details that even a novice fan understood. Madden used rather old-fashioned dialogue with words as "Boom," "Bang," and "Doink!" His personality enhanced his commentary. He retired from broadcasting in 2008, to spend more time with his family.
Which of Madden's careers will live longer in history?
Each fan must decide whether Madden contributed more to the game through coaching or broadcasting. As a coach, he remains in the books as:
The winningest coach in the history of the Oakland Raiders
Head coach of the Super Bowl XI winners, the Raiders
Pro Football Hall of Fame, Class of 2006
Bay Area Sports Hall of Fame, Class of 1991
As a broadcaster he earned:
2002 Pete Rozelle Radio-Television Award
Second Place in the Yahoo! Sports Top 50 All-Time Network TV Sports Announcers
1984 Sportscaster of the Year for the National Sportscasters and Sportswriters Association (NSSA)
Inducted into the 2010 NSSA Hall of Fame
16-time Emmy Award winner
Was Madden a better NFL coach or broadcaster? You decide.
Follow more updates from Sportscasting on our Facebook page.