Was Skip Bayless Right About Johnny Manziel?
Cleveland Browns quarterback Johnny Manziel has found himself in the headlines once again. And this time, he's made a decision that might not just save his pro football career but, more importantly, his life.
According to ESPN, Manziel checked himself into a rehab treatment center on Wednesday. Brad Beckworth, an advisor for the rookie QB, stated through a Browns spokesperson, "Johnny knows there are areas in which he needs to improve in order to be a better family member, friend and teammate and he thought the offseason was the right time to take this step…"
This looks to be a step in the right direction for the former star out of Texas A&M, who had already acknowledged that he needed to take his job more seriously. And while this decision might come as a bit of a surprise to the average fan, perhaps the writing has been on the wall for quite some time.
Which leads us to ESPN First Take's Skip Bayless, and his previous accusation that Manziel is an "alcoholic and a liar." The truth is, we think he went way too far with this comment. No matter his family history, Bayless had no right to say what he did. However, with this latest news, we have to wonder: Was Skip right all along?
Bayless made his comments on the December 29, 2014 episode of First Take, after it was reported the day before that Manziel had thrown a party at his house on the previous Friday. Manziel was subsequently fined for being late to a treatment the next day. This appeared to be the last straw for Bayless, who had tirelessly supported the rookie quarterback, and adamantly believed that he had the potential to be a star in the National Football League. This kid was squandering his talent and Bayless felt obligated to say something, no matter how controversial.
Not everyone agreed with Skip's assessment of the situation, and believed he was out of line. Sure, it was common knowledge that Manziel liked to have his fun off the field. After all, his enviable lifestyle and partying ways were well-documented. It was also one of the reasons why teams questioned his maturity coming out of college. But, to go on national television and call the kid an alcoholic, seemed a bit extreme and unprofessional. Still, a week later, ESPN defended its panelist, and its decision not to punish Bayless played right into the reported belief that ESPN had an uneven discipline policy.
Now, it appears that Bayless' assessment may have been correct, as Manziel is subsequently getting the help he needs. In hindsight, does that make what Bayless did right? Absolutely not. Was he, however, right about Manziel? He might have been.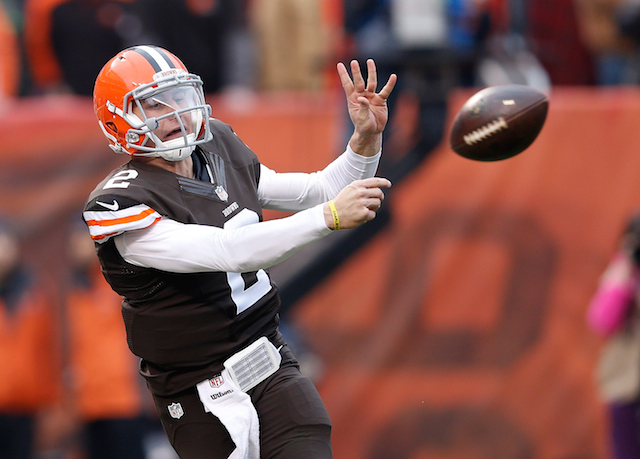 The fact is, Manziel recognized that he had a problem, and he needed outside help to address it. The first step toward getting better, is to acknowledge this fact. So, he should be applauded for making this decision. We're not the only ones who believe that. Today on First Take, Bayless stated how proud he was of Manziel for having "the guts to do this."
The truth is, Bayless still believes that Manziel has all the makings of a star. And nothing will sway him of that opinion. However, it's clear that he may never reach his potential if he doesn't get his other issues under control. Time will tell if Manziel is ever going to reach that superstar level. But, regardless of whether or not that ever comes to fruition, one thing is for certain: He's taken a step in the right direction.