The Washington Commanders' Carson Wentz Acquisition Sends an Ominous Message About the 2022 NFL Draft's QB Prospects
Article Highlights:
ESPN NFL Draft analyst Matt Miller suggested the Carson Wentz trade highlights how bad the 2022 draft's quarterbacks might be
Miller is absolutely right that this year's group, at least on paper, is significantly weaker than previous classes
Don't fall for the idea that three or more quarterbacks are guaranteed to selected in the first round of April's draft
Riverboat Ron Rivera and the Washington Commanders went all-in on a quarterback. Rather than try using the 11th overall selection in April's NFL Draft on the likes of Liberty's Malik Willis or Pittsburgh's Kenny Pickett, the three-time Super Bowl champions gave up multiple draft picks for the Indianapolis Colts' Carson Wentz.
Whether or not the Wentz trade will work out in Washington's favor is to be determined, not that Twitter voices and pundits cared when the news broke. However, ESPN's Matt Miller had a far more noteworthy observation beyond simply tweeting about how Wentz would fare in his return to the NFC East.
ESPN's Matt Miller suggested the Carson Wentz trade is terrible news for the 2022 NFL Draft's quarterback prospects
In the days after the NFL Combine, it appeared Willis and Pickett had officially cemented their place as the draft's top two quarterbacks. Cincinnati's Desmond Ridder, North Carolina's Sam Howell, and Ole Miss' Matt Corral are in the tier below those two and appear likely to be selected on the draft's first three days.
Football fans have known for months that the 2022 draft class, at least on paper, doesn't have the easy No. 1 overall pick like Joe Burrow or Trevor Lawrence. The general consensus has also been that this class (again, on paper) lacks multiple quarterbacks who can contend for a starting job as a rookie.
Miller, a longtime draft analyst for Bleacher Report, went even further when commenting on the Wentz trade. ESPN's Adam Schefter reported on Wednesday, March 9, that Washington picked up the entire $28 million that Wentz is due next season instead of forcing the Indianapolis Colts to eat some of the money.
"Tell me this quarterback class is bad without telling me this quarterback class is bad," Miller responded.
Although Washington did not give up the 11th overall pick to acquire Wentz, it appears safe to say the franchise will likely pass on drafting a quarterback that high.
It's tough to dispute Miller's point when reviewing recent trades
In a three-day span in early March, the Colts dealt Wentz, and the Seattle Seahawks traded Russell Wilson, one of the greatest players in franchise history, to the Denver Broncos. Denver sent Drew Lock, a three-year veteran with 21 career starts to his name, back to Seattle along with multiple draft picks.
As of publication, Houston Texans quarterback Deshaun Watson and San Francisco 49ers signal-caller Jimmy Garoppolo each remained available via trade. Watson's trade market is expected to pick up after it was determined he would not face criminal charges for alleged sexual misconduct.
It's hard to dispute Miller's point when one looks at the two major trades and examines the fine print. Denver gave up five total draft picks, including first-round choices in 2022 and 2023, along with Lock, tight end Noah Fant, and defensive lineman Shelby Harris. Washington swapped second-round picks and gave up two third-round picks, one of which can turn into a second-rounder, and ate the aforementioned $28 million.
Neither the Broncos nor the Commanders wanted to wait for a quarterback in the draft. It remains unknown if Seattle will use the ninth overall pick on a quarterback, and the Colts could still pursue a veteran such as Garoppolo or the Minnesota Vikings' Kirk Cousins via trade.
Would Washington have given up what they did for Wentz if they believed in Willis or Pickett? What about Denver? If the Broncos felt they could land a legitimate long-term starter at No. 9, would the franchise have still given up the farm and an extra chicken for Wilson?
That we're even asking the question should be enough of an answer.
Don't fall for the idea that several quarterbacks will be selected early in April's draft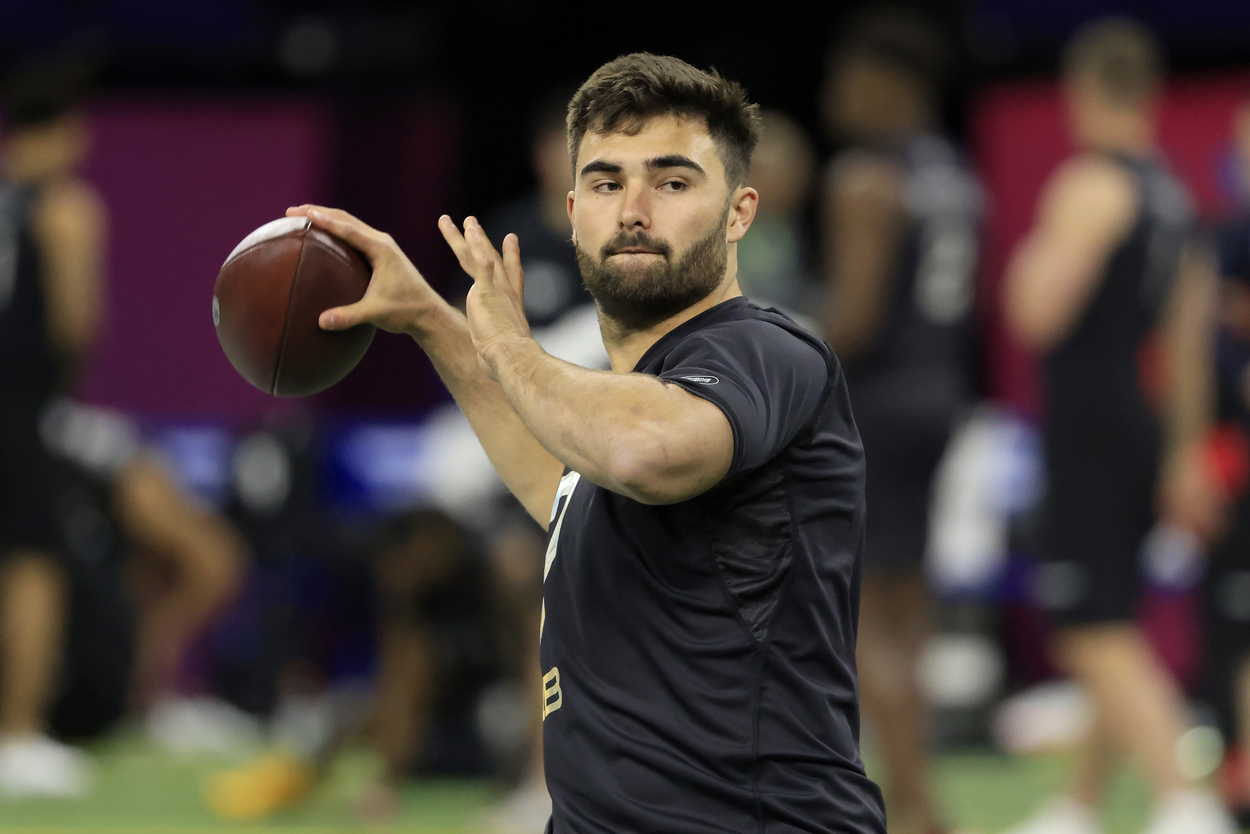 One of the great lessons football fans should learn early is to never trust a mock draft, even if it accounts for trades. Who had the Kansas City Chiefs trading up and selecting Texas Tech's Patrick Mahomes in 2017 when the team still had Alex Smith as the starter? What about the Buffalo Bills choosing the raw Josh Allen over the supposedly more polished Josh Rosen in 2018?
This year is no exception. Plenty of mock drafts, whether they're made by someone with 10,000 Twitter followers or someone who has 10 (including four bots), will likely suggest anywhere from three to five quarterbacks will be selected within the first 32 picks.
Good luck with that one.
Pickett is likely the only lock to be selected in the first round right now. Willis should be chosen on the draft's first night, but where he'll go is another story. Will a team trade up to take him within the first 10 picks, or could he fall to the late 20s?
There is no reason to currently believe Corral, Howell, Ridder, or Nevada's Carson Strong will all go in the first round. One of the four could conceivably sneak into the first round, but five teams are not drafting a quarterback that early. The current market doesn't favor such a strategy.
Now, if you want to grab this entire section via screengrab and present it to us when the draft's first night ends, go ahead. We feel as confident in our pick as the Commanders likely do with Wentz at quarterback.
Knowing Wentz's recent history, we might regret that stance.
Like Sportscasting on Facebook. Follow us on Twitter @sportscasting19.
RELATED: Could the Arizona Cardinals Replace Kyler Murray With Malik Willis?