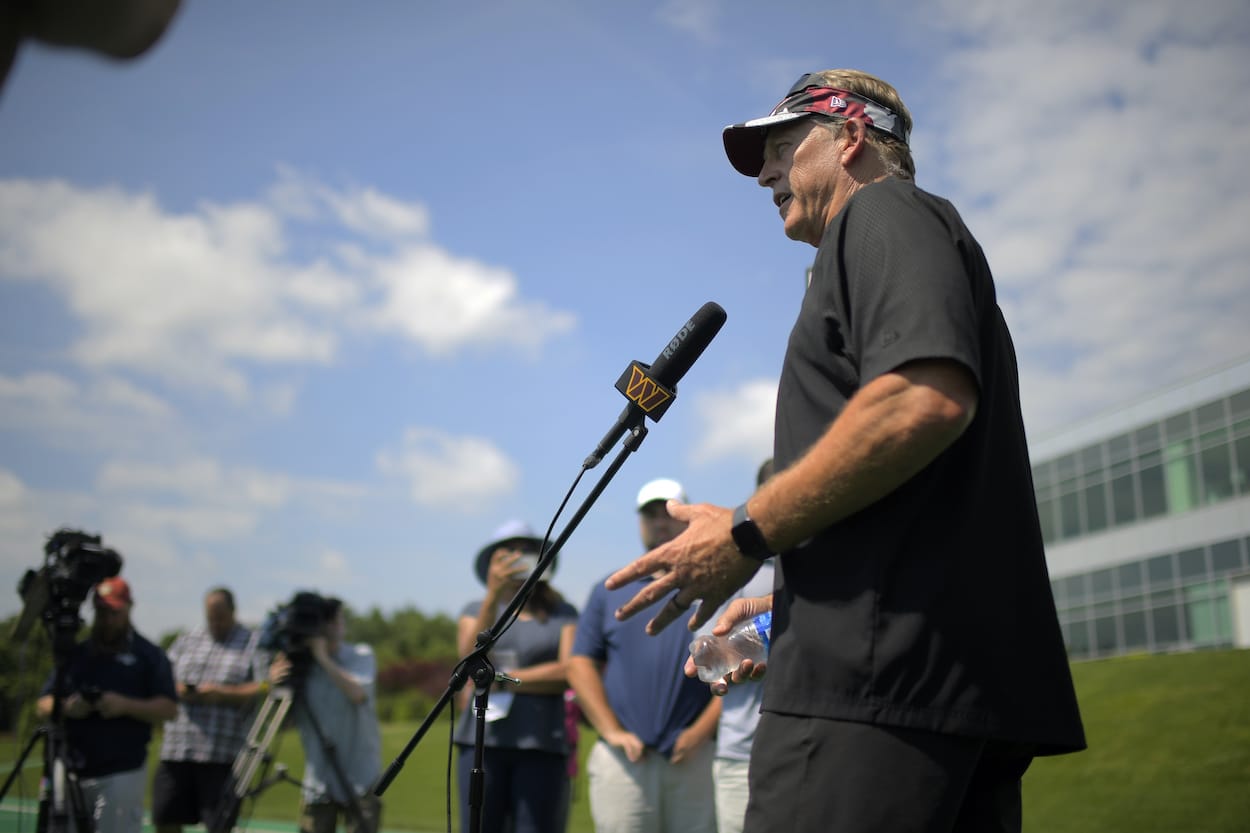 Washington Commanders DC Jack Del Rio Could Be on the Hot Seat After Deleting His Twitter Account and Paying $100K Fine for January 6 'Dust-Up' Comment
Jack Del Rio's comments on January 6 have led to the Washington Commanders coach apologizing, deleting his Twitter account, and paying $100K.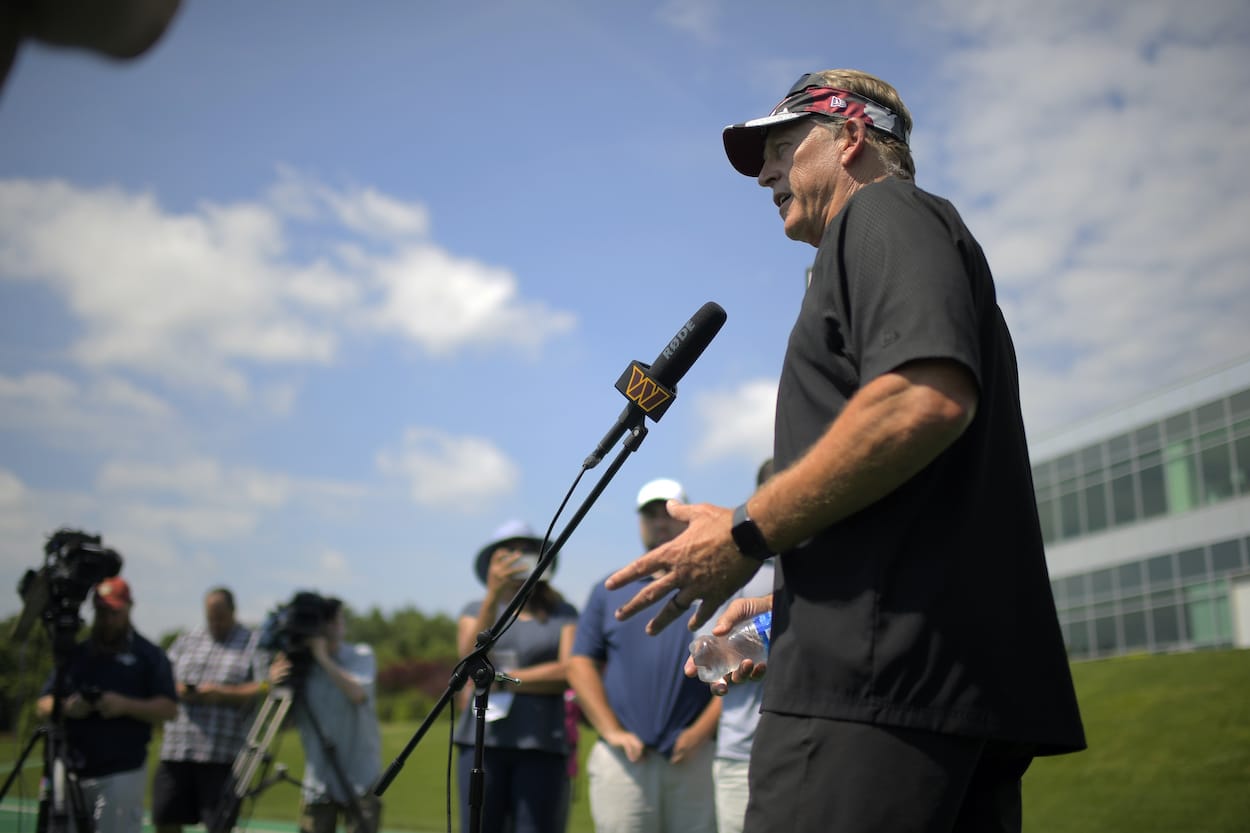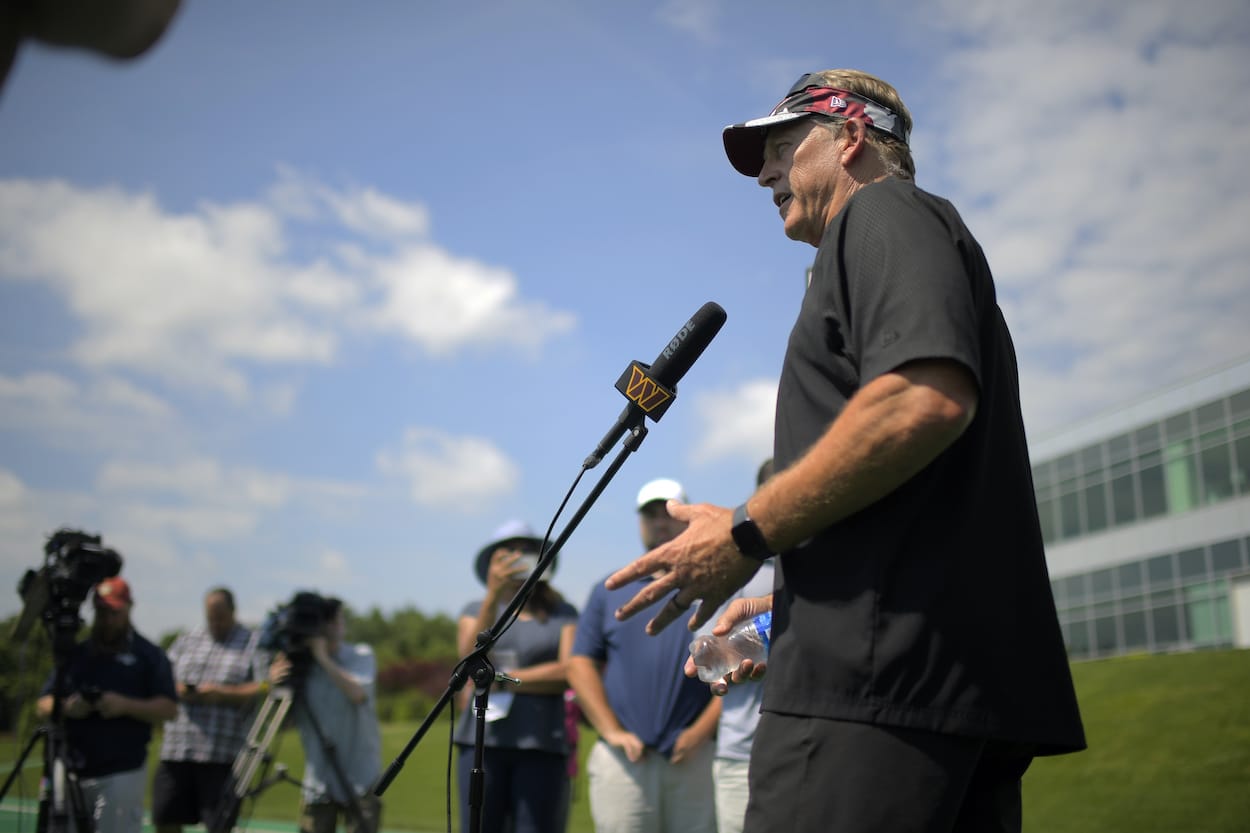 Washington Commanders defensive coordinator and former NFL linebacker Jack Del Rio stepped up to the microphones last week at minicamp for what should have been a simple, formulaic, Q&A with reporters. However, a reporter asked Del Rio about his tweets relating to the January 6 Capitol Riots. Things went downhill from there. 
The end result is a massive fine, a deleted Twitter account, and a coach whose seat may be much hotter than it was before. 
Washington Commanders DC Jack Del Rio's comments landed him in hot water
As the nation geared up for Congress to hold its January 6 hearings last week, an intrepid Washington Commanders reporter decided to ask defensive coordinator Jack Del Rio about his tweets on the subject. 
Del Rio was relatively active on Twitter up to that point. He tweeted about football and other sports. But a lot of his social media activity was retweeting, commenting, and posting about his conservative political views to his 90.9K followers. 
The tweet in question was about Del Rio wondering why Black Lives Matter protests weren't "discussed" like the January 6 riots. 
When asked about this by reporters, Del Rio said: 
I see images on the TV, people's livelihoods are being destroyed, businesses are being burned down, no problem. And then we have a dust-up at the Capitol, nothing burned down, and we're going to make that a major deal. I just think it's kind of two standards. 

Jack Del Rio on January 6
The "dust-up" comment is what set off a national firestorm for the coach. 
The Commanders coach got fined and deleted his Twitter in the aftermath of the controversy
Immediately following his comments, Jack Del Rio either reflected on his use of the words "dust-up," or someone in the organization explained the fierce reaction because the coach issued an apology right away. 
"I made comments earlier today in referencing the attack that took place on the United States Capitol on January 6, 2021." Del Rio tweeted. "Referencing that situation as a dust-up was irresponsible and negligent and I am sorry."
However, that wasn't enough for Washington Commanders head coach Ron Rivera. The former Chicago Bears denounced both Del Rio and the Capitol rioters in the strongest language possible. 
Rivera called the January 6 participants "domestic terrorists" and "a group of citizens [who] attempted to overturn the results of a free and fair election."
Of Del Rio, Rivera said, "Words have consequences and his words hurt a lot of people in our community. I want to make it clear that our organization will not tolerate any equivalency between those who demanded justice in the wake of George Floyd's murder and the actions of those on January 6 who sought to topple our government."
Rivera also announced he is fining Del Rio $100,000 and donating that fine to the United States Capitol Police Memorial Fund. 
Shortly after his boss' announcement, Del Rio deleted his Twitter account. 
Del Rio is now under a lot of pressure in 2022
Jack Del Rio is entering his third season as defensive coordinator of the Washington Commanders. In 2020, Del Rio's D was second in the NFL in points allowed and gave up the fourth-most yards. This led the team to first place in the NFC East (albeit with a 7-9 record). 
In 2021, the D ranked 22nd in points allowed and 25th in yards allowed. This led to a similar 7-10 record, but that was only good enough for third in the division.
Last season's poor performance, coupled with the DC's recent comments, will put Del Rio on the hot seat. 
Owner Daniel Snyder always has an itchy trigger finger when it comes to firing coaches. Plus, canning Del Rio could serve the added benefit of distracting from all the controversy surrounding Snyder.
Also, several prominent NFL players have come after Del Rio for his "dust-up" comments. 
Today, im sick and tired! A dust up! 100,000 is not enough, money ain't nothing to a person who is recycled through coaching." Hall of Fame safety Ed Reed tweeted. "Its always one, first it was Saban now its Jack to just remind US what it is! Man if u coached by him put your pants on! Its simple right and wrong, Wrong."
Former NFL players and current ESPN analysts Keyshawn Johnson and Ryan Clark said that they would either not play for Del Rio or have serious reservations about doing so after his comments. 
Del Rio did find a measure of support from one of his current players, defensive tackle Jonathan Allen. The former Alabama defensive lineman said (h/t NBC Sports Commanders), "I don't care about his opinion. As long as he shows up every day and works hard, that's what I want from my defensive coordinator." 
Support from Allen aside, Del Rio's hot seat watch is officially on, and if the Commanders D struggles this season, it will get a lot warmer, a lot quicker because of what he said. 
Like Sportscasting on Facebook. Follow us on Twitter @sportscasting19 and subscribe to our YouTube channel.