The Washington Football Team Can't Ignore Why Their Massive $10 Million Offseason Gamble Failed
Following the conclusion of the 2020 NFL season, the Washinton Football Team were seemingly in a good spot. They had just won the NFC East and had nearly beaten the eventual Super Bowl champion Tampa Bay Buccaneers in the Wild Card Round.
Ron Rivera had transformed the team's defense into one of the NFL's best, and they were winning games without any semblance of a starting quarterback. Between a since-retired Alex Smith and a former undrafted free agent in Taylor Heinicke, Washington was grasping at straws when it came to their QB position.
That's why when it was announced the Football Team were signing veteran gunslinger Ryan Fitzpatrick to a one-year/$10 million deal this past offseason, optimism was high. Fitzpatrick is by no means a franchise QB. However, he was a sizable upgrade over Smith and Heinicke.
Ryan Fitzpatrick is likely done for the year
Fast forward to Week 10 here in 2021, and Fitzpatrick has essentially made zero impact as a member of the Football Team. He injured his hip during the team's season opener and is reportedly expected to miss the remainder of the year due to the ongoing rehab process.
Ryan Fitzpatrick's 2021 season is expected to be over.

The Washington Football Team's season-opening starting quarterback has too long of a road back from a hip subluxation and multiple sources say it's highly unlikely that he returns this year. That means Washington will have to rely on Taylor Heinicke and the QBs already in the room going forward, including today vs. the Buccaneers.

Fitzpatrick, who was injured in Week 1 and placed on injured reserve, is still dealing with swelling and pain in the hip and groin area, sources say. Based on his current status, he's been focused on treatment, rather than rehab and working out to get back on the football field. That part of the process has yet to begin.

He has another MRI in a few weeks to check his progress. If that shows vast improvement, perhaps Fitzpatrick can begin working out again. But based on where his hip is, the belief is he won't see the field again this year.

Ian Rapoport, NFL.com
The Washington Football Team's Ryan Fitzpatrick gamble failed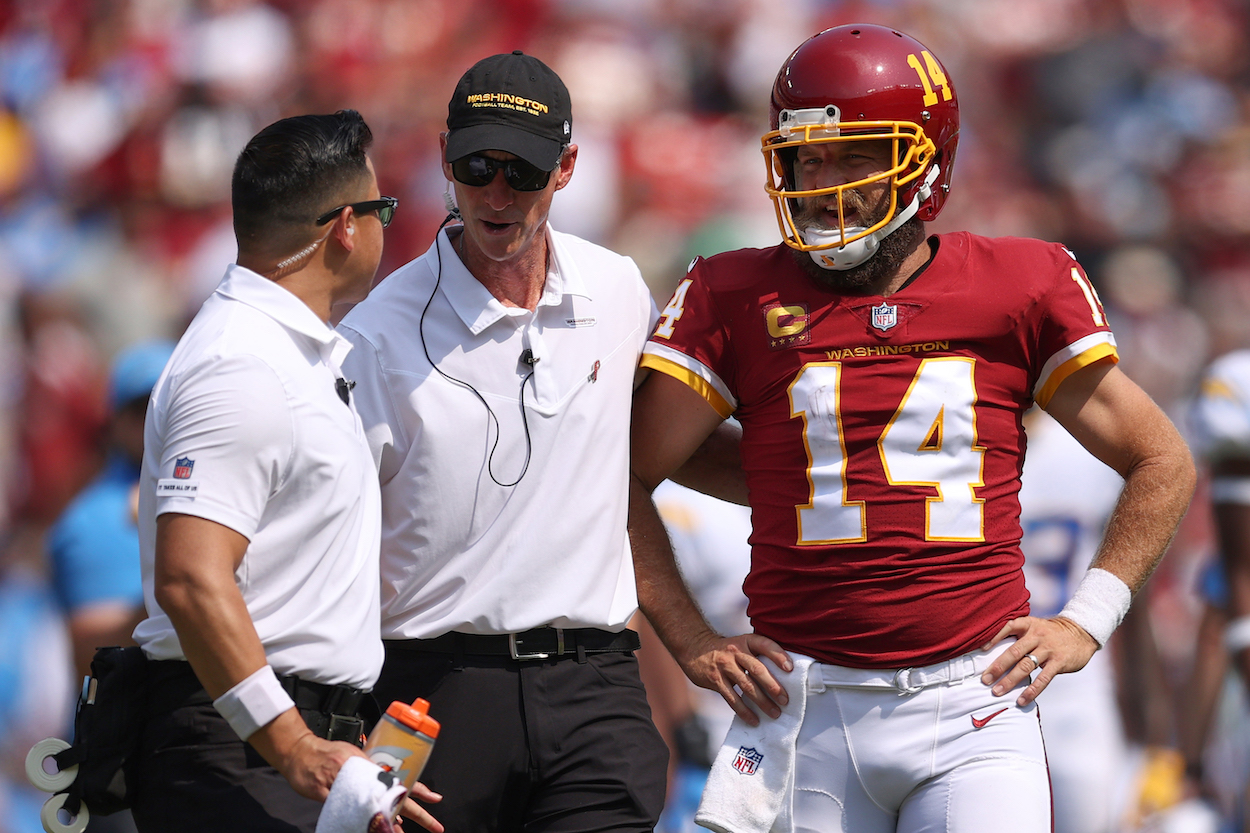 While it made sense at the time, the Football Team's decision to pursue Fitzpatrick was undoubtedly a gamble.
Fitzpatrick will be 39 years old by the time November ends. Signing a player that old to be your starting quarterback comes with substantial risk.
What made matters even riskier is that the 2021 draft class had abundant QB talent to pursue. It was one of the deeper QB classes in recent memory, with five starting quarterbacks likely emerging out of it. If there was ever a time for Washington to aggressively trade up and snag a new franchise QB, it was 2021.
Instead, they went after the near-40-year-old. The Football Team are 2-6. As a result, staring down a last-place finish in the NFC East.
The Washington Football Team can't ignore the QB position anymore
It'd be effortless for Washington to chalk Fitzpatrick's injury up to bad luck. After all, he's been a bit of an iron man throughout his NFL career. However, at the root of Washington's problems is the fact they've proven wildly incompetent at developing franchise quarterbacks over the past number of years.
The last notable starter they had under center was Kirk Cousins. Opinions are still mixed on whether he's worth franchise QB money.
Moving forward, Ron Rivera and the Football Team need to get honest about their lack of commitment to the QB position. They need to find a young starter to build their team around, preferably this upcoming offseason via the draft.
Like Sportscasting on Facebook. Follow us on Twitter @sportscasting19.