The Washington Football Team Are Desperately Turning to Rookie WR Dyami Brown to Help Mitigate Their $34.5 Million Loss
Coming off a year in which they won the lowly NFC East, the Washington Football Team wasted little time during the offseason improving their roster.
Despite their improbable playoff appearance, they understood they had to get better to keep up with a now-healthy Dallas Cowboys' offense.
The Football Team splurged on offense, signing quarterback Ryan Fitzpatrick and WR Curtis Samuel. Already possessing an elite defense led by head coach Ron Rivera, many viewed the Football Team as a legitimate threat to win their division again in 2021.
However, before they could even play their first game, the injury bug struck in Washington.
The Washington Football Team are losing WR Curtis Samuel to the IR
Signed to a three-year, $34.5 million deal this past offseason, Samuel will have to wait a few weeks before he's able to make his Washington debut.
Samuel was placed on the short-term IR on September 9, which rules him out for a minimum of three weeks.
A 25-year-old receiver from Brooklyn, Samuel is coming off a breakout season with the Carolina Panthers. He caught 77 passes for 851 yards. Both numbers are career-highs. Samuel also recorded 200 rushing yards which took his total scrimmage yards north of 1,000. Again, both career-high totals for the speedy wideout.
Offering so much flexibility in the receiving and ground game, the Football Team has major plans for Samuel in 2021. He projects to add a great sense of unpredictability to the offense and already has a good off-the-field relationship with Washington's top WR, Terry McLaurin. The two were teammates together at Ohio State.
The Washington Football Team will have to lean on rookie WR Dyami Brown
A big chunk of pressure will be put on McLaurin's plate with Samuel out of commission for the immediate future. However, there's another WR in Washington who will have to step up as well.
A third-round pick out of North Carolina, Dyami Brown is arguably the best rookie deep threat in the NFL at the moment. He flashed major WR1 potential during college, which made his fall to the third round rather surprising.
Of course, Washington isn't complaining. They snagged themselves a potential future stud with a measly mid-round pick.
Brown's transition into the NFL would have been slowed playing behind McLaurin and Samuel. However, with Samuel on the IR for at least three weeks, expect Brown to be utilized sooner rather than later.
Brown averaged 20 yards per catch during his final season at UNC and ran a 4.45 40-yard-dash. With the big-armed Fitzpatrick under center, it's safe to say Washington will look to target their rookie down the field on more than one occasion.
Brown gets an opportunity to prove the doubters wrong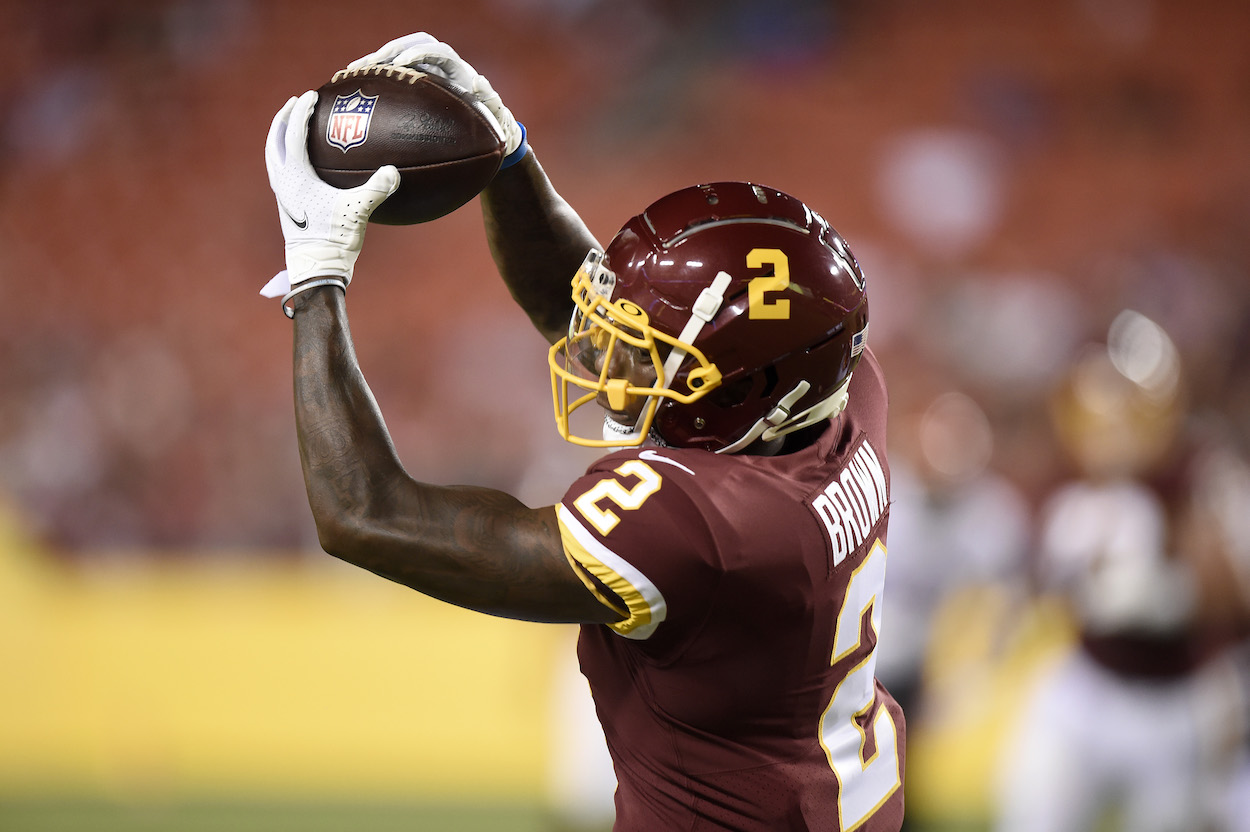 Heading into the draft, most had Brown pinned as an early second-round talent at the latest. His slip into the third was surprising, which likely caused Brown to develop a bit of a chip on his shoulder.
Now set to receive starting reps through the first few weeks of the season, the UNC product has a golden chance to prove doubters wrong.
For the Football Team's sake, they need Brown to showcase that elite ability. They play the Chargers Week 1 and the Bills Week 3. Neither game projects to be easy — Brown will have to learn the ropes rather quickly for the Washington offense to avoid a slow start.
All stats courtesy of Pro Football Reference and Sports Reference.
RELATED: The Steelers Just Sent a Terrifying Message to the Rest of the NFL, Which Has Major Implications on Nick Bosa and the 49ers